Finding gifts for gardeners can be difficult. But buying for a gardener with limited or no space? That's down right nearly impossible! You may be tempted to settle for sending a gift card, but we all know how impersonal those are, so don't give up just yet. Here are some of the best gifts for gardeners with small spaces.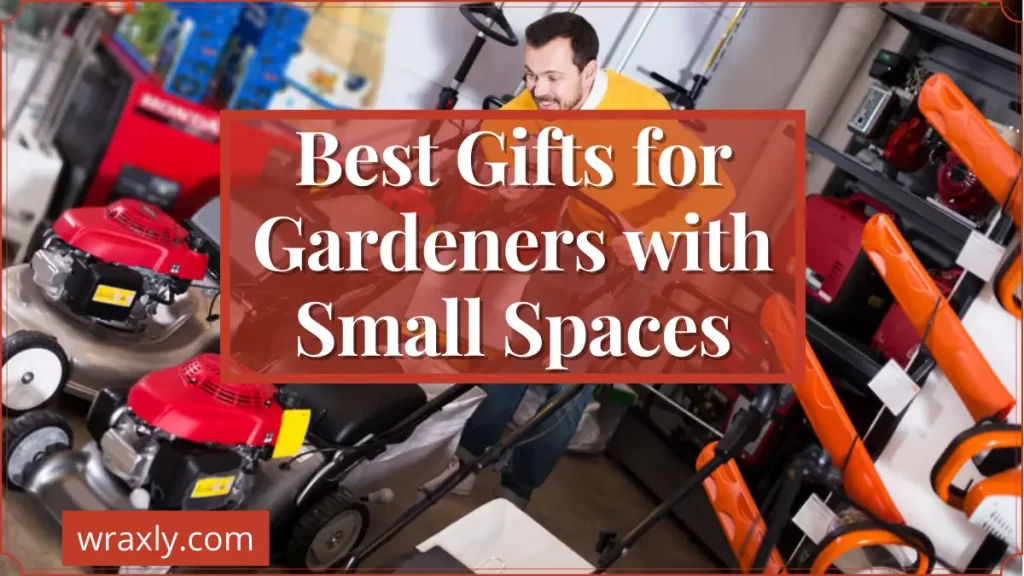 Container Gardening
Gardening containers are perfect for those with limited space, as they allow you to grow plants in tiny corners of the home or even on tiny balconies. If they have limited space, be it a shared courtyard, a small yard, or a balcony, several gardening containers might be the perfect gift to help them get started. It's possible to grow just about any fruit or vegetable in the right container. In fact, with the right watering system and sun exposure, it is even possible to grow bushes or miniature fruit trees in a container!
Perhaps the most useful part of container gardening is that containers can be relocated throughout the day; they can be moved to wherever sunlight falls! This means that just about any space, even the smallest apartment or condo, can be used for container gardening.
Here are just some of the benefits of container gardening:
They can be moved around to follow the sun
It is easier to control pests and avoid many soil-borne issues like bacteria and fungus
It is possible to grow a miniature citrus tree in a container
Fruits and vegetables grown in containers taste better! The nutrients from the soil are absorbed by the plant faster, creating a stronger, sweeter-tasting fruit or vegetable.
Vertical Gardening
Vertical gardens are another efficient use of space for gardeners with limited space. These gardens can be placed on a deck, patio, fence or wall. Small space gardening generally involves growing plants that require a vertical space. These types of plants require less space than large flowering plants, allowing gardeners to grow more than one type of plant in a small space.
Small space gardening requires some creativity, but it is always possible to find ways to maximize the space in smaller gardens. A vertical garden usually consists of a series of shelves, planters, or other surfaces where plants are grown and helping them along by attaching them to an existing wall, fence, or trellis.
Vertical Gardening: Grow Up, Not Out, for More Vegetables and Flowers in Much Less Space
The biggest mistake gardeners make each season is starting out too big and then quickly realizing their large plot requires too much weeding, watering, and backbreaking labor. Vertical gardening guarantees a better outcome from the day the trowel hits the soil—by shrinking the amount of floor space needed and focusing on climbing plants that are less prone to insects, diseases, and animal pests.
If you want to give them something more ready-made, then you might want to check out these vertical garden beds:
Our Vertical Garden Recommendations
Image
Title
Prime
Buy

Top

Vertical Garden Planter

Prime

Check Price on Amazon

Top

Top

4Ft Vertical Raised Garden Bed - 5 Tier Food Safe Planter Box for Outdoor and Indoor Gardening Perfect to Grow Your Herb Vegetables Flowers on Your Patio Balcony Greenhouse Garden

Prime

Eligible

Check Price on Amazon

Top

Aivituvin Vertical Raised Garden Bed with 4 Containers, Elevated Freestanding Herb Planter Box Growing Vegetable, Strawberry, Flower

Prime

Check Price on Amazon

Top

Pearlead 3 Tier Self Watering Vertical Planter Raised Garden Bed with Wheels Elevated Garden Box Windowsill Herb Planter with Drainage & Visual Water Level Window for Indoor Outdoor

Prime

Check Price on Amazon
Hanging Planters
Hanging planters are another great gift idea for gardeners with small spaces. These planters are perfect for small gardens, as they can be hung from a wall or ceiling.
Strawberries and tomatoes thrive in a hanging planter, happily growing upside down out of the bottom of the planter.
Our Hanging Planters Recommendations
Image
Title
Prime
Buy

Top

Miewslan 2 Pack Gardens Upside Down Planter, Hanging Tomato Strawberry Grow Planter Tomato Garden Vegetable Planting Pot

Prime

Eligible

Check Price on Amazon
Pri Gardens Upside Down Tomato Planter, 2- Pack(Requires Plants,Soil and Fertilizer, not Included)

Prime

Eligible

Check Price on Amazon
HiT 8396E SAFF Hanging Strawberry Herb Floral Planter, Saffron

Prime

Eligible

Check Price on Amazon
There is a wide variety of hanging planters to choose from. Some include European-style, French, and Victorian planters. Enhance your gift with a hanging kit that will make it easy to hang the planter from a wall or ceiling. Hanging kits generally include chains, hooks, and wires that need to be used for mounting.
Create your own vertical garden by connecting your own pots together with this three pack pot hanging kit from SkyPots. Comes with all the accessories needed to create your own look.
SkyPots — Hang and Connect Your Everyday Pots, All New Vertical Garden Kits
ALL-NEW WAY TO VERTICAL GARDEN -- Now you can hang and connect your everyday pots with SkyPots hanging kits. Vertically connect your pots or use kits to hang individual pots.

EASY TO ASSEMBLE -- Tighten kits in seconds around each pots center drain hole to convert it to a SkyPots hanging pot. No tools required! Reuse kits again and again with different pots and plants as you grow your vertical garden collection.

CLOG-FREE DRAINAGE -- Drainable flanges ensure healthy soil and happy plants. Never again worry about standing water at the bottom of your hanging pots. Water drains to the plant below. Take down to water indoors (to avoid spills). Rehang with the Catch JR to collect last drips after watering indoors.

KITS + ACCESSORIES -- Each Three Pack includes One 17 hanging kit and two 13 hanging kits plus a Catch JR and a 12 hanging chain. ***POTS NOT INCLUDED*** Create your own look by choosing pots with a near-center drain hole and flat bottom. Compatible with clay, ceramic and sturdy plastic pots. RECOMMENDED POT SIZE: 4-10 WIDE X 4-6 HIGH.

HIGH QUALITY -- Rods, eye nuts, wing nuts and chain are made of stainless steel. Parts resist rust and are neutral to the soil. Flanges and Catch JR are made from 90% post-consumer recycled plastic. Packaging is 100% plastic-free.
Additional Gift Ideas for Gardeners with Small Spaces
Here are some additional ideas for gifts for the gardening enthusiast with limited space.
Or you can just buy them for yourself!
HANDPICKED RELATED CONTENT: Growing Watermelon in Grow Bags
Potting Mix
Also known as potting soil, a good organic potting mix will often contain a mixture of vermiculite, pine bark, sand, composts, peat moss, and many other ingredients.
Many gardeners like to make their potting mix according to what they are growing and their experience. However, there are numerous potting mixes already available for someone starting home gardening.
A sack of potting mix could be an excellent gift for a gardener with limited space.
Image
Title
Prime
Buy

Top

Top

Miracle-Gro Potting Mix 2 cu. ft.

Prime

Eligible

Check Price on Amazon

Top

Top

Burpee Premium Organic Potting Mix, 9 quart

Prime

Eligible

Check Price on Amazon

Top

Top

Top

FoxFarm Ocean Forest Potting Soil Mix Indoor Outdoor for Garden and Plants | Plant Fertilizer | 12 Quart + THCity Stake

Prime

Eligible

Check Price on Amazon
Espoma Organic Potting Soil Mix - All Natural Potting Mix For Indoor & Outdoor Containers For Organic Gardening, 8 qt, Pack of 1

Prime

Eligible

Check Price on Amazon
Miracle-Gro Indoor Potting Mix 6 qt., Grows beautiful Houseplants

Prime

Eligible

Check Price on Amazon
House Plant and Tropical Plant Potting Soil - Re-Potting Soil for All Types of Indoor House Plants, House Plant Re-Potting Soil - 8QTs

Prime

Eligible

Check Price on Amazon
Espoma 16 qt. Organic Seed Starter Premium Potting Mix (2)

Prime

Check Price on Amazon
Fort Vee Compost-Based Potting Mix, 18 Pounds, Organic Nutrient-Boosted Potting Mix

Prime

Check Price on Amazon
LED Grow Lights
LED Grow Lights are a great gift for people who are growing indoors. When growing indoors, a plant might not get the right amount of sunlight. Therefore, LED grow lights provide the perfect alternative to sunlight for home gardeners. They last up to 50,000 hours and save up to 80% on energy costs. Plants are more healthy with grow light systems, as the plants receive light in the wavelengths that they need most.
If they have limited sunlight, LED grow lights are the perfect gift for them. With a diverse range of grow lights and systems to choose from, it can be a bit overwhelming to find the perfect one for your plants.
Our LED Grow Light Recommendations
Image
Title
Prime
Buy

Top

Top

UDIYO Led Grow Light for Indoor Plants Full Spectrum with Stand and Clip, 216 LEDs Growing Lamp with 10 Dimmable Levels, 7 Color Light Combinations, 4 Lighting Modes, Auto On/Off and 3/6/12H Timer

Prime

Eligible

Check Price on Amazon

Top

Ptuzos Plant Growth Light, Remote Start Timing Switch, with Full-Spectrum Fluorescent Light, Tripod Adjustable 15-60 inches

Prime

Eligible

Check Price on Amazon

Top

GroCruiser LED Grow Light with Stand, High Power Plant Grow Light for Indoor Seedlings with Full Spectrum and Adjustable Tripod Stand and Gooseneck

Prime

Eligible

Check Price on Amazon

Top

HOWAYI Grow Light for Indoor Plants,80w LED Grow Lights with Stand,4 Head Full Spectrum Plant Light for Tall & Large Plants,3/9/12H Timer,10 Dimmable Levels,3 Modes,Tripod Adjustable 11-60 Inch

Prime

Eligible

Check Price on Amazon
Plant Caddy
A plant caddy is another valuable tool for gardeners with limited space. When the season changes, so do plants' positioning; this is where the plant caddy comes in. It is a tool that makes it effortless to move plants around. This helps in keeping things organized in a small space.
An added benefit is, by effectively putting potted plants on wheels, growers can prevent pots from staining the balcony or apartment floor.
A plant caddy provides mobility to your plants and makes for a great gift for gardeners with small spaces!
Our Plant Caddy Recommendations
Image
Title
Prime
Buy
Yangbaga 2pack Plant Caddy 12''Wood Duty Round Plant Roller with 2 360° Lockable Caster Wheels,Indoor Outdoor on Roller Patio/Flower Pot Black

Prime

Eligible

Check Price on Amazon
Hand-Mart Plant Caddy 2 Set 12 inch Wooden Heavy Duty Plant Stand with Lockable Caster Wheels Plant Dolly Indoor/Outdoor Holds Up 150 Lbs Strong and Sturdy Design, Brown

Prime

Eligible

Check Price on Amazon

Top

Down Under Plant Caddie S18410, 16", Black

Prime

Eligible

Check Price on Amazon
Bright Creations Metal Plant Caddy with Wheels (4 Pack), Black

Prime

Eligible

Check Price on Amazon
Tomato Trellis
A tomato trellis or cage is an excellent gift for any gardener that loves tomatoes. These support the diagonal growth of tomatoes by tethering them vertically. They help them grow better while conserving space. This is a great present for people who are limited on space. It is simple to make and easy to set up.
There are many different designs and they come in wood, wire or metal. Some look like cages while others have a truss shape. Put them together with stakes and create an arboreal tomato garden that is useful and decorative. For the person that loves tomatoes but has limited space, this can be just the gift to get them growing tomatoes again.
Our Tomato Trellis Recommendations
Image
Title
Prime
Buy

Top

Esbaybulbs Plant Support Cages Tomatos Stake 1.2m Multi-fuction Garden Trellis for Climbing Plants, Vines, Flower, Vegetables and Potted Plants 2 Pack

Prime

Eligible

Check Price on Amazon
4 Pack Garden Plant Support Tomato Cage, Upgrade 24" Trellis for Climbing Plants, Plant Trellis Kits with 4 Self Watering Spikes and 20 Plant Clips (24")

Prime

Eligible

Check Price on Amazon
Hydrofarm GCTR 10 Gal Tomato Garden Planting Grow System with 4 Foot Trellis Wheels for Indoor/Outdoor Climbing Vines & Flowers Tree Tower, Green

Prime

Eligible

Check Price on Amazon
Tomato Cages for Garden, 2 Packs 48" Plant Support Tomato Trellis for Climbing Plants Outdoor Indoor & Pots with 18Pcs Retractable Steel Core Plant Stakes, 6 Shape-adjustable Rings

Prime

Eligible

Check Price on Amazon
Gardening Tools
The best gardening tools for those with limited space are ones that can be tucked away and hidden when not in use. Fixed handle tools are a good example of this type of tool, as they fold down to a manageable size. A trowel is one example, but also consider hand clippers or shears if there is room to store them on a wall or small shelf in the home. Consider a set of tools that all can be easily stored in one place, rather than having many different types of tools. For example, one with a couple of different types of shovels or hoes so that you can choose what you need.
Whichever gardening tools are used, consider purchasing a hand tool for doing basic weeding and raking. Wider garden tools don't work as well on a small garden space, but the hand tools allow you to get close enough to the weeds to remove them without damaging the plants that are growing in this small area.
Our Gardening Tools Recommendations
Image
Title
Prime
Buy

Top

Scuddles Garden Tools Set - 8 Piece Heavy Duty Gardening Kit with Storage Organizer, Ergonomic Hand Digging Weeder Rake Shovel Trowel Sprayer Gloves

Prime

Eligible

Check Price on Amazon

Top

FifthStart Wearable Garden Tool Set for Women with Shoulder Strap - Heavy Duty Garden Tote with Knee Pad, Hand Rake, Trowel, and Pruning Shears

Prime

Eligible

Check Price on Amazon

Top

Top

EAONE Garden Bench Stool with Soft Kneeling Pad, 6 Garden Tools

Prime

Eligible

Check Price on Amazon

Top

SOLIGT 8 Piece Garden Tool Set with Basket, Stainless Steel Extra Heavy Duty Garden Hand Tools Kit with Wood Handle for Men Women

Prime

Eligible

Check Price on Amazon
Watering Cans
These are very useful for keeping the plants watered when there is no drip or other form of automatic watering system, and they are easy to store when not in use. Choose one that has a handle long enough to fit comfortably in your hand for better control. If you have limited space, smaller models can be purchased.
Our Watering Can Recommendations
Image
Title
Prime
Buy
Qilebi Watering Can for Indoor Plants, Small Watering Cans for House Plant Garden Flower, Long Spout Water Can for Outdoor Watering Plants 1.8L 60oz 1/2 Gallon (Green)

Prime

Eligible

Check Price on Amazon
UFANME 1 Gallon Watering Can-Plastic (Navy)

Prime

Eligible

Check Price on Amazon

Top

GOMYHOM Watering Can Indoor Plants, Small Stainless Steel Plant Watering Can, Watering Pot with Long Straight Spout to Prevent Spillage, Metal Watering Pot for House Bonsai & Flowers 30 oz.

Prime

Eligible

Check Price on Amazon
Bloem JW41-26 Watering Can Aqua Rite 1.2 Gal. (144 oz), Bermuda Teal Green

Prime

Check Price on Amazon
Soil Scoops
Filling up pots and grow bags with soil can be a messy task. That is why the soil scoop is the must-have tool for all gardeners. If your favorite gardener has enough space on their balcony or grow-space for a container garden, then they would love the handy soil scoops, available in multiple sizes.
Our Soil Scoop Recommendations
Image
Title
Prime
Buy
Bonsai Tree 3pcs Soil Scoop Set from BonsaiOutlet

Prime

Eligible

Check Price on Amazon

Top

Spear & Jackson Kew Gardens 3070KEW Stainless Steel Soil Scoop, Blue

Prime

Check Price on Amazon
Jardineer Multi-Use Soil Scoops, Stainless Steel Garden Trowel, All-in-One Dirty Little Digger as Cultivator, Weeder, Transplanter (Blue)

Prime

Eligible

Check Price on Amazon
Bully Tools 92161 6 in Poly Hand Scoop

Prime

Eligible

Check Price on Amazon
Seed Starter Kit
Many gardeners love to start from seeds. It is cheaper and also provides greater variety to home gardens. A seed starter kit is also a great gift idea for gardeners with limited space.
Miracle-Gro Garden Starter, for instance, has a compact design which makes it a great space-saving option for anyone who loves gardening, but has a limited space at home. It is easy to set up and use. With one, you get a seed tray with domes (four), a seed tape with 21 varieties and 15 feet of growing guide. You also get two pots (7-inch) and a pair of gloves, among others. The seed tape is made using the same quality materials as Miracle-Gro products. Its contents are widely recommended for many types of vegetable seeds in the market.
Our Seed Starter Kit Recommendations
Image
Title
Prime
Buy

Top

Top

AQUEENLY Seed Starter Tray 10Pack Seed Trays with Humidity Adjustment Domes and Base Growing Trays

Prime

Eligible

Check Price on Amazon

Top

Gardzen 5-Set Garden Propagator Set with 200-Cell, Seed Starter Tray with Dome and Base 15" x 9" (40-Cell Per Tray)

Prime

Eligible

Check Price on Amazon

Top

Window Garden Seed Starting Kit – Complete Supplies – 3 Mini Greenhouse Trays with Dome fits on Windowsill, Fiber Soil Pods. Indoor/Outdoor Gardening. Grow Herbs, Flowers and Vegetables.

Prime

Eligible

Check Price on Amazon

Top

Delxo 10-Pack Seed Trays Seedling Starter Tray (12 Cells per Tray) Humidity Adjustable Plant Germination Kit Garden Seed Starting Tray with Dome and Green Base Plus Plant Tags Hand Tool Kit

Prime

Eligible

Check Price on Amazon
Fabric Grow Bags
You may not know that plastic takes more than 500 years to decompose. An alternative to plastic pots are eco-friendly fabric grow bags. They are the perfect option for indoor gardening and gardening in small spaces. They are eco-friendly and can be reused many times. If you're looking for a way to eliminate plastic from your household, then this is the right option for you.
Wraxly fabric grow bags make an outstanding gift, as they come in a gift bag that is actually an additional grow bag. Their unique two-tone design makes them attractive indoors or out.
Wraxly Fabric Grow Bags – The Original Two-Tone 7-Gallon Nonwoven Felt Planter Pots. Best Gardening Gift. Premium Heavy-Duty. [5-Pack of Assorted Colors – Plus Black Bonus Bag!]
PERFECT GIFT FOR GARDENERS - Our 5-pack is nicely packaged in a 2-gallon black grow bag. The color selection and two-tone color scheme make these bags a delight to give and receive as a gardening gift for men and women. Know someone who likes to organize? These bags also make the best gifts as totes, containers, and storage bags.

THE ORIGINAL TWO-TONE GROW BAGS - Wraxly's unique design elevates plant grow bags to a whole new level. Wraxly's Original Two-Color Premium Grow Bags aren't just for plants. They organize and beautify both your home and garden. The soft felt material makes these foldable multi-purpose bags ideal for storing toys, clothes, laundry, towels, books, blankets and more.

GROW HEALTHIER PLANTS - Cloth grow pots prevent roots from circling and instead promotes air-pruning for bigger, healthier, and happier plants. Our nonwoven fabric provides excellent drainage and allows your roots to breathe. Promotes healthy soil microbes.

EASY-FILL BAGS - Our bags are made with high density, 2mm nonwoven fabric which makes our plant pots sturdy enough to stand up straight when empty. Allows for easy planting of your flowers and vegetables. Makes an ideal tomato bag, or as an all around gardening pot. Washable and reusable.

NO RISK PURCHASE - We know you have options, so we want to make buying from us the easiest choice, and thats why we offer you our Wraxly Guarantee. If for any reason our product doesnt meet your standards, just send it back our way for a replacement or a full refund! The choice is yours.
Final Thoughts on Gifts for Gardeners with Small Spaces
Choosing the right gift for a gardener with limited space is about picking a gift that is appropriate for their space. You might want to give them a full-size garden tool set, but if they don't have the space for it, then it won't be appreciated and will never be used. If they live in an apartment with just a window ledge, even if they love gardening, you probably shouldn't get them a big patio plant.
By following the suggestions outlined above, you may be able to surprise them with a gift this year that they will love, and provide them the opportunity to get more gardening enjoyment out of their space.
FOR FURTHER READING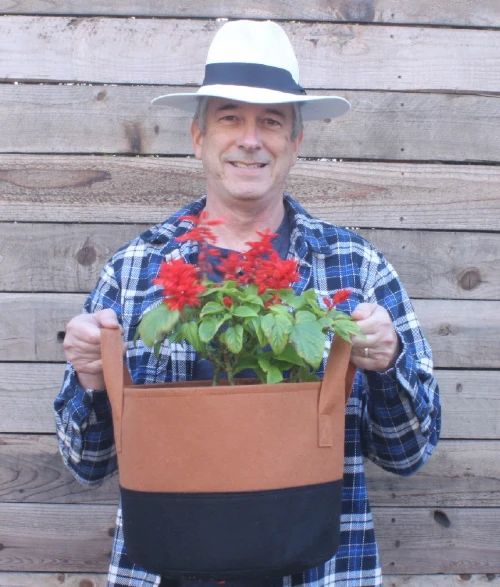 Darrell has a passion for gardening that he inherited from his father. Go here to read more about the influence his father played in his love for gardening. If you want to send Darrell a quick message, then visit his contact page here.