Are you a senior who likes gardening and wants to find the best tools to make gardening easier and more fun? Or do you want to help a senior in gardening by providing them with the right tool? Then look no further! 
We looked at every gardening tool on the market to find the 15 best gardening tools for seniors.  From shovels that are easy to carry to pruners that are easy to use, these tools will make it easy for you to take care of your garden. 
So get ready to get your hands dirty because you're about to find the best gardening tools.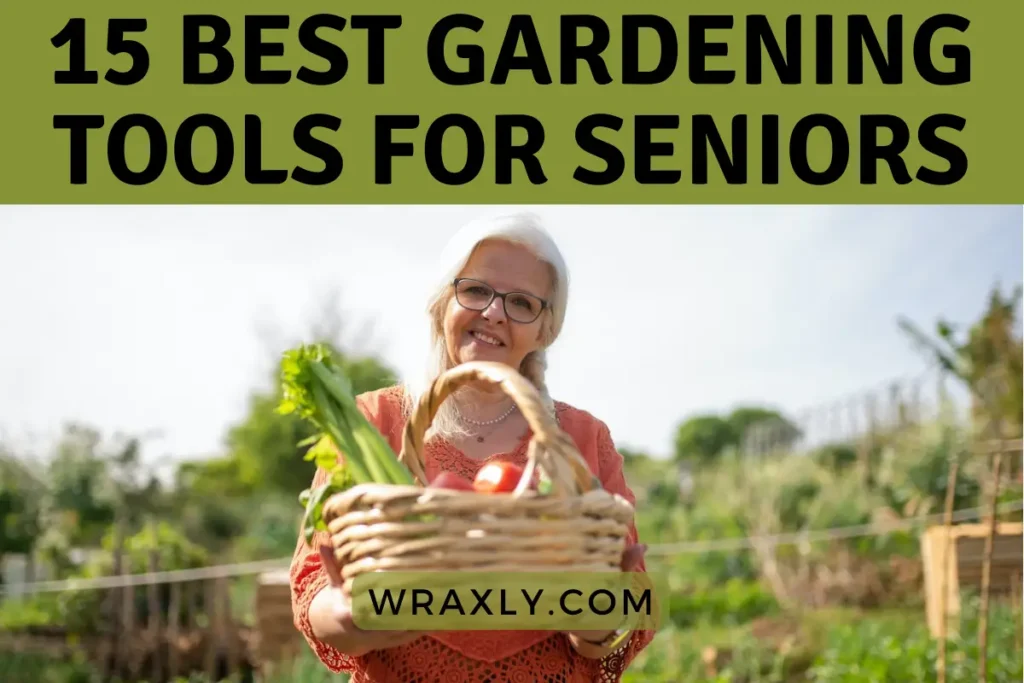 Our Choices for the 15 Best Gardening Tools for Seniors 
Gardening is a healthy physical activity for seniors stay active while also enjoying the beauty of nature. With the gardening season in full swing, we've compiled a list of the 15 best gardening tools that are perfect for seniors, making their gardening experience less strenuous and more enjoyable.
No two gardeners are the same, so stocking up on different gardening supplies and implements is the best way to figure out what works best for you. But if you're looking for a gift for a senior gardener, then there are a few high-tech gadgets that are sure to make their gardening experience more efficient and satisfying.
Check out our list of the 15 best gardening tools for seniors below:
Garden Kneeler
The garden kneeler is a simple yet invaluable tool designed to make gardening easier and more comfortable for seniors. It combines a chair and a kneeling pad, so seniors can sit, kneel, and do their work without having to kneel on the ground. The seat is adjustable, so seniors of any size can comfortably use it. Furthermore, the garden kneeler helps protect seniors' backs and knees from pain and stiffness, allowing them to stay active and enjoy the outdoors without having to worry about their age.
Recommended Garden Kneeler
Garden Cart
Any serious gardener knows that a garden cart is an essential tool for their gardening needs. It is a flatbed cart with attachments for hauling implements, plants, and supplies from one area of your garden to another. Garden carts have a variety of uses, with some being specifically designed for seniors or those with physical limitations.
Garden carts are great for seniors since they help keep them organized. The many pockets on a garden cart keep their gardening equipment and supplies tidy. Furthermore, their big and durable wheels make them easy to push on any surface in the garden.
Gardening should not be a daunting task. With the right equipment, it can be a fun and rewarding experience. With a garden cart, seniors can easily and safely enjoy gardening. The convenience and mobility that garden carts provide make them ideal for all gardeners, especially those who are older.
Recommended Garden Cart
Raised Garden Beds
A great way to make gardening easier for seniors is to use raised garden beds. These beds are an excellent option for cultivating plants and vegetables, regardless of your level of experience. By elevating the boxes or containers off the ground, the soil within them is easier to access and tend to. This also reduces the number of weeds and pests in the garden.
Moreover, raised garden beds are highly adaptable and configurable, allowing you to get the most out of your garden. Whether you choose a soil mix or even build your own, having a raised garden bed can make all the difference when trying to establish a garden as a senior.
Recommended Raised Garden Bed
Vertical Planters
For seniors with mobility issues or who have trouble bending over, gardening can be a challenging hobby. For this reason, vertical planters are an excellent choice for the elderly. They simplify gardening, so older adults can take part in the hobby without risking injury to their joints.
Seniors looking to save time and money would benefit greatly from using vertical planters. Seniors can maximize their garden's potential with the help of vertical planters, which allow them to cultivate a greater number of plants in a given area. Another advantage of vertical planters for the elderly is that they require less maintenance than standard garden planters.
Vertical planters are a fantastic option for elderly gardeners who want to reap the benefits of gardening without putting unnecessary pressure on their bodies. Vertical planters have many advantages for the elderly gardener, including saving space, time, and money. So, buy a vertical planter right now if you're a senior citizen who wants to start gardening!
Recommended Vertical Planter
Garden Scooter
Garden scooters are wheeled carts that make it easy to move around in your garden. They come in different shapes and sizes, so you can find one that fits your needs and the way your garden is set up. You don't have to worry about straining yourself while gardening because garden scooters are light and easy to move.
Garden scooters not only make it easier to do yard work, but they also make it safer. With a garden scooter, you don't have to worry about bending over or standing for long periods of time, which can cause back and joint pain.
Seniors who have trouble moving around can also use garden scooters to get around. Many models come with handles that can be moved up or down so that you can find a comfortable height. This makes getting to plants and tools that are out of reach is easier.
Recommended Garden Scooter
Anpress Garden Tool Set
If you're a senior who has been thinking about getting into gardening but hasn't known where to begin, the Anpress Garden Tool Set is a great option. With this all-inclusive gardening set, even a senior citizen can enjoy the benefits of tending to a garden, as it has everything needed to maintain a beautiful outdoor space.
The Anpress Garden Tool Set provides the gardener with a rake, shovel, trowel, and pruner, among other tools. The ergonomically designed handles and durable stainless-steel construction of these tools make them suitable for use by seniors with weaker grips.
The Anpress Garden Tool Set also facilitates tidy storage of its constituent pieces. The tools are easily transported thanks to the accompanying carrying case, which features a handle and adjustable straps. The case also features individual slots for each tool, making organizing and locating the right instrument at the right time easier.
Sun Hat
There's the sun hat! A must-have for any gardener and a real lifesaver for anyone who spends time outside in the summer. And for seniors, it's a very important piece of gardening gear that can help keep them safe and comfortable.
We all know that spending time outdoors and gardening is good for our mental and physical health. But the hot summer sun can make gardening hard for older people. Because of this, a sun hat is an important piece of gear. A sun hat not only shields you from the sun's harmful UV rays but it also helps keep you cool and comfortable.
So, for any senior who wants to garden and stay cool, comfortable, and safe, a sun hat is the way to go! It will shield you from the sun's harmful rays and make gardening easier and more comfortable.
Recommended Sun Hat
Watering Can
A Watering Can is a must-have for any gardener, especially seniors. It is an incredibly useful tool that lets you water your plants and flowers consistently and evenly, ensuring they get the right amount of water. It is also designed to make it easier for older people to garden.
Watering cans typically have one or two handles, which makes it easier to use than having to hold the entire can with one hand. Additionally, the long spout on most watering cans makes it easy to water plants without having to bend over. For seniors who want to take care of their plants with ease, a Watering Can is the perfect solution.
Recommended Watering Can
Gardening Apron
Aprons made exclusively for gardening are known as "gardening aprons." Fabrics like canvas and polyester are used because they are durable and lightweight, making them ideal for use in the field. You won't have to bend over as often to reach for your equipment and supplies thanks to the various pockets on the aprons. To prevent them from falling off your shoulders, they have long straps that loop over your waist and fasten in the back.
An apron designed specifically for gardeners is an excellent investment for any senior who enjoys gardening. A gardening apron can help you get the work done more quickly and with fewer efforts thanks to its convenient design and several pockets for keeping your tools and materials. Don't allow the passage of time to dampen your enthusiasm. Put on an apron made for gardening and return to your garden.
Recommended Gardening Apron
Gardening Shoes
Gardening shoes are shoes that are made especially for gardening. They are made to give you the right amount of comfort, support, and long-lasting quality. Most gardeners wear slip-on shoes, clogs, or sandals that can keep water out.
Seniors who want more support and protection while gardening should wear clogs. The soles are made of thick rubber, and the uppers are made of leather or synthetic materials that are strong and last a long time. Clogs have a high top that gives your ankles more support.
Gardening shoes are an invaluable asset for seniors looking to make gardening easier. Not only are they comfortable and supportive, but they are also highly durable, ensuring that your investment will last for years to come. Whether you are an experienced gardener or just starting out, investing in a quality pair of gardening shoes is a great way to make your gardening endeavors less strenuous. So, if you're a senior who wants to make gardening easier and more enjoyable, consider purchasing a pair of gardening shoes. Doing so will not only reduce strain on your feet and joints, but will also make your gardening experience a breeze!
Recommended Gardening Shoes
Hose
a hose is an invaluable tool for gardeners of all ages, but especially seniors. A hose can make outdoor activities easier, more enjoyable, and more efficient. With a hose, seniors can quickly and easily water their plants and lawns, clean garden furniture, and even wash windows. Plus, hoses are incredibly versatile; you can attach various nozzles, sprayers, and other accessories to customize how you use it. No matter how long you've been gardening or how new you are, a hose can make it easier and more fun. Read our Aqua Joe Hose review.
Recommended Garden Hose for Seniors
Error: Unknown Link Type
Container Gardens
Gardening can be a great pastime for seniors, but maintaining a traditional garden can be difficult due to limited mobility or strength. Fortunately, container gardening is the perfect solution for those who want to enjoy the benefits of gardening without the added strain. By planting in containers, seniors can enjoy the beauty of plants without having to bend down or lift heavy bags of soil.
Container gardens are also incredibly convenient and versatile. Whether you have a balcony, patio, deck, or planter, you can easily find the perfect pot or planter to house your plants. Plus, you can easily move them around to different spots in your home, allowing you to get creative with your garden while also reducing your environmental impact.
Container gardening is a great way for seniors to explore new plant varieties and enjoy the therapeutic benefits of gardening. So why not give it a try? With container gardening, you can enjoy the beauty of plants without the added strain of a traditional garden.
Recommended Container for Seniors
Plant Caddies
The use of a planter caddy helps reduce the amount of effort, time, and money spent on plant maintenance. The added mobility provided by a sturdy caddy protects your house or yard from damage caused by plants. In addition, wheeled planter caddies facilitate repositioning your plants throughout the day. Finally, caddies can help you save time when transferring indoor plants to an outside location. This accessory may be the way to go if you want to give your plants the greatest care possible.
If you're looking for a simple way to make gardening easier for seniors, a plant caddie is the way to go. They are easy to use and make it easier for older people to keep their plants healthy and happy. 
Recommended Plant Caddie
Long-handled Weeding Tool
Long-handled weeding tools are a great option for senior gardeners, as they eliminate the need to bend over and strain the back. These tools are lightweight and have an extended length that allows seniors to weed without having to bend down. Additionally, they come with a comfortable grip handle that makes it easy to hold and control the tool. With these tools, seniors can easily and quickly weed their garden while avoiding back strain.
Recommended Long-handled Weeding Tool
Radius Garden Pro-Lite Shovel
Round-point shovels are a preferred choice for seniors who do gardening and landscaping. This shovel features a bigger than average, cupped blade which is ideal for cutting through sandy soils. The Radius Pro-Lite tools are designed with seniors in mind, as they are four to five inches taller than their PRO counterparts making them easier to use. This shovel is also superior to other transfer shovels as it performs well in all weather, can be used continuously by professionals, and is durable. With improved balance, reduced strain and a wide forward kick, this shovel makes gardening and landscaping much easier for seniors.
How to Choose the Right Gardening Tools for Seniors
When it comes to gardening, seniors have a wealth of wisdom and expertise to offer. However, when shopping for gardening tools for older people, it is important to keep certain things in mind. As our bodies age, our needs change, and the same is true of the tools we use for gardening. Here are some key things to consider when selecting gardening tools for elderly gardeners:
Physical Condition of The Senior
When considering a senior's physical abilities, it is important to remember that strong hands and a steady body are essential for gardening. Heavy tools may prove too difficult to handle, so seek out lightweight tools that are easy to hold and use. It is also beneficial to look for tools with nonslip grips and ergonomic handles, which can help to minimize strain on the wrists and arms.
Consider the senior's mobility when tending to the garden. It may be difficult for the elderly to stoop down and tend to the garden's low-lying plants and spaces. To address this issue, using tools with extended handles can be beneficial. Loppers and pruners with extended handles work well in this situation. Additionally, wheeled carts and wheelbarrows can be used to help move around gardening tools, dirt, and plants.
Consider the vision of the elderly when gardening. Gardening can be difficult and even hazardous for those with impaired vision. Spot tools easily by looking for ones with brightly colored handles or handles covered in reflective material. This will help the elderly gardening safely and more easily recognize their tools.
Try to find equipment that has security features, such as locks and guards, which are standard on many power tools. By implementing these measures, we can drastically reduce the risk of injuries or other accidents. Moreover, many instruments have adjustable grips that can be customized to fit the user's body size, offering extra comfort and support. This is especially beneficial for the elderly and those with physical limitations who may be more prone to injuring their back or arms.
One final consideration is the senior's budget. When shopping for gardening tools, it is essential to look for affordable options without sacrificing quality. Choose tools made from long-lasting materials like aluminum or stainless steel, so seniors can appreciate their garden's beauty for many years to come.
For Further Reading
---
---
Final Thoughts 
With the right tools, seniors can enjoy gardening without having to worry about the physical stress it can sometimes involve. Investing in quality tools specifically designed for seniors will ensure that they can continue to enjoy the beauty of their garden for years to come. With the right tools and equipment, gardening can be a pleasurable and stress-free activity, bringing joy and satisfaction to seniors.