It all started with a grow bag.
Wraxly founders Darrell and Vivi Houghton were in a predicament. Lifelong garden enthusiasts, they found themselves living in a house with a concrete backyard. Forced by necessity to get creative, they discovered grow bags and quickly fell in love with how easy they were to work with and the versatility they provided. Soon, grow bags of various sizes with different vegetables and flowers were spread around their concrete backyard.
Then one day Vivi asked the fateful question, "Why are all our grow bags black? Wouldn't it be nice to have some colorful grow bags?"
This led to some additional purchases of multi-color grow bags and the discovery of why most grow bags on the market are black: When you water a plant in a grow bag and the water drains out the sides, the fabric acts as a filter and you quickly see unsightly stains. Our colorful grow bags soon became unpleasant to look at!
Up to the challenge, Darrell and Vivi went about designing a grow bag that they would want to buy:
all the benefits of a fabric grow bag
wouldn't stain
With a design in mind, Darrell went about finding a manufacturer. After discovering U.S. manufacturers would be prohibitively expensive, he reached out to Chinese manufacturers, and after several duds, finally found a reputable manufacturer that produced quality products.
Many months and several prototypes later, Darrell and Vivi finally hit upon their unique design that uses a waterproof liner to protect the colorful fabric, with a band of un-lined black fabric that allows for all the benefits of a traditional grow bag (easy drainage and air root pruning).
What you see available for sale now is the result of our efforts.
We're very pleased with our two-tone fabric grow bags and love to use them ourselves. We hope you will give them a try. We're sure you'll fall in love with them, too!
About Darrell, Editor-in-Chief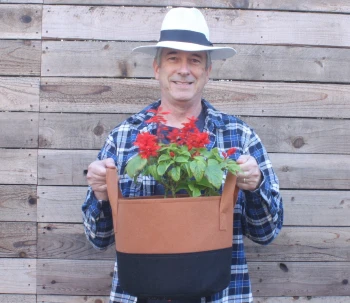 Hi! My name is Darrell and I would like to welcome you to our site. Wraxly Home & Garden has grown from a passion project selling fabric grow bags to a site with hundreds of articles that will hopefully help you to become a better gardener. 
Gardening has been a passion of mine since I was a young'n growing up in Southern California. I was influenced by my father's love of gardening and the fact that by Dad turned our suburban backyard into a mini-farm, where he grew everything under the sun. Some of the things I remember my Dad growing in our backyard included rows of corn, boysenberries (his favorite), various fruit trees, beans, squash, lettuce, strawberries, rhubarb, tangerine and orange trees, and apples.
Now that I am an adult, I take that love of gardening and try to create a garden wherever I happen to be living, whether it is a small,  indoor herb garden in an apartment, a balcony garden in a condo, or a sprawling garden on a 1-acre plot of land that we lived on for 5 years.  
Through this site we are committed to helping gardeners of all levels experience the joys of growing their own food. As the editor-in-chief on our blog, I am passionate about sharing my knowledge and experience that I've gained in my 50+ years.
If you have any questions or comments, please don't hesitate to contact us. We'd love to hear from you.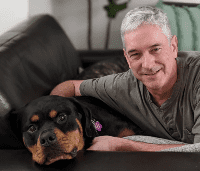 Cheers! Darrell (& Mahana)