I don't think anyone with a yard, be it covered in lawn or landscaped with plants, hasn't had a love-hate relationship with the hard-working garden hose. Sure, it fulfills its purpose of transporting water from the spigot to a thirsty plant, and sure beats the alternative of filling up a watering can, but who hasn't lamented what a pain it is when the water pressure drops because of a kink in the hose? Or struggled maneuvering a heavy hose around the yard, trying not to trash a new flower bed or knock over some patio furniture? Then to top it off you have the unenviable challenge of trying to neatly store the old cumbersome green behemoth after using it.
Well those days are over cuz I'm here to tell you that the Aqua Joe Fiberjacket Pro garden hose is not your father's hose. There are very things in life that I consider life-changing, but my Aqua Joe hose is at the top of that list. The days of heavy, twisted and kinked garden hoses are over, as you'll see in this Aqua Joe garden hose review.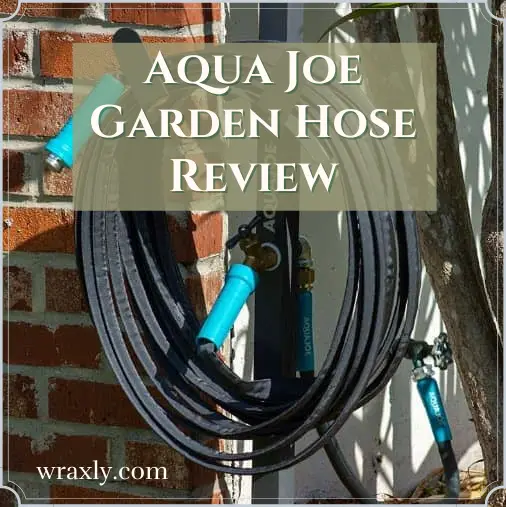 Aqua Joe FiberJacket Hose
Lightweight: Up to 50% lighter than conventional hoses

DURABLE: Rugged, marine grade fiber jacket construction surrounding a 5/8-Inch flexible inner core

Rip-resistant: rip- and abrasion-resistant fabric is also safe on delicate and painted surfaces – no scratching, scuffing or snagging!

Flexible: Maintains flexibility down to 35 degrees Fahrenheit
Here's a rundown of what we'll provide in this Aqua Joe garden hose review:
First we'll share the features and benefits that you'll find useful
Next, we'll take a look at the drawbacks you might need to know about
Then, we'll tell you a bit about the Aqua Joe company
And finally we'll provide a sampling of actual customer reviews to give you better insight into the product.
Sound good? Let's get started!
Features and Benefits of the Aqua Joe Garden Hose
Kink, twist and tangle-free
Up to 50% lighter and 3x stronger than conventional hoses
BPA-free, lead-free and Phthalate-free, which allows for the claim that it can be used for potable water (great for RVrs)
Standard 5/8″ hose diameter
Rip resistant fabric – Its abrasion-resistant fabric is safe to use without scuffing up painted surfaces or causing damage to lawn decorations.
Superlight
Easy storage – Coils easily for compact storage
Crush resistant – Rugged, marine grade, high density woven jacket construction surrounding a flexible inner core for maximum durability and performance.  If you step on the hose when you're using it, you won't cause permanent damage.
Flexible inner core – Maintains flexibility down to 0 degrees F. With its dual-layer design, the hose can take a lot of rough treatment & still stay flexible.
600 PSI burst rated. While a standard 25-foot 5/8″ diameter garden hose will burst at about 200 PSI, the AquaJoe Fiberjacket Pro is burst rated to withstand 600 PSI
Solid, crush-proof end grips
2 year warranty
Available in 25, 50 and 100-foot lengths
Special Features (Pros) of the Aqua Joe Garden Hose
Kink, twist and tangle-free. This is the feature that most impressed me. Unwinding the hose from it's hose reel was nearly effortless because it was so light. With no tangles or kinks, it brought joy back into watering the garden. This joy was only surpassed when it was time to roll-up the hose onto its storage reel. With a regular garden hose this takes quite a bit of effort because you have to fight with the hose to get it to wind properly and evenly around the reel. But with the Aqua Joe Fiberjacket Pro, it was about as effortless as it could be. The secret is in the rip-resistant fabric. When the water pressure drops after turning off the spigot, the walls of the hose compress and flatten. It reminded me of a fireman's hose.
It's super-light. The manufacturer boasts that the Aqua Joe is up to 50% lighter than conventional hoses. You can't appreciate this benefit until you actually use one. When using a conventional hose, they are hard to handle and you have to literally wrestle with the hose to move it where you need to water. Not so with the Aqua Joe!
Drawbacks (Cons) of the Aqua Joe Garden Hose
Aluminum fittings. Aluminum will corrode more quickly than brass when exposed to hard water.
Smaller inner-diameter than a conventional hose. The smaller inner-diameter results in a lower water pressure, which could effect the water coverage of a sprinkler.
Video: Aqua Joe Hose
About the Aqua Joe Company
Aqua Joe is a USA-based company with corporate headquarters in New Jersey. They have distribution centers throughout the US and Canada. The parent company is Snow Joe, and includes the brands Snow Joe, Sun Joe, and Aqua Joe. The Snow Joe company was founded in 2004. Their other products include battery-powered snow blowers and snow throwers, lighted snow brooms and roof rakes, electric mowers and leaf blowers, pressure washers, watering equipment, tillers, trimmers, hedgers and edgers. 
Aqua Joe Hose Reviews
Looking at the features of a product is great, but to really know how a product will perform it is always best to read reviews from actual consumers who have purchased the product. Here we've curated the most common complaints and kudos from product users and reviewers on Amazon.
What Amazon Customers Have to Say About the Aqua Joe Garden Hose
Over 1400 reviews on Amazon with an average rating of 4 stars.
There were quite a few reviewers who complained of the hose developing a leak or the seam ripping. However, for those who had registered their hose on the Aqua Joe website with a serial number found on the box, getting a replacement was fast and easy. Customer Service is reportedly friendly and eager to help.
Many reviewers echoed my own experience of being pleasantly surprised at how the hose is light and easy to use. Some of the superlatives reviewers used include "by FAR the easiest hose ever to handle", "I would buy this 100x over", "Love love love this product", and "Amazing hose. Worth the price."
This hose seems to be popular with RV'rs, who appreciate how little space it takes up and its light weight. One reviewer appreciated its "ease of use and easy to drain and wrap up and store." The hose can be used for potable water, although some reviewers complained of bad tasting water after running through the hose.
There was a surprising number of reviews that were either from senior citizens or from children who purchased this hose for their aging parents because of its light weight and how easy it is to handle and move around.
Bottom Line
If you're tired of the heavy and bulky garden hoses you grew up with, then check out these hoses from Aqua Joe. When you water your garden for the first time with one of these hoses, you will have a smile on your face, joy in your heart, and a renewed loved for gardening because these hoses are so enjoyable to use. They bring joy back into gardening and take the drudgery out of watering. In spite of the high number of reports of leaking, as long as you remember to register the serial number that you will find on the packaging on their website, if you do experience a problem, it should be easy to get a replacement. We at Wraxly headquarters feel these are a great product and enthusiastically give the Aqua Joe Fiberjacket Pro hose 5 stars.
---
Compare to Other Expandable Hoses
Image
Title
Prime
Buy

Top

Aqua Joe AJFJH100-58-MAX 100-Ft x 5/8-Inch FiberJacket Hose w/Aluminum Fittings, 100 ft, Heavy Duty Couplings

Prime

Eligible

Check Price on Amazon
Expandable Garden Hose 100 FT Water Hose with 9 Function Nozzle and Durable 3-Layers Latex, Extra Strength 3750D Flexible Hose with 3/4" Solid Brass Fittings and High Pressure Water Spray Nozzle Hoses

Prime

Eligible

Check Price on Amazon
Flexi Hose with 8 Function Nozzle, Lightweight Expandable Garden Hose, No-Kink Flexibility, 3/4 Inch Solid Brass Fittings and Double Latex Core

Prime

Eligible

Check Price on Amazon
Zoflaro Garden Hose 100ft, Expandable Water Hose 100 feet with 10 Function Spray Nozzle, Extra Strength 3750D, Durable 4-Layers Latex Flexible Expandable Hose with 3/4" Solid Brass Fittings, Leakproof

Prime

Eligible

Check Price on Amazon
SnugNiture 100FT Expandable Garden Hose with 10 Function Spray Nozzle, Superior Strength 3750D No-Kink Expanding Pipe, Leakproof Lightweight Water Hose with 3/4" Solid Connector

Prime

Eligible

Check Price on Amazon
Bionic Steel 100 Foot Garden Hose 304 Stainless Steel Metal Water Hose – Super Tough & Flexible, Lightweight, Crush Resistant Aluminum Fittings, Kink & Tangle Free, Rust Proof, Easy to Use & Store

Prime

Eligible

Check Price on Amazon
You May Also Be Interested In…
6 Best Hose Timers for Your Garden
5 Best Expandable Garden Hoses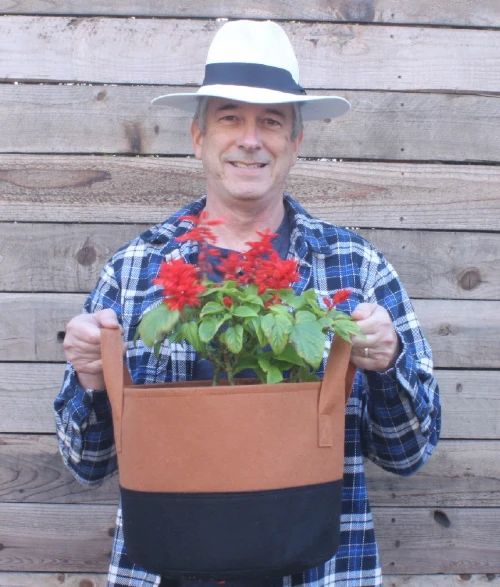 Darrell has a passion for gardening that he inherited from his father. Go here to read more about the influence his father played in his love for gardening. If you want to send Darrell a quick message, then visit his contact page here.