Herb growing kits are a great tool to use when you want to start an herb garden in your home. These kits come in many different varieties, all of which aim to help you raise tasty herbs as easily as possible.
With so many different options for herb growing kits out there, it can be difficult to discover the one that is right for you and your home. For that reason, we have created this list of the best herb-growing kits around.
Read on to find out which of these kits is ideal for your needs. After learning about a few products, you'll also have a chance to read throughout the buyer's guide that will help you evaluate any herb growing kit you come across.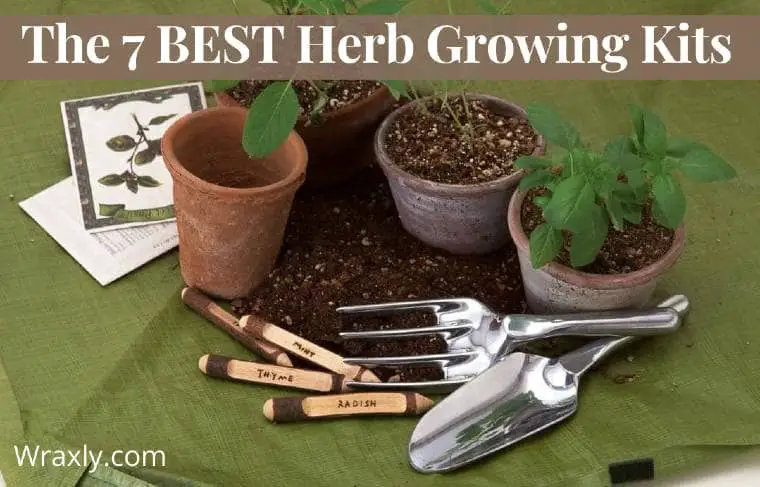 IN A HURRY? HERE'S OUR TOP PICKS…
Herb Growing Kit Buyer's Guide
7 of the Best Herb Growing Kits Available Today
If growing herbs indoors is your aim, then finding a great herb growing kit is what you should do first. Below you will find seven of the best herb growing kits on the market today. For each one, you'll find a brief description that details the ways in which each of these kits stands out from one another.
Planter's Choice 9-Herb Window Garden
The Planter's Choice 9-Herb Window Garden is a herb-growing kit that will give you plenty of options. As the name implies, this kit comes with nine containers and seeds from nine of the most popular kitchen herbs.
The kit also includes bamboo markers that will make it easy to keep track of the many herbs you will grow. Along the way, you will have no confusion as to how to proceed as the kit also comes with detailed instructions to help you cultivate a healthy herb garden.
Spade to Fork Indoor Herb Garden Starter Kit
Those searching for an organic way to raise herbs in their home will need to look at the Spade to Fork Indoor Herb Garden Starter Kit. The Spade to Fork company is a family-owned operation that is dedicated to organic means of growing crops.
As you would expect from an organic gardening kit, all of the seeds in this set have organic certification from the USDA. The soil disks and the peat pots that you will use to grow your herbs carry similar organic certifications.
Many of the herb-growing kits on our list are valuable for their simplicity and ease of use. The Click and Grow Smart Garden deviates a bit from that theme by offering features that most other grow kits miss. The most notable of those features is the built-in grow light that connects to the container.
This light uses efficient LED bulbs to help give your plants all the light they need. Having this light will be especially useful to those in shaded apartments. Along with that light, this kit comes with a self-watering system that makes plant care that much easier. 
Grow Buddha Grow Your Own Gardening Kit
Simplicity is what makes the Grow Buddha Grow Your Own Gardening Kit such a great option for anyone who wishes to grow herbs indoors. This kit is user-friendly, meaning that both beginners and experts will have minimal struggle while using it.
Inside the kit, you will find eight herbs that you can grow. Each seed you find is organic and comes with a high germination rate that the Grow Buddha company has tested themselves. Those facts alone make herb gardening a bit less daunting, even for a complete novice.
Garden Republic Indoor Herb Garden Starter Kit
The Garden Republic Indoor Herb Garden Starter Kit is a herb-growing kit that gives you some options. While you can always grow your herbs inside, this kit will work well outside as well.
This kit comes with some unique burlap grow bags as well. To some, using grow bags may be a new concept. But you might be surprised to find that there are many advantages to doing so. If you want to find out what grow bags can do for your herb garden, using this kit is the perfect place to start. 
Home Grown Indoor Herb Garden Starter Kit
Some herb garden kits give you the chance to complement and even enhance your interior décor. Such is the case for the Home Grown Indoor Herb Garden Starter Kit. With this kit, your herbs will grow in a ceramic pot with a pleasing swirling blue design.
In the kit, you will find Cilantro, basil, thyme, and parsley seeds. Accompanying those seeds is a quick start manual that will guide you through the plating process. By following that clear guidance from the manufacturer, you can be sure that your indoor herb garden will be a success.
Hand-Mart Windowsill Herb Garden Kit
If all you have to work with is a small window area, then the Hand-Mart Windowsill Herb Garden Kit is a product you should consider. Included in this kit is a narrow rectangular container that can house plenty of herbs while fitting on a small ledge.
While the compact size of the container is one of the best selling points for this product, it is not the only one. This kit also gives you a comprehensive set of tools, including shovels, pruners, plant cards, and more. With such an extensive set of included items, you will have no issue performing all care and maintenance that your herbs need.
Herb Growing Kit Buyer's Guide
The products on our list above are all great options if you are looking for an herb-growing kit. But it is still possible that you did not yet find a kit that suits you. If that is the case, then you need to know how to shop for an herb-growing kit on your own. The sections below will introduce you to some of the key features you should be ready to evaluate.
Seed Variety
Some herb growing kits are small and will offer you three or four different types of seeds. Other kits are large and will include ten types of seeds or more. What is most important is deciding which types of herbs you want to grow, then making sure that the kit you choose includes them.
Container Quality
Nearly all herb growing kits will come with some sort of container in which your herbs will grow. Some of these containers will be nothing more than a small compostable pot. Other containers are a bit more ornate and will add more aesthetic appeal to your herb garden. What is also important to consider when buying one of these kits is container size. Measure your growing area first, then select a kit with a container that will fit well in that space.
Growing Manuals
For a beginner herb gardener, a growing manual can be one of the most helpful tools you have. Thankfully, many herb-growing kits come with such manuals. These guides often give you insights into what each herb needs to survive as well as some general herb gardening guidance. So, if you are not confident in your gardening skills, the easiest solution is to buy an herb gardening kit that includes some helpful advice.
Herb Growing Frequently Asked Questions
Before we conclude this article, we'd like to round out your knowledge of herb gardening. Below are three common herb gardening questions with some brief answers for each one.
Which Herbs Can Be Planted Together?
Growing more than one herb in a single container is a great way to increase the variety of your herb yields. However, not all plants call for the same conditions, meaning that not all plants are suitable to grow alongside one another.
Growing multiple plants in one area is all about finding species that like the same soil characteristics and have similar sunlight and water needs. But to save you some time, some of the common herbs that grow well together are sage, rosemary, thyme, oregano, and lavender.
What is the Fastest Growing Herb?
Expedience is important to some gardeners. So, if harvesting herbs as soon as possible is your goal, then you need to find the right type of herb to allow you to do that. One of the best options in this regard is dill. Dill plants can be ready to harvest in less than two months in some cases.
However, dill is not the only fast-growing herb out there. You can expect parsley, basil, and chives to all grow rather quickly as well.
Do Indoor Herb Gardens Work?
Growing plants indoors is different than growing them outdoors. But that does not mean that indoor herb gardening is exceptionally difficult to do. In fact, with the right plant species and the right setting, indoor herb gardens can be extremely successful.
Finding plants that are easy to grow is an important first step. After planting, you should be diligent in your care routine to give your herbs the greatest chance of survival. What can also help immensely here is finding an herb growing kit that has all the tools you need to produce an ample herb harvest.
Sources:
Organic 101: Organic Seeds Are Fundamental Right from the Start