You have just started noticing some weeds growing back even after you pulled them. You had planned to start gardening soon. Watching this, you're now skeptical about whether you should start.
"Should I invest in a weed killer sprayer? But there are so many things to consider and many models to choose from! Where will I start? And won't they hurt my other plants?" you may ask. We've got you covered in this. 
Here, you won't just find which weed sprayers are the best but also the common types of weed killer sprays available in the market, their functions, and the reasons why you need them.
Reasons Why You Need a Weed Killer Sprayer
If you have planned for a good harvest in your garden, then you need to ensure an efficient way to kill weeds and keep your plants healthy. Here are the reasons why you need a weed killer sprayer:
You can buy concentrated treatment chemicals. They are often more cost-effective than the premixed ones. 
Weed-killing sprayers will help you with the exact measurements of the chemicals according to your lawn or garden size. 
You can adjust how fine or concentrated you want the spray to be. 
It's easy to prevent over-spraying when you use the correct type of nozzle and spray wand for the operation.
It's often easy to start and stop the sprayer.
You can reach every corner of the plants with the weed killer sprayer.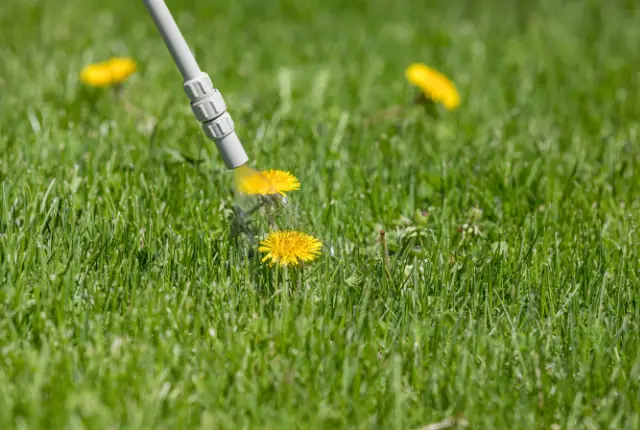 The Common Types of Weed Sprayers You Can Choose From
There are three types of weed sprayers that you'll find commonly in the market. They are easy to use as well. But to cover the orchards and trees as well, we have included a fourth type.
Let's take a closer look at these weed sprayers so that you know which ones will suit you the best.
1) Hand-held Trigger Sprayer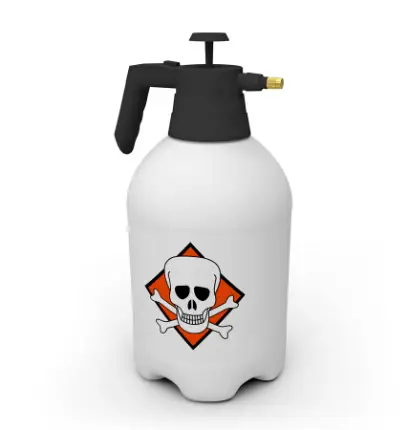 If you're planning to spray only the indoor plants or the plants on your patio, then a hand-held pressure sprayer should be your go-to choice. You can carry it around easily as long as its capacity is up to two liters.
They're quite easy to use, and you can use them even as a water mister. They come with a plastic bottle and a plastic cap with a nozzle, a squeeze pump, and a plastic handle attached. 
This hand-held weed sprayer works best for those indoor plants that don't need regular attention. Mix the correct proportions of chemicals and dilute them properly, and it'll last you for a reasonable amount of time until the next refill. 
2) Backpack Pressure Sprayer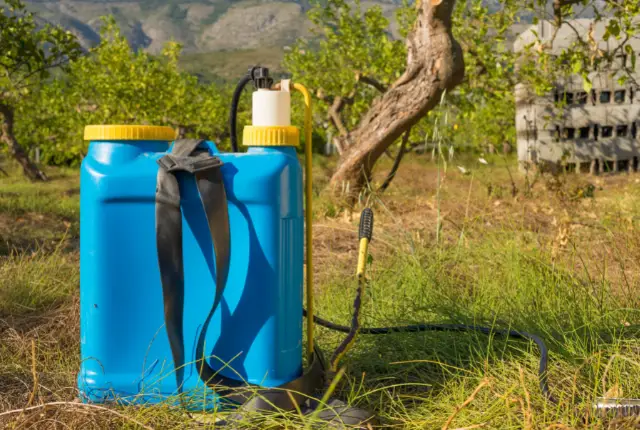 This is one of the most common weed sprayers that you'll find people using for their lawns, orchards, and even in greenhouses. As the name suggests, you can mount this sprayer on your back like a backpack with straps. 
Because they're pretty heavy and have the capacity to carry liquid up to 16 liters, the backpack feature makes them easy to use. The tanks are either broad or cylindrical, depending on what capacity you want, and come with spray nozzles and long wands for extended reach.
With these, you can target the sprayer precisely in a way that the weedicides won't touch the plants. Put all the chemicals in the tank in proper ratios and pump it up so that pressure builds up in the tank so that when you press the trigger, it dispenses the liquid at high pressure.
3) Tank Sprayer with a Hose End
Contrary to a backpack weed sprayer, a tank sprayer can be a little challenging to use due to the way you need to carry it. They have a cylindrical shape and can hold up to 9 liters of liquid. With these, you can use a standard garden hose to attach the tank to the chemical container.
One advantage of this product is you can just put the chemical concentrate in the container, whether it's liquid, powder, or granules, and you can set the sprayer head to the setting that'll give you the perfect mix of the concentrate with water.
Some models of this tank sprayer come with a frame that you can put your tank in to carry around or straps that'll allow you to attach the tank to your waist. Due to this, your mobility can get affected, which is why these weed sprayers are better for working in small sections. 
4) Trombone Sprayer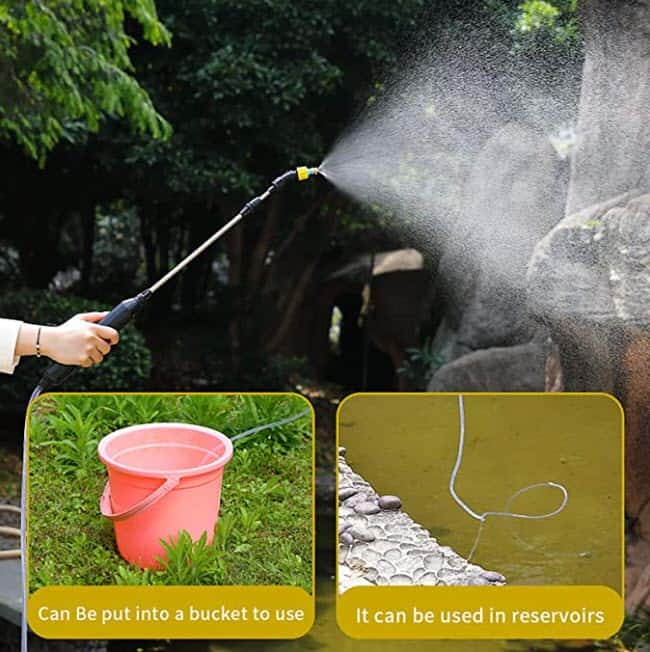 A trombone sprayer, also known as a slide sprayer, isn't as common as the other sprayers mentioned due to its functionality and also because other sprayers now come with long wands. However, this works well for tall trees only if one is experienced enough with it.
Trombone sprayers produce the farthest-reaching spray through the long wands, making them ideal for spraying tall trees. One major drawback is it requires continuous pumping. It's also not consistent with the amount of product it sprays. 
Trombone sprayers come in a range of sizes according to space capacity. You can get slide pump sprayers that allow spraying from a 9-liter tank for your garden and lawn up to industrial-sized tanks as big as 250 liters for commercial orchards and gardens. 
Things to Look for When Choosing the Best Weed Sprayer
Knowing the functions of each type of weed sprayer won't really cut it. If you want to pick up the best weed sprayer from the crowd, then you must know what to look for in each type. This will make your shopping much easier.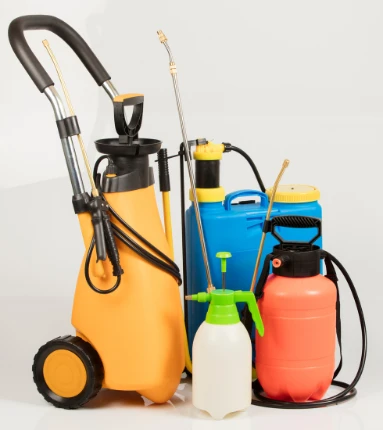 What You Should Consider Before Buying Any Weed Sprayer
There are a few things that you need to consider before moving forward: 
Determine how bad the weed growth is, and what the types are. This will help you determine the chemicals you'll need.
Determine the ground that you need to cover. This will help you determine the size of the tank and the type of sprayer you'll need.
Determine to what extent you want the herbicides to work. This will help you decide the concentration you need to mix your herbicides in.
Always consult an expert before you move forward with the chemicals and the concentration. If needed, take samples of the weeds you see in your lawn and garden.
Keep in mind that some sprayers aren't suitable to hold acidic or corrosive solutions, so choose your weed sprayer accordingly.
How efficient each type is.
And now, let's proceed to what you should look for when choosing each type of sprayer. 
Backpack Pressure Sprayers
When you're looking at backpack sprayers, look for these things:
The material that the tank is made of.
How many liters of fluid can it carry?
Whether it has piston pumps or diaphragm pumps.
How strong the straps are.
How long the spraying wand is.
The durability of the tank, straps, wand, and nozzle.
Whether it's battery-operated or hand-pumped.
How many modes of spraying does the nozzle offer?
How easy it is to use.
Whether it has safety features like shut-off valves, drip control, lock features, and interchangeable nozzle options.
Keep in mind that a piston pump is suitable for usage at home, and it'll allow a pressure up to 90psi on average. You can use it to treat shrubs, tall trees, and any plant that's on ground level. You can, however, only work with liquid concentrates with this pump mechanism.
A diaphragm pump will allow you more pressure, up to 150psi, and can only be used for spraying down, preferably on large fields. You can work with liquid, powder, and even granular concentrate without clogging and damaging the nozzle. 
Hand-held Trigger Sprayers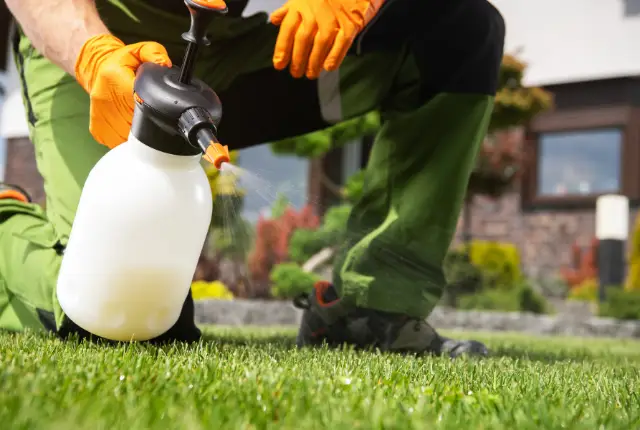 Hand-held sprayers may look easy to handle and maintain when you hear their description. However, there are certain aspects and qualities that you should keep in mind. 
Before you proceed to buy a hand-held sprayer, think of the chemicals that you'll be putting in it, as not all hand-held sprayers will be able to handle corrosive chemicals. 
See if the hand-held sprayer comes with replacements or if replacements are available to buy later.
Check what settings you can use to spray the chemicals—stream, jet spray, fine mist, etc.
See what the quality of the nozzle and seal are like. Some deteriorate quicker than others, depending on what chemicals you're planning to use.
Besides considering these points, if you think that manually pumping the sprayer to create pressure can be tiring, you can find a few sprayers with automated pumping. You simply have to press a switch that'll create pressure in the bottle, giving you a constant, effortless spray.
Tank Sprayers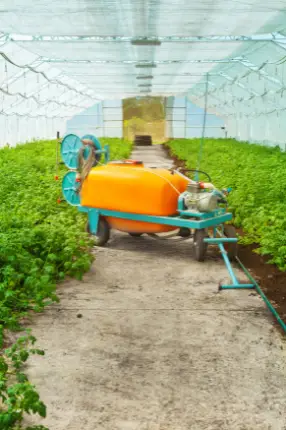 Tank sprayers, although widely used for commercial purposes, can be difficult to use and can slow down the efficiency of your work.
What are you planning to treat with a tank sprayer?
What capacity do you need? 
Can the tank withstand corrosive mixtures?
How does the hose feel? Is it flimsy or sturdy?
What's the material of the sprayer pipe? Is it plastic or brass?
Is the spray nozzle fine or coarse?
Does the hand-held sprayer come with replaceable parts?
Besides these, make sure that you maintain your sprayer correctly. Only mix the amount of chemicals that you need. After every use, empty the tank and clean every part thoroughly. Otherwise, residues can slowly eat them away.
Trombone Sprayers
Before deciding on a trombone sprayer, you need to understand how it works. These sprayers have a wand with two parts. The front piece slides on the other stationary piece in order to pump out the treatment solution from the bucket. Here are the things you should look for:
How smoothly can you slide the front piece of the wand?
How far will each spray of the treatment reach?
What material is the bucket made of?
What chemicals will you be putting in the bucket?
What capacity bucket do you need?
Remember, the trombone sprayer needs to be carried every time you move forward to a different location, and it can be cumbersome. Also, trombone sprayers are expensive.
The Best Sprayers for Killing Weeds
Each type of weed sprayer has its own best brands. You can differentiate them easily by the ease of carrying them, the ease of operating them, how they spray the weedicides, how far and deep you can reach with their nozzles, and how cost-efficient they are.
Best Backpack Pressure Sprayers
Based on price, pressure, quality, and ease of use, here are the top three backpack pressure weed sprayers, with their pros and cons:
Chapin 61800 4-Gallon Backpack Sprayer
| Pros | Cons |
| --- | --- |
| Best for home use | Manual operation |
| Adjustable spray nozzle | No padding in the straps |
| Budget-friendly | Small tank mouth may make it difficult to maintain.  |
| Triple liquid filtration system | |
| Built-in pressure gauge | |
| Has lumbar support | |
Field King Professional 190328, 4 Gallon Backpack Sprayer
Field King Professional 190328 No Leak Pump Backpack Sprayer for Killing Weeds in Lawns and Gardens
Internal No Leak Pump design is safer to use chemicals will not drip down your back. Internal piston pump delivers up to 150 PSI

Durable, 21 inch poly wand with the highest quality Viton seals can be used with Wet table powders and liquids for all applications does the work of both a piston and diaphragm backpack

Premium, lockable shut off with brass components and an in-line filter.

Easy access pump allows changing of seals in just minutes with no tools

4 nozzles included: brass adjustable, 2 flat fans, and foaming nozzle. Also accepts Tee Jet nozzl
| Pros | Cons |
| --- | --- |
| Affordable | No pressure gauge |
| No leakage | No lumbar support |
| Usable for both right- and left-handed people | |
| Can handle pressure up to 150 psi | |
| Easy to maintain | |
| Spares are easily available | |
Field King 190515 Professionals Battery Powered Backpack Sprayer
Field King 190515 Professionals Battery Powered Backpack Sprayer, 4 gal , White
No pumping required while using with liquids and water soluble solutions

Up to 4 hours of spray duration on a single charge or 50 gallons of liquid (with 8002 nozzle)

18 volt Lithium-Ion 2.1 Ah Battery charges in 3.5 hours (charger included). interchangeable Battery system.

Pre-set spraying pressure at 40 psi, 0.2 GPM, for typical landscape applications (with 8002 nozzle)

Powder-coated Steel frame for durability and chemical resistance

Fully padded back harness for all day spraying comfort

Triple filtration system prevents clogging during use and enables pump longevity

Premium, lockable shutoff; 21 inch poly wand; and the highest quality Viton seals for chemical resistance

4 nozzles included: brass adjustable, low volume flat fan, high volume flat fan, and foaming nozzle. Also accepts tee jet nozzles.

Not designed for use with wettable powde
| Pros | Cons |
| --- | --- |
| Has a rechargeable 20V lithium-ion battery | Can handle only up to 40 psi |
| Padded shoulder straps | You need to remove the battery for charging it |
| Has a hip belt | |
| No drip when the trigger is released | |
| Comfortable for the back | |
Best Hand-held Trigger Sprayers
Hand-held sprayers are best to use for indoor plants and other small potted plants outdoors. Here are the two best models with their pros and cons:
Flora Guard 1.5L Hand-held Sprayer
FLORA GUARD 0.4 Gallon Garden Sprayer (1.5L)
Durable and Safe Material: The garden pump sprayer is made of high-quality PP material, thickened body and vent valve to ensure safe use and long-lasting durability.

Adjustable Brass Nozzle:The high quality brass nozzle is not easy to damage and rust.The brass nozzle can adjust the intensity of the water, from direct injection to fine mist spray.

Safety Value:The garden sprayer is equipped with a safety valve,which automatically releases the excess pressure when it exceeds 2.5-3 Bar.It can prolong the service life of the sprayer bottle.

Multi-function: This 1.5L hand-held pressure sprayer can be used for Irrigation plants, home cleaning and car washing. Attention:corrosive or acidic solutions can't be used.

Service Guarantee: If any quality problem occurs within one year, please contact FLORA GUARD for free replacement or unconditional refu
| Pros | Cons |
| --- | --- |
| Calibrated tank for your treatment chemical | No other mode than spraying |
| Can adjust spray intensity | Provides just one angle with the nozzle |
| Easy to hold | |
| Has a pressure release valve | |
| Can create high pressure in a short amount of time | |
| Adjustable brass nozzle | |
| Long pump | |
Faithfull FAISPRAY2 Hand-held 2L Sprayer 
Faithfull SPRAY2 2L Pressure Sprayer Hand Held
A 2-litre hand sprayer with a powerful pump action, manufactured from shatterproof and frost resistant materials and equipped with a pressure release safety valve.

upplied complete with brass straight and up-spout nozzles for extra versatility.

Suitable for use with most garden and household chemicals, the hand sprayer is ideal for use around the garden, greenhouse and home
| Pros | Cons |
| --- | --- |
| Have two brass nozzles—straight and curved upward | Only one mode of spraying is available |
| Has pressure-release valve | Bulky tank design, so your hand may feel fatigued |
| Powerful pump | |
| Easy to hold and operate | |
| Powerful spray | |
Best Tank Sprayers 
Also known as hose-end sprayers, they mainly come as a container that holds the treatment concentrate. You can attach it to your garden hose pipe, or buy a pipe and a water tank that you can carry around if you have a larger area to cover.
Let's look at the best models with their pros and cons:
Ortho Dial N Spray Hose End Sprayer
Ortho Dial N Spray Hose-End Sprayer for Liquid Weed and Insect Killer, Fungicide, Fertilizer with 14 Dilution Settings
The Ortho Dial N Spray Hose End Sprayer makes it easy to spray liquid concentrates such as weed killers, insect killers, fungicides, and fertilizers by applying the exact amount every time, with no mixing, measuring, or mess

3 spray patterns deliver the precise amount of treatment where needed: 1) broadcast is perfect for large areas, 2) jet reaches high places or tough rinse jobs, and 3) shower is light enough for gentle vegetation and flowers

14 dilution settings automatically mix from 1 tsp to 8 oz per gallon of water

The ergonomically designed trigger, extended-grip handle, rotating hose connector and anti-backflow device that prevents product from going back into the water system make applying product simple and efficient

The multi-use, hose-end sprayer provides a simple lawn solution without mixing or mess in 3 easy st
| Pros | Cons |
| --- | --- |
| Has three sprayer patterns | Bleach and soap will damage the sprayer and nozzle |
| Fourteen dilution settings | Only usable with liquid concentrates |
| No mess and no need to premix | May not fit all hose ends |
| Just pour the concentrate in the container and set the dial to the dilution you want  | |
| Easy to hold and carry around | |
| Calibrated | |
Chapin International G6015 Wet/Dry Sprayer
Chapin International G6015 Wet/Dry Hose-End Sprayer, Translucent
32-ounce capacity

Made in the USA with global materials

Spray water-soluble and liquid concentrates

Easy to set dial for ounces, tablespoons and teaspoons

Chemical-resistant construction

Filter basket for even granular dilution

Adjustable 4-position nozzle and backflow preventer

Thumb control to easily switch on and off

Fits standard hose e
| Pros | Cons |
| --- | --- |
| Can be used with both liquid, powder, and granular concentrates | Dry application may cause a backlog in the reservoir |
| Has four sprayer patterns | Not calibrated |
| Has a wet or dry dial | |
| Has dilution setting in ounces, teaspoons, and tablespoons | |
| Has a filter basket for powder and granular concentrates | |
| Can fit a standard hose end easily | |
| Easy to handle and carry around | |
Best Slide Pump Sprayer
Trombone sprayers, or slide sprayers, are not that common in households. They're more commonly used in industrial-scale applications. Here's the best trombone sprayer with its pros and cons:
Chapin 6002 Industrial Slide Sprayer
| Pros | Cons |
| --- | --- |
| Flexible brass pump | Needs vehicle support to carry |
| Sturdy enough to allow you to spray from containers up to 250L | Needs manual pumping |
| 84-inch reinforced hose | |
| Up to 150 psi pressure | |
| Can spray up to 45 feet | |
| Can easily reach tall trees and on every corner | |
Types of Weedicides and When to Use
There are mainly two types of weedicides, or herbicides, available—contact weedicide and systemic weedicide. Each has its way of working, so you need to know and understand them better before you start using them.
To help you with that, let's look at how each type of weedicide works. 
Contact Weedicide
Also known as contact herbicides, they'll only affect those herbs or weeds that you don't want to grow around your plants and trees. As the name suggests, contact weedicides only affect the part of the weeds they come in contact with. They won't travel any farther from that.
Contact weedicides work pretty fast and will only affect the patches that you've sprayed by essentially burning them. It won't affect the soil or the roots of your other plants and trees. This makes them the ideal chemical to use on shrubs and other plants that stay closer to the ground.
Keep in mind that you have to use it directly in the selective spots, as it'll damage any living plant tissue that it touches. Besides, they only offer solutions for a short time and from the surface. 
Systemic Weedicide
Systemic herbicides work from within. When you spray it, the weedicide absorbs through the tissues of the weeds and kills them from the root. It can take up to three days, but you'll see them getting burnt from within. 
Systemic weedicides react with plant tissue and the soil, which is why your lawn and garden will be weed free for a long period. Any seedling that tries to sprout will also start dying before growing as the systemic herbicide is still active in the soil. Source
Will Weedicides Hurt the Other Plants?
Although systemic weedicides give you a longer-lasting result and may sound like it's the ideal solution for you, it really isn't. Systemic herbicides aren't selective, which means they'll kill any plant that they touch. 
This means you can't spray systemic weedicides close to the roots or anywhere near the plants in your garden. You can, however, spray them on your lawn and far away from the roots of the plants and trees in your garden.
Contact herbicides may give you short-term results, but they're the safest option. They'll only burn what they touch, which means your plants and trees will be safe from within.  
You may also be interested in… Ecoscraps vs. Milorganite: Which One Should You Choose?
Conclusion
Be it for household purposes, industrial scale weedicide usage, or for using them indoors, choosing the right type of weed-killing sprayer needs a lot of research. They need to be functional, easy to use and should be a bang for your buck.
With all the information provided and the best sprayers for weed killers mentioned under each category, we hope that this article helps you to find your perfect weed sprayer.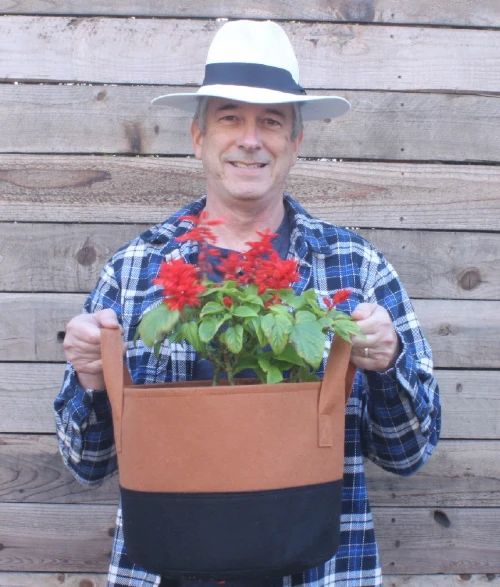 Darrell has a passion for gardening that he inherited from his father. Go here to read more about the influence his father played in his love for gardening. If you want to send Darrell a quick message, then visit his contact page here.