Keeping up with lawn maintenance may be a full-time chore, especially if you do it all by hand. Investing in high-quality tools, like backpack sprayers powered by batteries, simplifies your work significantly.
The battery-powered backpack sprayer is a popular piece of equipment among landscapers, gardeners, pest-control specialists, and homeowners who wish to enjoy their yards without the hassle of weeds and pests.
Rather than lugging around a heavy metal cart or manually spraying with a squirt bottle, a backpack sprayer's ergonomic design allows you to carry fertilizer, herbicide, insecticide, or other liquids on your back and spray them with the push of a button.
This article will provide information about the top battery-operated backpacks and a comprehensive guide.
So, let's get started!
What Is a Battery-powered Backpack Sprayer?
A battery-powered backpack sprayer is a flexible and time-saving tool for spreading insecticides, soil amendments, and plant food to your lawn, trees, and gardens.
There are two fundamental kinds of backpack sprayers: manual sprayers and sprayers powered by batteries. As with various other garden items, technology continues to enhance its functionality.
 Newer versions have more advanced technology, which enables safer and more accurate applications. Most modern sprayers feature improved controls, leak-proof construction, longer-lasting batteries, and cushioned straps for more comfort.
Features To Look For in a Battery-powered Backpack Sprayer
There are a few crucial features to consider when selecting a backpack sprayers powered by batteries, such as:
Pressure
The force that may be exerted via the nozzle of a backpack sprayer is measured in pounds per sq. inch (psi). Backpack sprayers typically operate at 70 pressure, while smaller versions may operate at 40 psi, and commercial sprayers may operate at 150 psi.
The efficiency of a backpack sprayer depends on the pressure it is subjected to. An uneven spray from a sprinkler with insufficient pressure may generate wastewater in a smaller yard. At the same time, a heavy dose would flood the area.
A pressure range of 40 to 70 psi is sufficient to cover smaller or average-sized yards adequately.
Tank Size
It's possible to choose among sprayers with 2- to 7-gallon tanks. Sprayers with lower capacities should be carried by hand, while larger tanks should be transported using a wheeled cart. Backpack sprayers that hold 4 gallons of liquid are typically used.
Sprayers in the middle ground between these two sizes make for excellent backpack sprayers since they are portable yet need to be more light to use well. A 4-gallon tank is sufficient for most common lawn care tasks on properties around 5,000 to 10,000 square feet, such as feeding the grass and spraying for pests.
Tank Material
Some of the black tanks are found on battery-operated backpack sprayers. It's opaque, so you don't know how much liquid is contained. Not a tremendous problem, but it isn't very pleasant, nevertheless, and it can be easily prevented. Select one with a clear fluid indicator.
Battery Life
The amp hours of a battery indicate its battery life. A battery's amp-hour rating is its ability to supply one amp of current for one hour. Battery life is measured in amp hours; the higher the number, the longer you can go between charging sessions.
Backpack sprayers can weigh anything from below 10 pounds to around 15 pounds. You have to decide how big of a burden this is for you.
Distance of Spray
When deciding on a backpack sprayer, it's crucial to consider its spray range. If your lawn or garden is very large, invest in a battery-operated backpack sprayer with a range of 30 feet or more.
Nozzles
The diameter of your spray nozzle is a crucial component. Upgrade to a nozzle with a Teejet ring. Keep in mind that your nozzle makes a difference. Check for a nozzle that has both a large mouth and can be adjusted.
Warranty
Backpack sprayers only sometimes come with a guarantee, like other garden equipment with more engines or moving components, and this is a hit-or-miss situation.
The most extensive warranty available is a 1- or 2-year limited warranty. However, not all models have one. Limited warranties only cover manufacturing flaws in the device itself and do not cover misuse of the equipment or wear and tear that results from regular use.
Comfort
There are inherent risks when working with chemicals, so it's important to take precautions to protect yourself and others. Buying a cumbersome backpack sprayer shouldn't add stress to your life.
The tank, pump, and unit should be simple to use, dismantle for cleaning, and store. There is also the issue of comfort. For optimal comfort, you should find a model with thickly cushioned straps and a back that can bend without straining.
Top 7 Battery-powered Backpack Sprayers
You may use these machines to spray everything from fungicides and insects to herbicides and weed killers on your grass. With so many options, picking the best one can be challenging.
Here's a list of the top 7 backpack sprayers powered by batteries we've put together, along with their advantages and disadvantages for your convenience.
1. Visotech Battery-Powered Backpack Sprayer High Pressure
If you need to spray a big yard or greenhouse, the Visotech backpack sprayer is for you. The 5-gallon capacity is more than any of the other models we considered. Many other backpack sprayers powered by batteries are available on the market if you're looking for something particularly powerful or lightweight.
You'll appreciate the cushioned shoulder straps when you're out sprinkling for a while. Its eight-amp-hour battery allows for extended spraying between charges.
Advantages of Visotech Battery-Powered Backpack Sprayer High Pressure
Large storage capacity
Breathable shoulder straps
Sustaining power for a long time
Disadvantages of Visotech Battery-Powered Backpack Sprayer High Pressure
A wider variety of more updated variants are available.
2. PetraTools 4 Gallon (15.15 liters) Battery-Powered Backpack Sprayer
The PetraTools backpack sprayer has a 6.5-gallon tank and a sturdy steel trolley to let professionals transport the equipment from their vehicles to the job site. You can treat huge areas without having to move the sprayer from its cart, thanks to its 100-foot hose.
This battery-operated sprayer has an adjustable pressure setting beginning at 70 psi which can be adjusted up or down according to the user's preferences. It is very useful when working on many yards in a single day.
This sprayer may be used either as a backpack for concentrated spraying or as a cart for more widespread coverage. The 6.5-gallon sprayer tank is too hefty to fill up in backpack mode, but it's the perfect size for the cart, as we discovered in our tests. The wand operates without dripping, and the pump provides sufficient pressure for using most garden and lawn pesticides.
Advantages PetraTools 4 Gallon (15.15 liters) Battery-Powered Backpack Sprayer
Allows for easy transition between backpack and cart
Controlled pressure release valve
Flexibility and portability
There are spray hoses of both 4 and 100 feet included
Disadvantages of  PetraTools 4 Gallon (15.15 liters) Battery-Powered Backpack Sprayer
Pricey
Inconveniently large tank when used as a backpack
It's useless unless the battery has been charged
PetraTools 4 Gallon Battery Powered Backpack Sprayer – Extended Spray Time Long-Life Battery – New HD Wand Included, Wide Mouth Lid, Multiple Nozzles & Battery Included
Never pump again: Sprays For 6-8 hours on a single battery charge or over 200 gallons of solution so that you can spray all day on a single charge without worrying about pumping. 70 PSI pump with adjustable pressure knob. The 8AH lead-acid battery provides 4X the battery life of most other 2.0 lithium battery sprayers. If needed, the battery can be changed quickly. Includes a fully-automatic AC charger that completely charges the battery in 8 hours. (BATTERY AND CHARGER INCLUDED!)

PetraTools HD4000 #1 Customer Support: PetraTools wants to make sure that you are 100% satisfied with your PetraTools HD4000 Sprayer and will help any way they can. Other sprayers provide EXTREMELY limited support on Amazon but not PetraTools. Quality control testing and final assembly on each sprayer completed at PetraTools testing centers in the USA!

New PetraTools Heavy Duty wand included: Meet all your spraying needs with the all new PetraTools Heavy Duty plastic wand. Includes plastic squeeze handle with locking mechanism.

Wide mouth lid - Large wide mouth lid allows for easy filling with screen filter to keep dirt & debris out of the tank. Includes multiple different nozzle attachments! The secondary lid allows for easy storage of nozzles.

Translucent tank with gallon markings: The translucent tank with gallon markers allows you to easily see how much solution you're mixing in and how much is left in the tank. Variable PSI pressure adjuster allows you to control your perfect spr
3. Cardinal 4-gallon Battery-Powered Backpack Sprayer
The Cardinal 4-gallon battery-operated backpack sprayer is the most powerful option. The model can serve you well while taking on challenging tasks since it sprays 6,000 sq ft in just 10 minutes.
There will be no need to regularly refuel because the battery can shoot up to 200 liters with one single charge. The spray nozzles are removable, so you may switch between covering a large area and targeting a specific spot.
There are a few areas where this approach needs to be revised. To begin with, it's rather hefty at 14 pounds. Anyone experiencing back pain should not consider purchasing this model. There is room for improvement in both the voltage and water pressure.
Advantages of Cardinal 4-gallon Battery-Powered Backpack Sprayer
Durable battery life
Electricity at a high voltage
Disadvantages of Cardinal 4-gallon Battery-Powered Backpack Sprayer
Low water pressure
Comparatively heavy
4. Aramox Battery-Powered Backpack Sprayer
The Aramox battery-powered backpack sprayer is a bargain considering its powerful spraying capabilities and long battery life.
A strong jet stream is produced by 85 psi of pressure. In most cases, an eight amp-hour battery will be more than enough power for the duration of the work. Several spray patterns may be selected from the interchangeable nozzles.
Advantages of Aramox Battery-Powered Backpack Sprayer
Elevated water pressure
Very reasonable
Strong battery capacity
Disadvantages of Aramox Battery-Powered Backpack Sprayer
It could be heavier
Low battery capacity
5. Chapin 63985 4-Gallon Wide Mouth Battery Sprayer Backpack
The Chapin 63985 sprayer is suitable for use with a wide variety of chemicals, including some that are highly flammable, such as some of today's weed killers, fertilizers, and pest control treatments. It has a special filtration system and Viton seals that are chemically resistant because of how they are constructed.
Three alternative nozzles are supplied for fan spray, direct stream, and foaming applications. A pressure gauge on the wand and a control flow valve ensures that the pressure and spray levels remain consistent. This multipurpose sprayer is ideal for domestic users and industry experts who require only one tool for various tasks.
The Chapin 63985 performed admirably in our testing, demonstrating its affordability, convenience, and reliability. The hip belt and large shoulder straps are made for very durable and comfortable wear. This one includes a built-in pressure gauge that displays whether or not the sprayer is functioning at a safe pressure.
Advantages of Chapin 63985 4-Gallon Wide Mouth Battery Sprayer Backpack
There are a variety of spray nozzles available to achieve different effects.
The spray's pressure is measured via a gauge built inside the wand
No clogging will occur in the 3-stage filtering system
Disadvantages of Chapin 63985 4-Gallon Wide Mouth Battery Sprayer Backpack
The utilization of manual processes often results in increased weariness
Some substances might corrode a steel spray wand
Chapin International 63985 Black & Decker Backpack Sprayer, 4 gal, Translucent White
Features a black & Decker 20-volt Lithium ion Battery for up to 1. 75 hours of continuous spraying

35-40 psi with a 20-foot maximum horizontal spray stream

4-gallon tank with 6-inch wide mouth funnel for easy filling and cleaning

Cushion grip shut-off with three nozzles for a variety of applications

Straps for prolonged use. This shut off does not have a lock-on/lock-off feature. . Spray stream max vertical: up to 27-feet

Note: Kindly refer user manual and instructional video before use

NOTE: Charge battery fully before first
6. Field King 190328 Professionals
The Field King Professional 190328's internal no-leak pump is 21 inches long and has high-quality Viton seals and gaskets.
Its internal pressure chamber may reach 150 PSI compared to other backpack diaphragm pumps. Its filtering basket prevents the tank from overflowing with particles too big to fit through the pump's seals.
The paddles inside ensure that all of the chemicals are properly blended. An in-line filtration and brass parts round out the set. Its filtering basket prevents the tank from overflowing with particles too big to fit through the pump's seals. The pump is simple to reach, so seal replacement takes just a few minutes.
The machine provides two flat fan nozzles, a foaming nozzle, and an adjustable brass nozzle. TeeJet nozzles may also be used with it.
Advantages of Field King 190328 Professionals
An entirely watertight pump
Piston pumps with a patented design have fewer moving components, making them more durable and easier to maintain.
Plastic nozzles wear out far faster than their metal counterparts.
Disadvantages of Field King 190328 Professionals
Unsteady PSI and pressure
Lacking power
Limited tank access
The pump's handle doesn't seem very sturdy
D.B. Smith Field King Professional 190328 No Leak Pump Backpack Sprayer for Killing Weeds in Lawns and Gardens
The Field King 4 gal. backpack sprayer is perfect for large landscaping jobs. The internal pump design will never leave chemicals dripping down your back.

The high grade Viton seals throughout the pump and shut-off make this sprayer one that will hold up to the tough chemicals that your job requires.

4 Gal. no leak backpack sprayer Internal piston pump design.

Padded comfort backpack straps 50 in. chemically resistant poly hose 21 in. poly wand and coated steel tank frame.

Featuring viton seals for maximum durabili
7. Sprayers Plus 105Ex Backpack Sprayer
One of the more well-liked backpack sprayers used among do-it-yourselfers is the Sprayers Plus 105EX. It is easy to use and aids in applying a uniform coating. Since it is translucent, it is simple to check the liquid level.
Since the hole is wide, filling, mixing, and cleaning is easy. It features a long reach and a 20V battery that produces 40 PSI to assist you in spraying trees and higher shrubs.
Advantages of Sprayers Plus 105Ex Backpack Sprayer
Compact and long-lasting
Electronic components on the inside are shielded from the elements.
Straps with padding for comfort
The battery has a power level indicator
Disadvantages of Sprayers Plus 105Ex Backpack Sprayer
Nozzles are not up to the mark
Continual problems with water seepage
A little costly for what it offers
Benefits of Having a Battery-powered Backpack Sprayer
Battery-powered Backpack Sprayer has several great benefits, including but not limited to:
Convenient
Battery sprayers are extraordinarily user-friendly because they lack a complicated engine and other moving elements. Whenever the trigger is squeezed, the motor and pump work together to generate pressure.
Requires Less Space
In general, electric sprayers require less room inside a car. An electric power sprayer's motor and pump assembly is often much smaller than an equivalent gas motor and pump unit. It guarantees extra room for other tools and goods.
An Ideal Replacement for Conventional Spray Bottles
Compared to portable spray bottles, backpack sprayers powered by batteries offer significant cost savings since they enable the purchase of larger quantities of treatment concentrates. Because of fencing works well for people who have to take care of limited areas, such as backyards or office buildings.
Easy Maintenance
There will be less upkeep for you to worry about. There are fewer moving components and typically easier plumbing with electric power sprayers. It reduces the potential for failure, reduces the number of moving components, and simplifies upkeep.
Cost Effective
Backpack sprayers powered by batteries are more cost-effective. Backpack sprayers powered by batteries are a cost-effective solution for the occasional requirement to treat a garden or yard. Rather than purchasing a bottle of weed killer, pre-mixed fertilizer, and insecticide, you may save money by purchasing a concentrated solution. Time and money on labor are both saved.
Saves Time
Compared to handheld spray bottles, backpack sprayers powered by batteries save wasted time because they don't need to be refilled every few minutes. Backpack sprayers powered by batteries can often contain at least a liter of treatment, extending the time you can spend working between refills.
Bottom Line
After reading this article, you will be well-equipped to choose the finest backpack sprayers powered by batteries to maintain your garden and lawn free of weeds and pests.
Keep in mind the yard's layout and how you want to put the sprayer to use before making a final decision on a battery powered model.
FAQ
What Is the Function of a Backpack Sprayer?
You may use a backpack sprayer to efficiently and rapidly apply liquid solutions like insecticide, herbicide, water, fertilizer, and more to your lawn, garden, and trees.
What Do You Load a Backpack Sprayer With?
Virtually any liquid solution with a viscosity close to water may be poured into a backpack sprayer. Products like liquid fertilizers, insecticides, and herbicides fall within this category. Ensure the solution isn't excessively corrosive or volatile since this might cause damage to the sprayer's internals.
How Long Can a Battery-operated Backpack Sprayer Operate After a Single Charge?
The kind of batteries you choose will determine how long your battery-operated sprayer can operate between charges. A battery that consumes more power could only last for a short time since an amp hour counts both electrical output and time. The shortest battery has a charge life of just a few hours. Up to eleven hours are spent on the longest.
What About the Safety of Backpack Sprayers?
As long as appropriate solutions are used, and appropriate measures are taken to safeguard the skin, eyes, and respiratory system, backpack sprayers may be used safely. When the liquid shoots out of the backpack, some of it may be caught by the wind and blown back toward the user, which is why extra precautions should be used. It wouldn't be a big deal if the sprayer contained water. Still, it may be dangerous if it contains a chemical herbicide or pesticide.

What Is the Price Range for a Backpack Sprayer?
Backpack sprayers that run on batteries will cost anywhere from $100 to $300. The sprayer's price range reflects the variety of components, battery quality, and technology that go into its production. You can purchase an excellent sprayer without breaking the bank.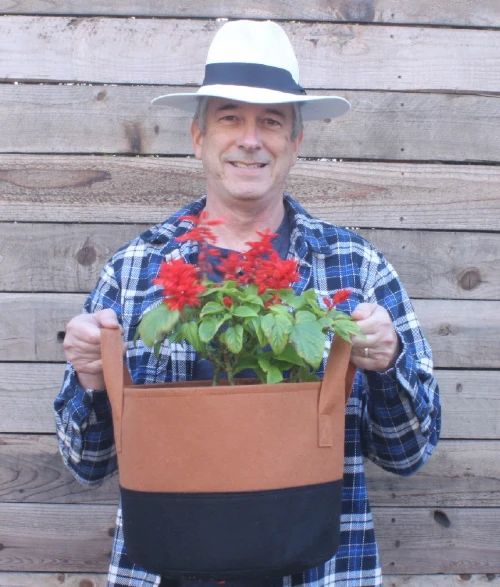 Darrell has a passion for gardening that he inherited from his father. Go here to read more about the influence his father played in his love for gardening. If you want to send Darrell a quick message, then visit his contact page here.