Have you ever found yourself tangled in a web of branches, wondering if there's a tool that effortlessly transforms your pruning woes into a breeze? Look no further. In the vast world of pruning saws, where precision meets power, we've decided to uncover the best pruning saw for you.
Whether you're a seasoned arborist or a weekend warrior tackling unruly hedges, join us as we explore the top contenders in pruning saws. Say goodbye to the struggle, and let's dive into a world where every cut is clean.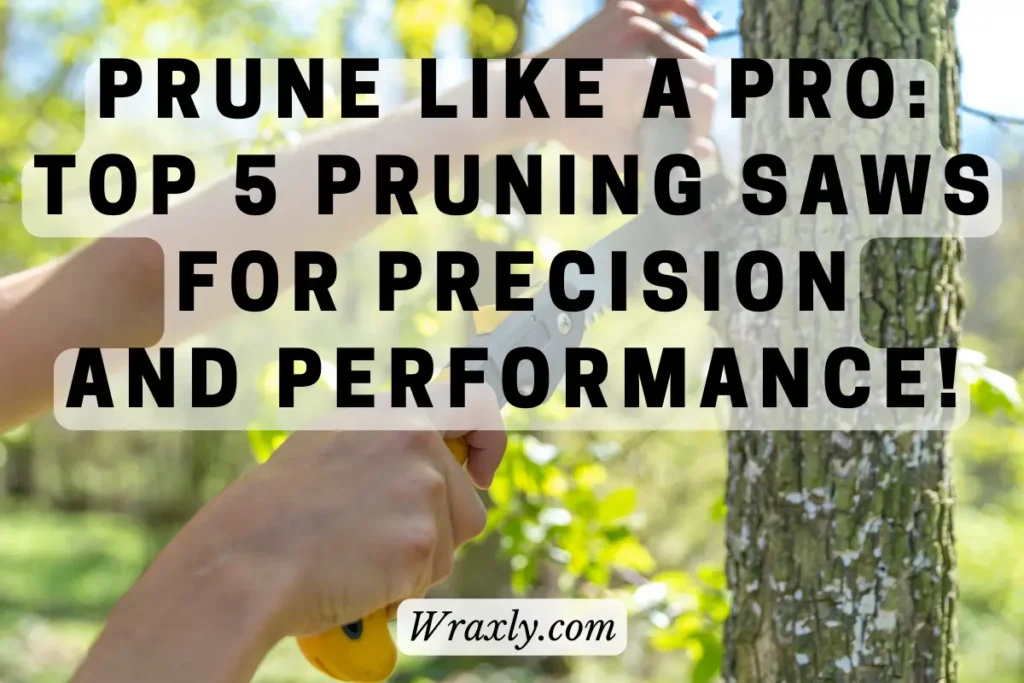 Best Pruning Saw: Our Top 5 Picks
Dive into the world of effortless tree maintenance with our roundup of the best pruning saws—handpicked to make every cut a breeze. From compact foldables to robust fixed blades, these top 5 picks promise precision and power for your pruning needs.
Boasting a 15-inch curved blade crafted from precision-ground steel, the Fiskars PowerTooth excels in durability and strength.
The Fiskars PowerTooth excels in durability and strength thanks to the 15-inch curved blade made from precision-ground steel. Moreover, the gently curved design effectively trims branches overhead and in low areas, featuring straight teeth for both push and pull strokes.
But here's the kicker. It weighs under a pound and has a non-slip ergonomic handle. So, it minimizes hand fatigue, while the pistol grip ensures enhanced control.
The two-way cutting action showcased sharpness and speed, making it ideal for maintaining established trees and shrubs, though less suited for smaller-branch crotch areas.
Perfect for camping, this saw measures 21.62 inches in total length. Don't forget to grab a sheath (sold separately) for safe storage.
Pros:
Precision-ground steel and 15-inch curved blade for long-lasting sharpness.
Non-slip ergonomic handle, lightweight (12 oz), and pistol grip for control.
Straight teeth for clean cuts on push or pull strokes, suitable for various tasks.
Cons:
Unfortunately, a protective sheath isn't included in the purchase.
The larger size may pose challenges in tight spaces and branches measuring 1 to 2 inches.
Fiskars 15 Inch Pruning Saw with Handle
Ideal for making quick, clean cuts through large branches

Triple-ground Power Tooth blade cuts on the pull and push stroke to plane away wood with maximum speed

Makes quick, easy undercuts without sacrificing control

Blade length: 15 inch

Lifetime warra
For budget-conscious weekend landscapers, the Rexbeti Folding Saw is a wallet-friendly solution for taming unruly shrubs.
Boasting an 8-inch straight blade with wide-set 7-TPI teeth, this saw swiftly trims away unwanted branches. It's crafted from durable SK-5 steel, so the blade ensures long-lasting sharpness.
Despite an initial unimpressive appearance, the Rexbeti folding saw surprises in action, smoothly cutting branches up to 4 inches thick.
The non-slip, rubbery grip adds comfort, and its foldable design makes it easily portable. While it may not withstand seasons of tough use, this tool's affordability and solid performance make it a value purchase with promising potential.
Pros:
Budget-friendly without sacrificing quality for weekend landscapers.
It weighs 11.7 oz and folds; you can carry it in a backpack or tool belt.
It's not the best-looking pruning saw, but it smoothly cuts branches up to 4 inches thick with a non-slip grip.
Cons:
The tool presents a cheap appearance, potentially impacting initial impressions.
Users have reported some play in the blade pivot, raising concerns about stability during use.
Whether you're part of a landscape crew or a dedicated gardener seeking a reliable saw for all-day use, the Silky Zubat is a great choice.
This lightweight marvel weighs only 10 ounces and features a rubber pistol-style grip for optimal comfort. Its 13-inch curved blade, equipped with hardened teeth and a tapered spine, effortlessly tackles various materials.
The rugged plastic sheath, complete with dual rollers and a detachable belt loop, ensures convenient storage. The Silky Zubat offers efficient cutting with a comfortable handle.
Although costly, the performance and durability of this tool make it a top-tier investment.
Pros:
Lightweight (10.5 oz), 13-inch curved blade with hardened teeth for efficient cutting.
Rubber pistol-style grip for comfort during prolonged use.
Easily replaceable blade for long-lasting, cost-effective use.
Cons:
The tool comes with a higher price tag, potentially making it less budget-friendly for some users.
Efficiency meets joy in pruning with this saw's triple-ground teeth and 8-inch blade, effortlessly handling projects from twigs to 4-inch branches.
The best part? It's a true pleasure to use. The chrome-plated blade minimizes friction, while the ergonomic handle guarantees a comfortable cutting experience.
It weighs only 9.7 ounces, so carrying around is a breeze. And the handle's cutout makes it a cinch to hang in your workshop.
Pros:
Triple-ground teeth, 8-inch blade for effortless pruning up to 4 inches.
Reduces friction; ergonomic handle for smooth operation.
It weighs 9.7 oz; it has a folding design with a handle cutout for easy carry and storage.
Cons:
The saw's length may fall short for extensive cutting tasks, potentially requiring additional effort or equipment for larger jobs.
When you need cutting power beyond the manual realm, Black+Decker's corded electric option steps up to the plate. With unique clamping jaws doing the heavy lifting, it sets itself apart from typical chainsaws that demand user-applied pressure.
While the corded power supply limits portability compared to manual options, it's a non-issue for nearby pruning projects. Just be sure to thoroughly read those safety instructions before revving it up.
Pros:
It does all the work!
Corded electric for efficient pruning on various projects.
Less portable but suitable for nearby projects, review safety instructions for secure operation.
Cons:
The power cord restricts the saw's portability, requiring proximity to an electrical outlet during use.
BLACK+DECKER Corded Electric Lopper Chain Saw, 4.5-Amp (LP1000)
4.5-Amp motor for innovative clAmping jaws that grab and cut in one easy motion

Heavy-duty cutting bar and chain deliver fast cutting of thick branches and logs that are too big for

4-inch cut capacity. Bar Length-6 in

Weight- 6.5 lbs

Included Components: Alligator Lopper, Oil Bottle, Wrench; Power Source: Elect
Best Pruning Saw: Buying Guide for Beginners
Choosing the right pruning saw is crucial for effective and safe tree maintenance. Here's a list of factors to consider when scanning the market:
1. Type of Pruning Saw
Folding Saw: Choose a folding saw if you value portability. Look for one with a secure locking mechanism to ensure it stays open during use. Opt for a model with a rubberized or textured handle for a firm grip.
Fixed Blade Saw: If you're dealing with larger branches regularly, a fixed blade saw is your go-to. Look for one with a sheath for safe storage. Consider a saw with a curved blade for efficient cutting in larger, sweeping motions.
2. Blade Length
Short Blades (7-9 inches): Ideal for intricate pruning in tight spaces. Look for a saw with impulse-hardened teeth for longer blade life.
Medium Blades (10-13 inches): Offers versatility for various branch sizes. Choose a saw with a tapered blade for smoother, faster cuts.
Long Blades (14 inches and above): Best for larger branches but can be heavier. Look for a lightweight handle to balance the weight and reduce fatigue during prolonged use.
3. Teeth Per Inch (TPI)
Higher TPI (10-12): Provides cleaner cuts on smaller branches. Apply a silicone spray on the blade to reduce friction and prevent sap buildup.
Lower TPI (7-9): Cuts through thicker branches quickly. Pro Tip: For optimal performance, periodically clean the blade with a wire brush to remove resin and debris.
4. Blade Material
Hardened Steel: Ensures durability and a longer lifespan. Invest in a saw with hard chrome plating for added rust resistance.
Carbon Steel: Balances durability and flexibility. Keep the blade oiled when not in use to prevent rust.
Chrome-Plated Blades: Resistant to rust and corrosion. Look for blades with impulse-hardened teeth for increased hardness.
5. Handle Design
Ergonomic Handles: Ensure a comfortable grip and reduce hand fatigue. Test the grip before purchasing to ensure it feels comfortable in your hand.
Non-Slip Grips: Essential for safety, especially when pruning at heights. If you're working in wet conditions, consider wearing gloves for extra protection.
6. Weight
Lightweight Saws: Easier to handle and control for extended use. Choose a lightweight saw for overhead pruning tasks to reduce arm strain.
Heavier Saws: Provide more cutting power but may cause fatigue quicker. Use two hands when using a heavier saw for better control and reduced strain on your arms and wrists.
7. Safety Features
Locking Mechanism: Ensure it is secure to prevent accidental closures. Check the locking mechanism regularly for wear and tear.
Sheath or Blade Guard: Protects the blade during storage and transport. A sheath with a belt loop allows easy access while on the job.
8. Compatibility with Replacement Blades
Check if replacement blades are readily available and easy to install. Invest in a saw with a tool-free blade replacement system for convenience.
9. Pruning Style
Curved Blades: Ideal for quick, aggressive cuts. Use a saw with a curved blade for shaping and contouring branches.
Straight Blades: Offer more control for precise cuts. Choose a saw with a straight blade and finer teeth for precision cuts.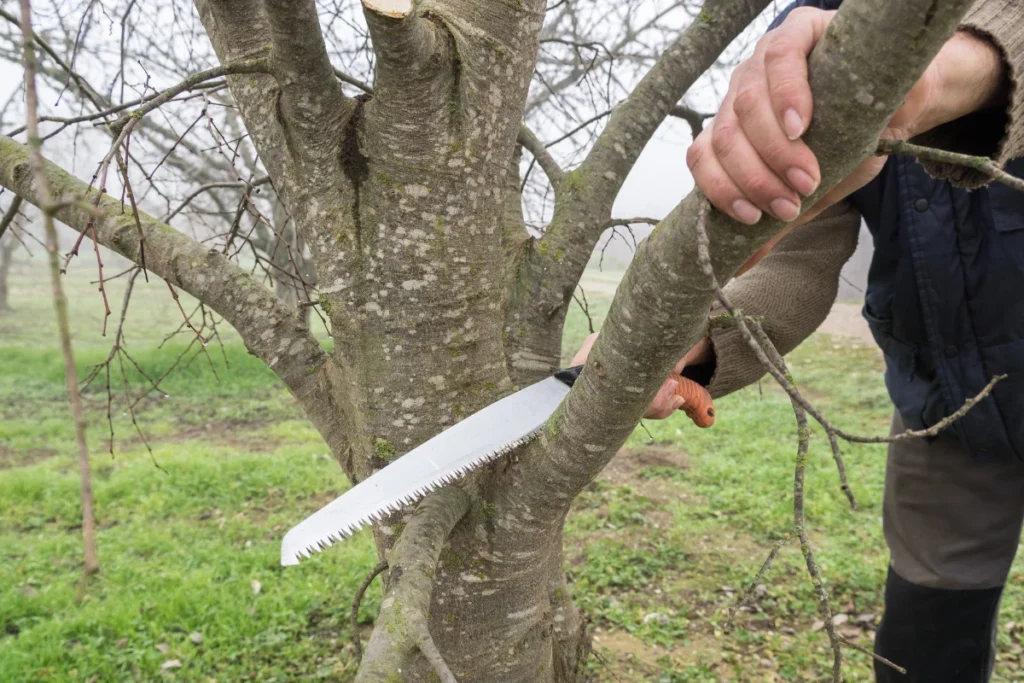 10. Brand and Reviews
Research reputable brands known for quality tools. Read positive and negative reviews to understand the saw's performance and potential issues.
11. Budget
Set a reasonable budget, considering the frequency and intensity of your pruning tasks. Consider it an investment; a quality pruning saw can save you time and effort in the long run.
12. Warranty
A good warranty indicates the manufacturer's confidence in the product's quality. Keep a copy of the warranty and purchase receipt for easy reference if you need to make a claim.
13. Maintenance
Consider the ease of cleaning and sharpening the blade for prolonged use. Learn proper sharpening techniques and invest in a sharpening tool for regular maintenance.
Remember, the best pruning saw for you is the one that aligns with your specific needs and preferences.
For Further Reading
---
---
Happy Pruning!
As we wrap up our exploration of pruning saws, it's clear that the right tool can transform the chore of tree maintenance into a satisfying and efficient experience.
Our top picks cater to various needs, from durable blades to ergonomic designs.
Whether you're a weekend gardener or a seasoned arborist, finding the perfect pruning companion is no longer a challenge.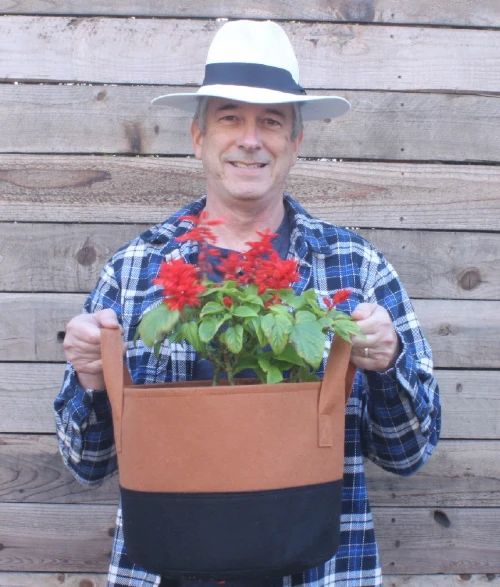 Darrell has a passion for gardening that he inherited from his father. Go here to read more about the influence his father played in his love for gardening. If you want to send Darrell a quick message, then visit his contact page here.