Gardening as a hobby has been gaining the limelight again. People are literally getting back to their roots, and learning about different ways to add some green to their homes. And why not? It is great to have some plants in the house. They look great, purify the air, and give you a wonderful experience as you nurture them.
Gardening tools today have also become a lot more practical, innovative, and creative. One of the innovative results we have seen in the last few years is the appearance of fabric grow bags.
Fabric grow bags are typically constructed from a nonwoven material. They come in various sizes, making them a versatile "pot" to accommodate any of your chosen plants.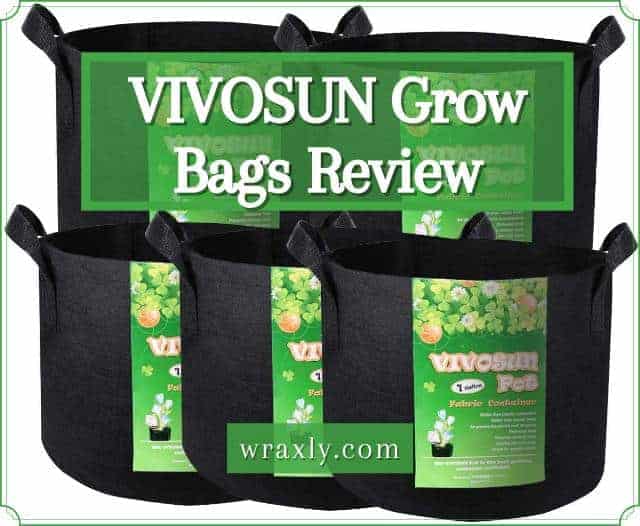 Why Should You Use Fabric Grow Bags
While conventional plant pots are always an option, fabric grow bags have some benefits that pots don't. Here are some reasons you should use fabric grow bags.
Excellent Ventilation
Their breathable fabric facilitates better drainage and ventilation to the roots. With conventional pots, roots grow out until they form clusters against the walls and bottom of the container. Eventually, too many roots will overwhelm the plant causing it to die.
Better Plant Roots
Fabric grow bags promote air pruning. As roots reach the walls of a grow bag, they are burned off. New rootlets develop, which are healthier than the original ones. In pots, the roots continue to grow until they form a tangle, leading to poor ventilation and drainage.
Temperature Control
Fabric grow bags allow heat to dissipate from the soil and help prevent your plants from overheating. Plastic or ceramic containers not only retain heat, but they actually absorb heat from the sun, potentially causing undo stress and hardship on your plants. The increased heat also causes your soil to dry out quicker, which increases the amount of care and watering necessary to keep your plants happy.
Convenient to Store
When you are not using your grow bags, you can simply fold them and store them away in a drawer. Plastic and ceramic pots, on the other hand, need to be stacked properly, take up space, and break and dent at the drop of a hat.
Versatile
Fabric grow bags may be made for plants, but there's so much you can use them for. Given their built-in handles, you can store just about anything, like tools and books, and easily move them around. RVers love having a couple of fabric grow bags in their mobile homes because they take up very little space.
Product Review: VIVOSUN Fabric Grow Bags
VIVOSUN 5-Pack 7 Gallon Plant Grow Bags, Heavy Duty Thickened Nonwoven Fabric Pots with Handles
Sturdy Fabric Material: Made of 300g of thickened nonwoven fabric, these pots are moderately permeable, environmentally friendly, and BPA-free

Great Drainage: Nonwoven fabric means the pots do not retain excess water, allowing your roots to breathe for healthier, more vigorous growth

Durable, Reinforced Handles: While the competition uses flimsy handles that are merely strips of the same fabric the pot is made from, we use serger stitches to sew handles onto the pot so they can support a full bag of soil

Portable Bags: Heavy-duty handles and rugged material mean you can move bags full of soil and plants with ease

Use It For Years: Grow bags prevent circling root structure; Combined with pruning and trimming roots, these bags can be used and reused for years; Comes with a 1-year warranty
Prices pulled from the Amazon Product Advertising API on:
Product prices and availability are accurate as of the date/time indicated and are subject to change. Any price and availability information displayed on [relevant Amazon Site(s), as applicable] at the time of purchase will apply to the purchase of this product.
It is always better to have options when you are shopping for anything, not just with fabric grow bags. You may think all grow bags are the same so it doesn't matter what brand you pick, but there is a wide variation in quality (and price) and this category of planter containers deserves a closer look.
Here's a rundown of what we'll provide in our VIVOSUN fabric grow bag review:
First we'll share the features and benefits that you'll find useful
Next, we'll take a look at any drawbacks you might want to know about
Then, we'll tell you a bit about the VIVOSUN company
And finally we'll provide a sampling of actual customer reviews to give you better insight into the product
Sounds good? Let's get started!
Features and Benefits of VIVOSUN Fabric Grow Bags
Wide selection of 13 different sizes ranging from 1-gallon all the way up to 100 gallons.
Material made of 300g thickened non-woven fabric that is moderately permeable, environmentally friendly, and BPA-free.
Great drainage. Non-woven fabric allows water to easily drain through the material.
Reinforced handles. Handles are sewn onto the bags using serging stitches so they can support a full bag of soil.
Portable bags. Heavy-duty handles and rugged material allows you to move bags full of soil and plants easily.
Reusable. After a growing season, these bags can be cleaned and stored away and reused repeatedly.
1-year warranty.
Drawbacks of VIVOSUN Fabric Grow Bags
Limited color selection, only black or tan.
Bag loses shape when moving them.
The handles are fairly small, so if you have big hands, they may be uncomfortable.
Not as durable as plastic or ceramic containers.
If you care about the aesthetics of your garden, grow bags may not be appealing to you.
Plants will dry out more quickly than with regular containers
Video: VIVOSUN 45 gallon fabric pots review
About the VIVOSUN Company
VIVOSUN is the 500 pound gorilla in the indoor gardening product category. Founded in 2009, VIVOSUN is a leading-manufacturer of indoor horticultural equipment, supplying growers around the world. They offer over 200 products, including grow tents, grow lights, ventilation fans and accessories, seedling & gardening supplies, and almost anything else you might need in the way of indoor gardening and hydroponic supplies.
VIVOSUN Fabric Grow Bag Reviews
Looking at the features and benefits is great, but I find taking a look at customer reviews to be a great way to go beyond the hype and find out the truth about the quality of a product. Here we have curated reviews about VIVOSUN fabric grow bags from product users and reviewers on Amazon.
What Amazon Customers Have to Say About VIVOSUN Fabric Grow Bags – the Cons
Size inaccurate
A common complaint among Amazon customers is that the sizes are inaccurate. Once reviewer purchased the 5-gallon bags and commented that it was comparable to a 3.5 gallon size. Another ordered the same size from another brand and noted that the measurements in the listing were the same, but the VIVOSUN grow bags were definitely smaller and shorter. In all there were 19 reviewers who complained the bags were smaller than they expected.
Quality Issues
Another reviewer reported a problem with the quality. They had purchased some bags and they were nice for 7 months then one of the handles came undone and another ripped down the side. Another reviewer reported similar issues where the handles started giving out. One pot fell due to the handle ripping and the bag ripped open when it hit the ground. Someone else reported they were pretty disappointed when he received them and that the quality was mediocre. There were other reports of the bottom seam not being sewn correctly, leaving holes for the soil to fall out.
The Pros
Easy to Move
149 reviewers reported that the grow bags were easy to move. One reported that he used 20-gallon bags for trees and they can be picked up and carried by the handles by 2 people and he never had to worry about the handles tearing off. Many reviewers regularly move their plants to follow the sun and complimented them on how easy it was to move them.
Well Made
In spite of a few negative reviews about the quality, over 200 reviewers reported that they were well made, very sturdy, or good quality. One customer felt they were sturdier and better than the leading brand, but for 1/3 the price. Other customers were impressed by the quality and that the material doesn't deteriorate at all. One reviewer said the ones they purchased 3 years ago were still in new condition.
Bottom Line
Overall, hands down, VIVOSUN fabric grow bags offer you great value for your money. They are well-priced, yet the overall quality still seems to be excellent. We've personally purchased the 5-gallon size ourselves and have been pleased with the size and workmanship. We wholeheartedly recommend VIVOSUN fabric grow bags and feel they are a must-have for any gardener looking for basic, no-frills, get-the-job-done grow bags.
For Further Reading
---
---
Recommended VIVOSUN Fabric grow bags
Image
Title
Prime
Buy

Top

VIVOSUN 5-Pack 5 Gallon Grow Bags Heavy Duty 300G Thickened Nonwoven Plant Fabric Pots with Handles

Prime

Eligible

Check Price on Amazon

Top

VIVOSUN 5-Pack 20 Gallons Grow Bags Heavy Duty Thickened Nonwoven Fabric Pots with Strap Handles Tan

Prime

Eligible

Check Price on Amazon

Top

Top

VIVOSUN 5-Pack 7 Gallon Plant Grow Bags, Heavy Duty Thickened Nonwoven Fabric Pots with Handles

Prime

Eligible

Check Price on Amazon

Top

VIVOSUN 5 Pack 7 Gallon Square Grow Bags, Thick Fabric Bags with Handles for Indoor and Outdoor Garden

Prime

Eligible

Check Price on Amazon

Top

VIVOSUN 10-Pack 15 Gallon Grow Bag, Reinforced Planter Fabric Pot for Gardening

Prime

Eligible

Check Price on Amazon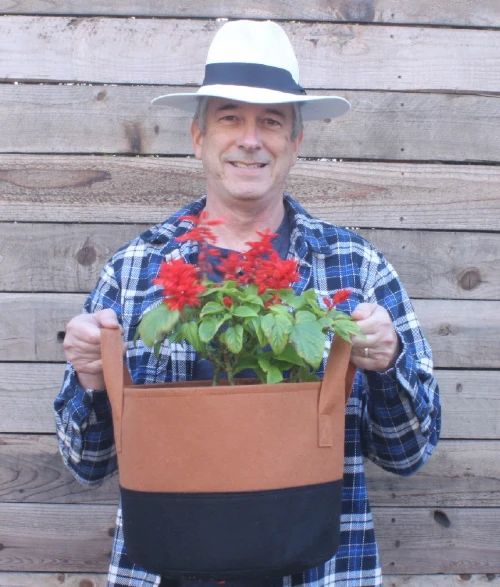 Darrell has a passion for gardening that he inherited from his father. Go here to read more about the influence his father played in his love for gardening. If you want to send Darrell a quick message, then visit his contact page here.