If you're looking for an alternative to fabric grow bags, you've come to the right place! In this blog post, we will discuss 9 different options that you can use to grow your plants. Grow bags are a great option for gardeners who want an easy way to grow their plants, but there are many other ways to do it as well. Let's take a look at some of these alternatives!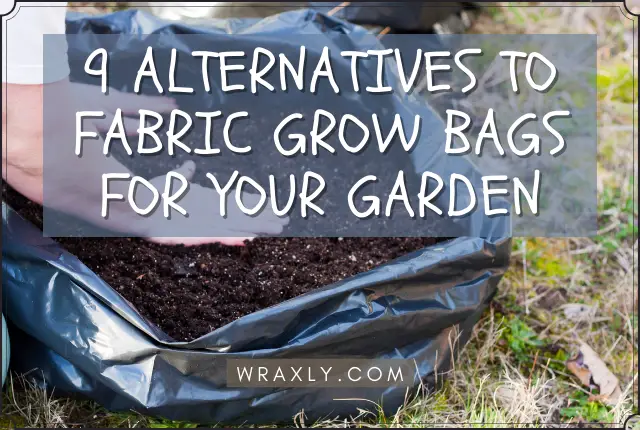 1) Reusable Shopping Bags
Reusable shopping bags are made from a variety of materials, including fabric, plastic, and even bamboo. The most common type of reusable bag is the fabric totes, which are usually made from canvas or other durable fabrics. These bags are often printed with logos or other designs, and they can be easily washed if they get dirty.
Plastic reusable bags are another popular grow bag alternative, and they come in a variety of colors and styles. Some people prefer plastic bags because they're lighter than fabric bags, and they're also more waterproof. Bamboo reusable bags are a newer option on the market, and they're becoming increasingly popular due to their sustainable credentials. Bamboo is a renewable resource, so it's much better for the environment than plastic or fabric bags.
Depending upon the type of fabric your reusable shopping bag is made from, you may or may not have to cut holes into the bag. The best way to determine if you do need to cut holes is to pour a glass of water into the bag and see if the water drains through the material.
Besides your favorite market, reusable shopping bags can be purchased cheaply at discount stores like Dollar Tree or the 99 Cent Only store. Check out thrift stores such as the Goodwill or Salvation Army for bags. Keep checking back as they have inventory that constantly rotates.
2) Ikea Reusable Bags
Ikea stores carry numerous reusable bags made with polypropylene or canvas. The large, 21 3/4 x 14 1/4 x 13 /34″ /19-gallon bags are HUGE and are big enough to grow several plants at the same time. They also have a smaller polypropylene bag that is 10 5/8 x 10 5/8″ that is more manageable in size. One advantage of going with a smaller size is it won't be as hard to move around to keep your plants in the sun.
Make sure to cut holes into the blue, polypropylene bags. The canvas bags probably won't need holes but it is best to use the water test to see if water drains through the material.
If you would like to dress up your Ikea bag, Offbeet-gardener.com has a nifty tutorial on how to make a DIY garden container using an Ikea bag and burlap.
3) Use an Empty Rice Bag From the Market
The large bags of rice available from most Asian supermarkets are perfect substitutes for grow bags. They are available in 20lb, 50lb, and 100lb sizes so you can find the perfect size for your needs. Just make sure to clean out the rice before you use it!
Rice bags that you find in the market are made with polypropylene polymer fabric which was selected for its strength. This type of material is waterproof, so if you do use it as a grow bag, remember to poke holes into the bag for drainage. This type of material does not lend itself to root pruning, which you need a more porous material for, like fabric grow bags.
While rice is the most common grain packaged in this material, you can find similar bags containing different types of grains and beans. At my local Smart & Final store, I most often see pinto beans packaged in these large bags.
4) Dog Food Bags
Every dog owner soon realizes the economy of purchasing 40lb bags of dog food. Now you can put those empty bags to use by turning them into grow bags. They usually have a wax paper lining on the inside of a stronger paper packaging. Be careful when you cut holes in the bag so that the bag doesn't tear.
5) Use an Old Pillowcase
Pillowcases make great grow bags! They are usually made from a cotton-polyester blend which is breathable and will allow your roots to prune themselves. They are easy to find and come in a variety of sizes. Just make sure to wash the pillowcase thoroughly before using it as a grow bag.
6) Denim Jeans or Shorts
Did you know that denim jeans or shorts make a great grow bag alternative? Denim jeans are made from a sturdy cotton twill fabric. The fabric is woven in a specific way that creates the signature denim look and feel. Denim jeans are popular all over the world because they are comfortable, durable, and stylish, and you probably have an old pair in your closet. If they have outlived their usefulness as jeans or shorts, why not convert them into grow bags?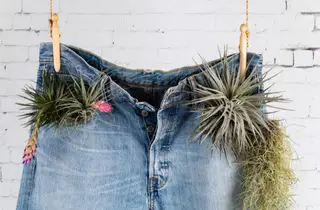 It is a simple process. For jeans, cut them off as shorts then seal the pant legs separately with a sewing machine. If you want to get fancy, you can even add handles by threading a length of rope through the belt loops. Denim is water-permeable so no need to cut any drainage holes.
7) Burlap Bags
Burlap bags are another popular material that can be converted to grow bags. Check out our post here: How to Use Burlap Grow Bags for Growing Plants.
8) Potting Soil Bag
I've lost track of how many potting soil bags we've gone through to build up our patio container garden. But when you think about it, why bother transferring the soil to the containers when you could cut out the middleman and just grow your vegetables in the potting soil bag? Brilliant, right? You could even use this technique indoors by just adding a tray to catch the runoff. Check out this great video by Tiki71 that explains the process.
9) Birdseed Bags
Birdseed comes in 40lb bags and, similar to rice bags, birdseed bags are also made from polypropylene polymer fabric. If you have a wild bird feeder in your backyard and love to feed your feathered friends, you now know what you can do with the empty bags. Don't forget to cut holes in the bags for drainage!
Final Thoughts on Grow Bag Alternatives
Fabric grow bags are popular right now, but there are other eco-friendly options as well. In this post, we have given you 10 different grow bag alternatives that you may not have realized would make good grow bags. Hopefully, you have one or more of these options at home that you can try out. Not only will these alternatives save you money, but you will get the satisfaction of knowing that you were able to keep waste from going into landfills. Thanks for reading.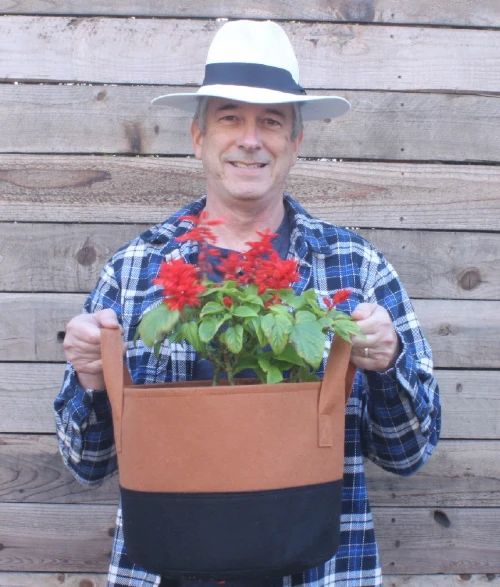 Darrell has a passion for gardening that he inherited from his father. Go here to read more about the influence his father played in his love for gardening. If you want to send Darrell a quick message, then visit his contact page here.