Fiddle leaf fig trees and shrubs are some of the most popular plants to have in your home. They are known for their beautiful leaves and can add a touch of elegance to any room. They're also easy to care for houseplants and can brighten up any indoor space.
But, like all plants, they need the right environment to thrive. That's where planters come in! The best planters for fiddle leaf figs are ones that are well-drained, made of a material that won't absorb too much moisture, and have plenty of room for roots to grow.
In this article, we'll be discussing the best planters for Fiddle Leaf Fig trees and what to look for when choosing one. So, whether you're looking for a stylish planter to show off your fiddle leaf fig indoors, or a durable option for growing your fig outdoors, we've got you covered. Let's get started!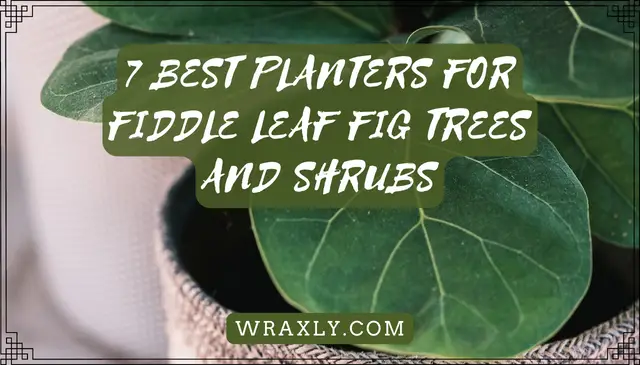 What to Look for in a Planter for a Fiddle Leaf Fig
When it comes to finding the perfect fiddle leaf fig planter, there are a few things you must keep in mind.
1. Choose the Right Size
First and foremost, you'll want to make sure that the planter is the right size for your plant. You'll want to ensure the planter is big enough to accommodate the roots of your fiddle leaf fig but not so big that it looks out of proportion.
A too-small planter will result in your plant becoming rootbound, while a too-large planter can make your plant look sparse and unkempt. Choose a pot that is at least 12 inches in diameter.
Recommended Containers for Fiddle Leaf Fig Plant
Image
Title
Prime
Buy
VIVOSUN 5-Pack 10 Gallon Plant Grow Bags, Heavy Duty Thickened Nonwoven Fabric Pots with Handles

Prime

Eligible

Check My Price on Amazon

Top

Wraxly Fabric Grow Bags - 7 Gallon Colorful Two-Tone Planter Pots. Best Gardening Gift for Plant Lovers! [5-Pack of Assorted Colors - Plus Black Bonus Bag!]

Prime

Eligible

Check My Price on Amazon
T4U Fabric Plant Grow Bags with Handles 10 Gallon Pack of 5, Heavy Duty Nonwoven Smart Garden Pot Thickened Aeration Nursery Container Black for Outdoor Potato, Tomato, Chili, Carrot and Vegetables

Prime

Eligible

Check My Price on Amazon
Decorlife 12-Pack Grow Bags, 7 Gallon Thick Fabric Pots for Plants, Sturdy Handles & Reinforced Stitching, Labels Included, Black

Prime

Eligible

Check My Price on Amazon
AIXI Home 5 Pack 10 Gallon Square Grow Bags, Thick Nonwoven Fabric Plant Pots with Green Handles, Heavy Duty Plant Grow Bags for Gardening

Prime

Eligible

Check My Price on Amazon
Growpropel 10 US Gallon 6 Pack Tall Grow Bags for Vegetables, Heavy Duty Nonwoven Aeration Fabric Deep Grow Pots with Handles

Prime

Eligible

Check My Price on Amazon
2. Good Drainage System
Second, you'll want to choose the best drainage pot for fiddle leaf fig. The planter should have drainage holes to allow excess water to escape. This is important as fiddle leaf figs are sensitive to overwatering and are susceptible to root decay.
3. Material Is Important
Think about the material the planter is made from; fiddle leaf figs prefer a breathable material like fabric grow bags, ceramic or terracotta. Clay pots are also a good option, but make sure to find one that is unglazed. Plastic pots can also work but be sure to get one that is labeled as "breathable."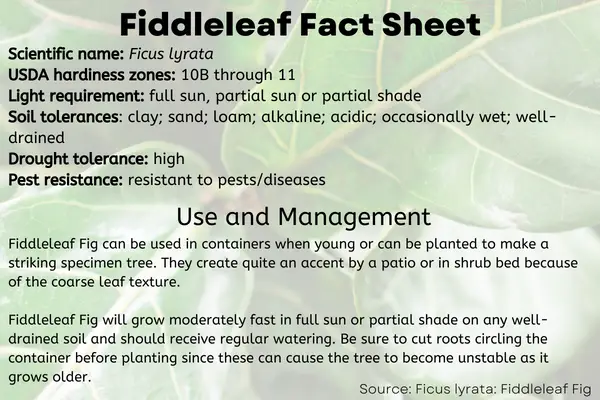 4. Think About Aesthetics
You'll want to pick a planter that complements the aesthetic of your home. Choose a planter that is both stylish and functional. You can go for a classic look with a traditional pot or opt for something more modern, like a hanging planter. Whatever you choose, make sure it fits with your personal style.
After all, you'll want to showcase your beautiful fiddle leaf fig, so it's worth investing in a planter that will make it look its best.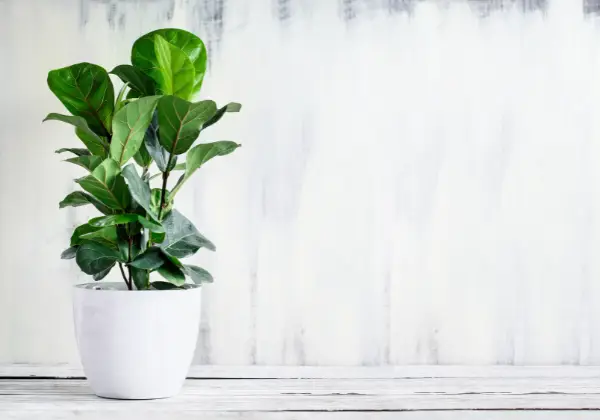 In-Depth Reviews of the Best Planters for Fiddle Leaf Fig
It may take some searching to choose the ideal pot for your fiddle to grow your most-desired fig tree. You'll find beautiful, low-cost planters in retailers like Home Goods or Ross. There are also some great selections in plant nurseries.
However, if you're one of those people who like to shop online (like us!), here are some of our favorite pots from Amazon:
1. Gold Plant Stand
This is a set of three sleek and stylish plant stands. It's perfect for displaying your fiddle leaf fig indoors, especially when they're kept together because of their different heights. You can also display your other houseplants that you feel deserve to be noticed besides fiddle leaf fig.
They're available in white and black, and both colors have a modern, minimalist appearance. The supports – which fold away easily, and also the pots are both constructed of metal. This means that you don't need to do much assembly with these.
The Gold Plant Stand is also tall enough to allow your fiddle leaf fig to grow without being cramped. And it comes with drainage holes, so you never have to worry about overwatering.
What We Like
No assembly needed
Sturdy and affordable
Different sizes
Elegant design
Lifetime warranty
What Could be Better
It May be difficult to move once plants are in place
Bottom Line
In our opinion, this is one of the best planters you'll find in the market, online or offline. This will boldly stand in your space and let everyone notice! The additional height that these stands provide simply reinforces that impression.
Sinolodo Mid Century Planter with Gold Plant Stand, 3 pcs Modern Planters for Indoor Plants, Metal Floor Planter Set with Foldable Stand(Pack of 3)
【COMPLETE SET & NO ASSEMBLE】 The 3 pcs standing planters are coming with metal plant stands. No assemble needed. Just open the stand and put the black metal planters on it.

【SUITABLE SIZE PLANTER SET WITH STANDS】3 pices modern plant pots are in different sizes, suitable for plants in different sizes. Both large plants and small pants will have their containers with thess house floor standing planters with stands.

【Modern Minimalist Style Design】Elegant house floor planter stand reflects minimalist which inspired by classic mid-century style. Well fits to most home decor and furniture, can be paired with a variety of plants and flowers on vases. Mid-century design adds a touch of class to any room, balcony, window, patio or garden.

【MATERIAL】Metal with powder coated, as a floor protectors, the bottom of the legs are made into balls. The lightweight metal construction and sturdy build make them easy to move around. Use them in a bathroom, a bedroom or a covered porch or patio for a beautiful display

【LIFETIME WARRANTY】 Sinolodo supply 45-days return warranty for this modern plant hangers. 24 HOURS PROBLEM SOLVE: if you met any problems ,our customer service will answer you within 24 hours and help you solve the problem until you are satisfied. Sinolodo can not guarantee 0% defective rate, but Sinolodo guarantee 100% satisfacti
2. The Modernica Planter
This classic mid-century modern planter is perfect for any fiddle leaf fig lover. It's made from high-quality ceramic and comes with a tall wood stand.
The Modernica Planter comes in a variety of colors and sizes, so you can choose the perfect option for your space. We like the one with the Charcoal color. And it's tall enough to accommodate a fiddle leaf fig that is up to three feet tall.
What We Like
Sturdy stand
The pot is nice and heavy
Looks beautiful
Perfect height
What Could be Better
Does not have a drain hole
Expensive
Bottom Line
Though this planter doesn't come with a drain hole, you can fill the potter with a couple of inches of river rock/pebbles before you add soil to help with the drainage. If you can bear with this issue, then this planter is a no-brainer for your fiddle leaf fig.
Mid Century Plant Stand with Pot Included – 10 inch Planter with Stand for Indoor Plants & Flowers – Large Ceramic Planters – Wood Legs, Modern, Tall Floor Wooden Snake Plant Pot Stand Holder – Black
A COMPLETE SET - This Mid Century Planter bundle comes with a 10 inch plant pot and stand that match perfectly together and looks great in any home. Its a timeless piece thatll never go out of style and will be sure to impress your guests!

BRING NATURE IN - Showcase your stunning plants with our large planter with stand and enjoy natures beauty as they grow. Youll love the way our indoor planter adds color and life to your floor and space. Available sizes: 10 inch planter or 12 inch

HANDCRAFTED CERAMIC PLANTER - Our premium ceramic pots for indoor plants are made from durable stoneware clay that lasts a lifetime. Also includes a drainage hole with plug to keep your plants healthy! Black planter pot size: H: 10, W: 10.5

WOOD PLANT STAND - Made from American Walnut, our mid century modern plant stand is easy to use and sturdy enough for small or large plants. Since theyre not painted or stained, you can enjoy a natural look and will pair beautifully with any decor.

HAPPINESS GUARANTEE - Omysa is a family business and we take pride in our large indoor plant stand and pots for plants and want you to be completely satisfied. You can buy with confidence knowing that we stand behind our products 10
3. The Cylinder Planter
This simple and modern cylinder planter is perfect for a fiddle leaf fig. It's made from high-quality stoneware and features two drainage holes and a saucer. It also comes with rubber inserts if you don't want to utilize the drainage holes.
The Cylinder Planter comes in pure White color and round shape. And it's tall enough to accommodate a fiddle leaf fig that is up to two feet tall.
What We Like
Elegant pure white finish
Smooth lines and round shape
Eco-friendly manufacturing process
Strong UV resistant ability
Ideal size for outdoor use
What Could be Better
It can tip over when it becomes heavy
Bottom Line
We won't suggest this planter for indoor use. Its 15.8-inch diameter is perfect for an outdoor garden and will sit perfectly in the corner without troubling others.
Kante RC0119C-C80011 Lightweight Concrete Modern Cylinder Outdoor Planter, 15.8 Inch Diameter, Pure White
MODERN CONCRETE CYLINDER PLANTER: This modern cylinder planter with an elegant pure white finish will add an elegant touch to your décor, and it is ideal to grow your favorite succulent plants

SMOOTH ROUND DESIGN: The smooth lines and round shape of this planter will help you maintain a sleek look throughout your space, while holding a good amount of plants without looking crowded

ECO-FRIENDLY: This planter is handmade through an Eco-friendly manufacturing process, has a drainage hole with rubber plug and a strong UV resistant ability that stays well in wind, rain, hot and cold season

STRONG AND DURABLE: Made of lightweight concrete and weather-resistant fiberglass that have all the advantages of these materials, such as strength, durability, weather and damage resistance, and long-lasting color

IDEAL SIZE FOR OUTDOOR USE: Planter measures 15.8W x 15.8L x 15.8H and it makes a great addition to any apartment balcony or large backyard patio by standing out with its unique l
4. The Terra Cotta Planter
Although it is probably not the most cutting-edge choice, traditional terracotta planters have maintained their popularity throughout time. Simply said, they are made of high-quality material that is almost hard to damage and looks excellent in any space.
Given that terracotta has a tendency to soak up more moisture compared to other materials, you should carefully monitor your succulent to make sure it isn't dying. This is why buying a terracotta planter for your fiddle leaf fig may be a more preferable alternative if you don't want to put in the extra work.
What We Like
Generous planting area
Sturdy and lightweight
Durable and UV-stabilized
Resists scratches, dirt, and fingerprints
Available in two sizes
What Could be Better
Bottom Line
Of course, using a real terracotta planter wouldn't be a terrible idea for your fiddle leaf fig tree. Personally, we think this contemporary terracotta planter is fantastic since the design truly livens things up.
Worth Garden Terracotta Color Pots Large Outdoor Resin Round Terra Cotta Planter 12 in for Indoor Plants 2 Pack Plastic Flower Pots Lightweight Decorative Containers Front Porch Home Yard Deck Patio
DECORATIVE DESIGN: This indoor and outdoor flowerpot and planter features a traditional, classic rolled rim. Our flower pots are nice and big with a generous planting area.

DURABLE MATERIALS: Our sturdy yet lightweight planter is made of 100% UV-stabilized plastic. This durable, premium-quality material ensures long-lasting color and withstands extreme weather conditions. It also features a matte finish that resists scratches, dirt, and fingerprints.

Large and Practicality: The resin pots for plants, 11 inches in height, 12 inches in outer diameter, are designed for holding indoor or outdoor plant and succulent, cactus, herbs and trees. There are 2 pcs pots in the package, plants and soil are not included.

Multi-usages: The terracotta resin pots are perfect for medium and large plant, ornament for room or balcony, patio and garden decoration, crafts creation and more. Suitable for indoor or outdoor usage.

100% SATISFACTION - WORTH GARDEN offers an UNBEATABLE consumer-friendly 3-year GUARANTEE on all our Gardening products. Call or email anytime for support. Our team is here to he
5. The Self-Watering Planter
This self-watering planter from ePlanters is the ideal complement to your backyard garden and an excellent container for fiddle leaf figs. This planter includes a self-watering system that has won several awards and is built entirely of recyclable materials.
The self-watering system provides just the right quantity of moisture for the roots of your fiddle leaf fig. Additionally, this planter is available in a variety of sizes to fit plants of all sizes. And it's also tall enough to accommodate a fiddle leaf fig that is up to four feet tall.
What We Like
Durable and UV resistant
Self-watering system
Included Drainage plugs remove excess rainwater
Water-level indicator alerts you when you need to refill the reservoir
What Could be Better
It can be deemed small for some people
Bottom Line
This modern planter for fiddle leaf fig is perfect for tables and patios both indoors and outdoors. If you were looking for a low-maintenance fiddle leaf fig pot, this is just the one for you.
Lechuza 13210 Classico 35, White Matte, 14″ x 14″ x 13″ Self-Watering Planter
CLASSICO Color is perfect for table and patio plants, indoors and out

Made in Germany of durable frost and UV resistant PP plastic for indoor or outdoor use

Self-Watering System features inorganic granulate compounds that provide the right amount of water to plant roots

Drainage plug to allows for the removal of excess rainwater when installed outdoors

A water-level indicator lets you know when it is time to refill the reservoir. Planter liner dimension is 13.2 inch diameter. Item dimensions is 13.6 width x 12.8 height inch in diameter

Planter dimensions: 14 x 14 x
6. Barcelona Vinyl Planter Box
This classic-style vinyl planter box is one of the best planters for fiddle leaf fig trees. It comes with White color out of the box, but it's paintable, so you paint in whatever color you want to match your aesthetic.
It's easy to assemble and is very sturdy and attractive. It's also maintenance-free, which is a huge plus. The planter bos is ideal for growing decorative plants (like fiddle leaf figs) or flowers and herbs.
What We Like
Easy to put together
Made in the USA
Sturdy and well-made
Has pre-cut holes
Large size
What Could be Better
Price is relatively expensive
Bottom Line
We would recommend this product to anyone looking for a nice planter box. It comes with a 20-year warranty, so you know it's a quality product.
7. The H Potter Planter
The H Potter rectangular succulent planter is a beautiful and minimalist way to add greenery to your home décor, whether indoors or out. The planter is handcrafted from stainless steel with an antique copper finish, giving it a high-quality look.
The rectangular drainage tray included with the planter makes it easy to water your plants without making a mess. The H Potter rectangular succulent planter is a perfect size to fit any location and can be moved easily.
What We Like
Beautiful antique copper finish
Durable and easy to update
Perfect size to fit any location
Comes with a drainage tray
What Could be Better
Measurements may vary as it's homemade
Bottom Line
This one is perfect for you if you like the most old-style looking planter with the best features and drainage system. It'll match your rustic style and hold your fiddle leaf fig for years to come!
H Potter Succulent Planter Plant Pot Rectangular Small Flower Indoor Outdoor Window Box Antique Copper Dimensions 12 x 4 x 4 Inches
HANDCRAFTED – HOME DÉCOR ACCENT – Small, stainless steel rectangular succulent planter box with an antique copper finish for luxurious appeal. This indoor planter box is current with a timeless feel. Use indoors as an herb succulent planter on a windowsill to connect with the outdoors or place outdoors on your patio, deck, or tabletop. Complete with custom rectangular drainage tray, this home décor accent is designed to add character to your living space. No plants included.

PLANTER FOR ALL SEASONS – At widest points the succulent pot is approximately 12L x 4W x 4H, Base of planter approximately 10L x 3.5 Planter garden box will make an eye-catching focal point and impressive statement wherever it's placed. Sold as a single succulent planter, beautiful displayed as centerpieces or multiples lining your dining table. Unique and sturdy, if you're looking for something memorable, this beautiful window box planter would make a perfect wedding decoration or birthday

QUALITY BY H POTTER – H Potter has been designing and manufacturing premium quality garden products for over 20 years. We do not pretend to be the cheapest, but you get what you pay for. Packaged well, with stunning craftsmanship and backed by great customer service, we're proud to say our garden products are built to last.

HEAVY AND DURABLE CONSTRUCTION – Built to last, use with any seasonal décor. Stunning filled with herb pots or flower pots and covered with sheet moss or plant directly inside the metal planter. Easy to update and freshen your holiday decor. Try a color theme this season and a texture theme next month. Simple enough to blend with any home décor. Trending now, the rich black nickel finish adds earthy warmth to your traditional or modern home.

INTRICATE DETAILING – MINIMALIST STYLE – Succulent Plants not only promote a healthy home environment but can offer a touch of elegant beauty to your home and garden. Uniquely designed with a heavy, durable construction, the H Potter rectangular succulent planter is perfect for alfresco dining and outdoor living. Tranquility of greenery is an ideal mood setter and stress reliever, this gardening planter is the perfect size to fit any location and can be moved easi
What to Do After Buying the Fiddle Leaf Fig Pot?
When choosing an indoor planter for a fiddle leaf fig, make sure to pick one that is the right size for your plant. A pot that is too small will limit root growth and could lead to problems like yellow leaves or stunted growth. A pot that is too big, on the other hand, will make it difficult to keep the soil moist and hence lead to root rot.
1. Make Drainage Holes
Once you've found the perfect pot, it's time to add some drainage holes. Fiddle leaf figs are sensitive to overwatering, so good drainage is essential. Even if you didn't buy the best drainage pot for fiddle leaf fig, don't worry. You can drill some drainage holes yourself or line the bottom with rocks or gravel.
2. Add Potting Mix
Now it's time to fill your pot with potting mix. Fiddle leaf figs prefer slightly acidic soil, so look for a mix that is formulated for acid-loving plants. If you can't find one, you can make your own by mixing together equal parts potting soil, peat moss, and perlite.
3. Take Care of Surfaces and Floors
No matter which planter you choose, be sure to put self-adhesive felt pads on the bottom of the container to safeguard your floors and surfaces. This keeps your surfaces from becoming scratched and permits some ventilation underneath your plant.
Recommended Pot Feet
4. It's Time to Plant
Once your pot is filled with potting mix and you've protected your floor surface, it's time to plant your fiddle leaf fig. Gently remove the plant from its current pot and loosen the roots before placing it in the new pot. Fill in around the roots with potting mix and water well.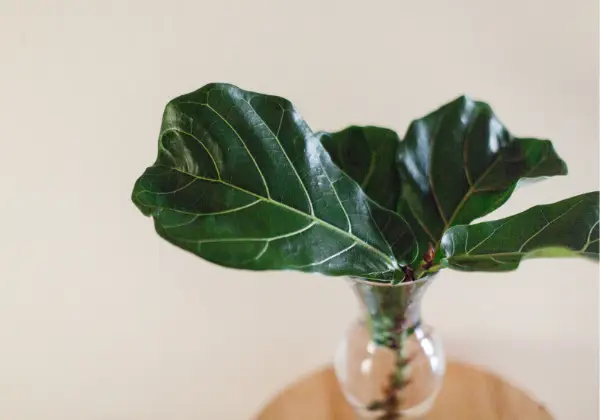 Now your fiddle leaf fig is ready to enjoy its new home! Place it in a bright spot out of direct sunlight and water when the top inch of the soil feels dry. With a little love and care, your fiddle leaf fig will thrive for years to come.
Final Verdict
With this list of the best planters for fiddle leaf fig and the analysis provided above, along with our unbiased opinion, you shouldn't have trouble finding the best fiddle leaf fig pot that meets your needs.
If you want to know our favorite, this Lechuza Classico Premium Planter is the one. It includes an award-winning self-watering system created by German engineers, preventing root rot, which is why we like it the most.
It also maintains the perfect hydration for your fiddle leaf fig and comes in several sizes, allowing you to scale up and get the same high-quality product if you ever need to re-pot a growing fiddle leaf fig!
FAQs
Are terra cotta pots good for fiddle leaf figs?
Terra cotta pots are a good option for fiddle leaf figs as they are porous and allow the roots to breathe. However, they can be prone to drying out, so make sure to water them regularly.
How often should you re-pot a fiddle leaf fig?
There is no set time frame for re-potting a fiddle leaf fig, but it is generally recommended to do so every one to two years as they grow quickly.
Do fiddle leaf figs like small pots?
Fiddle leaf figs do not like small pots. They prefer to be in a pot that is at least 12 inches wide and deep so they can spread their roots. If you put them in a pot that is too small, they will become root bound and will not be able to grow.
Can you plant two fiddle leaf figs together?
You can plant two fiddle leaf figs together, but they will need to be in a large pot with plenty of room to grow. Also, it is not recommended. That is because the roots of the two plants can become entangled, which can lead to problems for both plants.

Additionally, the leaves of the two plants can touch and rub against each other, which can damage the leaves.
Is one drainage hole enough for fiddle leaf fig?
One drainage hole is enough for fiddle leaf fig, but it's recommended to make at least 2 or 3 holes before potting. The plant needs good drainage to avoid root rot, so it is best to have multiple drainage holes in the pot.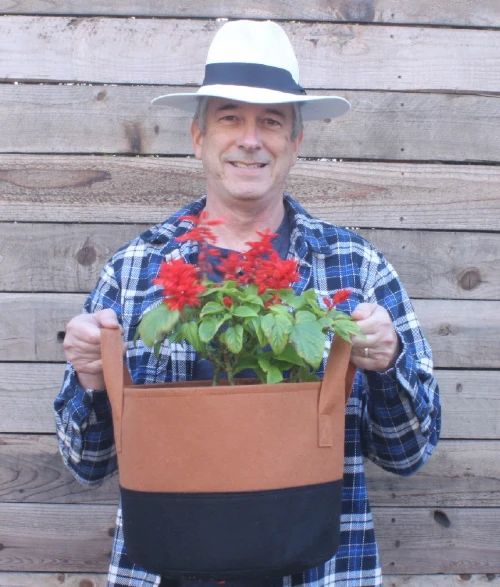 Darrell has a passion for gardening that he inherited from his father. Go here to read more about the influence his father played in his love for gardening. If you want to send Darrell a quick message, then visit his contact page here.