Many people dream of having a peaceful pond in their backyards. However, these same dreamers often know that there is an incredible amount of pond styles to choose from.
The copious amount of backyard pond ideas can make it hard to settle on a single option. However, the best way to start a backyard pond project is to fully understand the best pond ideas around.
In this article, we'll reveal the top pond ideas that are available to you in your outdoor space. By the end of this list, you will be inspired by the many fantastic choices at your disposal.
Hopefully, you'll also recognize a pond idea that is well-suited to your sense of style and the backyard garden space where you hope to create it. Once that happens, there will be little that can stop you from creating the backyard pond of your dreams.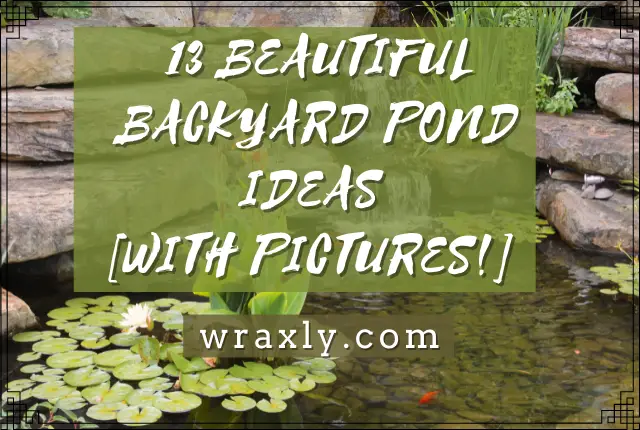 Our Picks for the 13 Best Backyard Pond Ideas
Although there are countless ways to make your pond stand out as a unique feature, some options are more worth pursuing than others. Here are our 13 picks for the most beautiful pond ideas that you should try:
Naturalistic Backyard Pond
Formal Backyard Pond
Geometric Pond
Zero-Entry Backyard Pond
Rock Garden Pond
Steppingstone Pond
Waterfall Pond
Pond with a Bridge
Preformed Pond
Container Pond
Multi-Tier Pond
Fishpond
Fountain Pond
The list above gives a mere indication of what those pond styles will look like. To better understand each one, read on through the sections below.
Recommended Books on Building a Pond
Image
Title
Prime
Buy
DIY Guide To Garden Ponds and Water Falls for Beginners and Dummies

Prime

Eligible

Check Price on Amazon

Top

Garden Ponds, Fountains & Waterfalls for Your Home: Designing, Constructing, Planting (Creative Homeowner) Step-by-Step Sequences & Over 400 Photos to Landscape Your Garden with Water, Plants, & Fish

Prime

Eligible

Check Price on Amazon
The Wildlife Pond Book: Create Your Own Pond Paradise for Wildlife (The Wildlife Trusts)

Prime

Check Price on Amazon
All-Year Caring For Your Pond Guidance: Tips For Keeping And Maintaining A Large, Natural Pond: Diy Clean Garden Pond

Prime

Eligible

Check Price on Amazon
Backyard Water Gardens: How to Build, Plant & Maintain Ponds, Streams & Fountains

Prime

Eligible

Check Price on Amazon
The Complete Guide to Building Backyard Ponds, Fountains, and Waterfalls for Homeowners Everything You Need to Know Explained Simply (Back to Basics)

Prime

Eligible

Check Price on Amazon
Building Natural Ponds: Create a Clean, Algae-free Pond without Pumps, Filters, or Chemicals

Prime

Eligible

Check Price on Amazon
Naturalistic Backyard Pond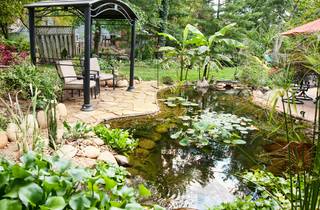 For some, a backyard pond should do its best to mimic a natural pond that you would find in the wilderness. If that is the case for you, you should opt for a pond with a naturalistic look.
A natural pond should feature gentle curves that imitate the shapes you'd find in nature. These ponds should also include natural stone and plenty of water plants like water lilies.
Irregularity is what will make your naturalistic pond. And if you manage to achieve this look, you may have your garden guests questioning whether your pond is artificial at all.

Formal Backyard Pond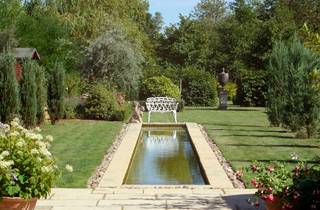 We just mentioned the idea of creating a naturalistic pond. Now, let's set our sights on a pond style that can be considered the exact stylistic opposite. Formal ponds are neat, clean, and regular in their shapes.
Most formal ponds will have a rectangular, circular, or square shape. These precise forms add a sense of stateliness that will make your pond stand out as a distinct focal point in your yard.
The way you treat the area around your formal pond matters as well. Generally, you'll want to edge your pond with a beautiful paver stone that increases the formality and grace that your pond gives off.
Geometric Pond
Geometric ponds give you a chance to have fun with a wide range of pond shapes. While not entirely formal, geometric ponds do adhere to a specific form.
Try designing your pond in the shape of a hexagon, trapezoid, or any other straight-lined shape that you prefer. You can also consider curvilinear shapes such as the kidney bean shape or variations of ovals and ellipses.  
Geometric ponds are sure to stand out in your backyard as they create a sharp contrast between themselves and the more natural forms of the landscape. The flexibility of geometric ponds can also allow you to fit your pond in some of the more awkward spaces in your yard, where a more formal water feature would look out of place. If this describes your backyard, then a geometric pond should be at the top of your backyard pond ideas list.
Zero-Entry Backyard Pond
The term 'zero-entry' is more commonly used to refer to a particular swimming pool style, but it is the best descriptor we can use to indicate the type of pond we mean here. Rather than having a clear edge, a zero-entry pool or pond has a more gradual shoreline.
The ground at the edge of a zero-entry pond will slope down gradually until it is underwater. This effect is like what you would find at the edge of a true pond in nature and lends itself perfectly to a more natural look if you include large rocks and aquatic plants, such as lily pads.
With a zero-entry pond, your pond's water level fluctuations will be more visible. Often, the best way to create this look is to line the entire edge of your pond with a broad swath of gravel. The gravel gives the water a chance to rise and fall naturally without causing significant erosion.
Rock Garden Pond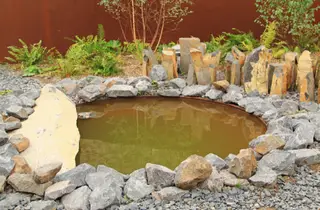 If you want to enhance the look of your backyard pond, one of the best ways to do so is to incorporate it into an entire rock garden. Of course, both a pond and a rock garden can stand alone as beautiful garden elements, but they can be even more visually impactful when combined and should certainly be at the top of anyone's backyard pond ideas list.
The best way to create a rock garden pond is to locate your pond in the middle or somewhere within a larger rock garden. Then, allow some sculptural stones to rest in and around the pond water.
Rock garden ponds are another way to create incredible contrast and a three-dimensional effect in your yard. The natural rocks you select will perfectly juxtapose the gentle waters below, and they also add a vertical element that makes your pond even more interesting.
HANDPICKED RELATED CONTENT: A Simple DIY Method to Create a Backyard Koi Pond
Steppingstone Pond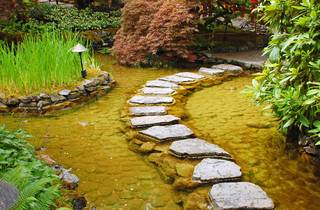 Some ponds are strictly visual features, but others can be much more interactive. One of the most effective ways to make your pond more interactive is to include steppingstones that run directly through the water.
A set of steppingstones in your pond allows you to gain a different perspective and view your pond as if you were almost in it. Steppingstones can also give you more access to clean and maintain your pond more effectively.
If you decide to add steppingstones to your pond, we recommend connecting them to a larger path system that runs through your garden. If you make that connection, your pond will become a favorite stopping point on any stroll through your yard.
Waterfall Pond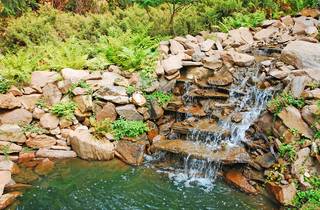 Nearly everyone agrees that the sound of falling water gives a garden an unmatched sense of peacefulness. If you follow that mentality, then a pond with a waterfall is the water feature you should strive to create in your backyard.
You can get very creative with how you position your pond waterfall to increase the soothing sound and visual effect. You should also find an attractive set of stones over which your waterfall can flow into the pond below.
Creating a waterfall pond may come with some added costs as it requires energy to pump the water back to the top of the waterfall. However, that cost may be well worth it once you see the results.
Pond with a Bridge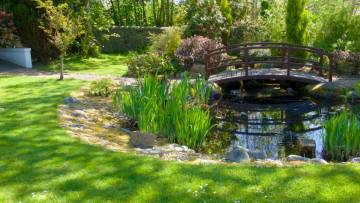 Adding a bridge to your pond gives your pond an added sense of depth and is another way to make your pond more inviting and exciting. A bridge gives you the chance to have greater access to the water and view the water from above as it flows below your feet.
One of the best aspects of a pond with a bridge is that the bridge itself can be a valuable ornamental feature. Aim to select a bridge that you appreciate and meshes well with the existing style of your landscape design.
Building a bridge can be a considerable construction process, especially if you have a large pond. But with the right forethought and planning, developing this enchanting look in your yard is well within reach.
FURTHER READING
---
---
Preformed Pond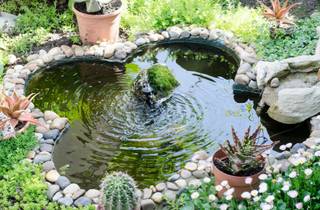 When expedience is your goal, a preformed pond is your best option. A preformed pond is exactly what it sounds like—a pond that you can purchase that is already formed and ready to go into the ground in your backyard.
Naturally, preformed ponds are on the smaller side, so this is not the best choice for you if you want a larger pond. But, if you just have room for a small pond and you don't want to have a laborious construction project on your hands, a preformed pond is the ideal DIY backyard pond option and should be at the top of your background pond ideas list.
Preformed ponds come in many forms, which is why you should take some time to shop before you settle on the one for you. With the right planning and the addition of some tasteful plantings and pond plants, your preformed pond can look as beautiful as any other small garden pond.
Recommended Preformed Ponds
Container Pond
Preformed ponds may be a great small pond option, but container ponds are even smaller ponds. Container ponds are about the sizes of a garden container and usually sit above ground on a patio, deck, or some other garden gathering space, and are ideal for small spaces.
Although container ponds are small and a bit unconventional, that does not mean they can't be pleasing to your eye. Instead, these ponds are charming and can be more complex than you imagine. Some container ponds even include a small waterfall within them.
Container ponds are incredibly easy to manage and maintain compared to a normal pond. However, the aspect of container ponds that you might like most is how they attract colorful birds searching for a place to rest, drink, and bathe.
Multi-Tier Pond
You create a multi-tier pond when you want to go all out with your backyard pond design. These ponds are not really a single pond. Rather, they are multiple ponds that link together to create one mesmerizing water feature.
Multi-tier ponds will have more than one pool of water, and each pool will sit at a slightly different elevation. Typically, you can connect these pools with waterfalls or a small stream.
To make a multi-tier pond, you should try to take advantage of the topography by building your pond on an existing slope in your yard. If you manage to create this type of pond, you'll be astounded by how the water cascades gracefully through your garden.
Fishpond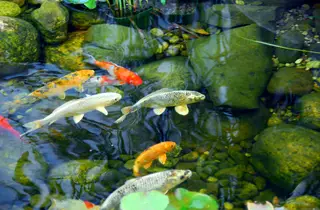 Making a fish pond may be the liveliest pond idea that we have covered so far. With this idea, not only will your pond be an attractive feature, but the fish within your pond will add color and intrigue as well.
There are several types of fish that you can use for your backyard pond. Some of the most popular options are a koi pond and a goldfish pond, but there are many other different types of small fish for you to select from.
Most importantly, you must understand what it takes to keep your fish alive if you choose to make a fishpond. Study the needs of the fish you wish to have and design your pond to give them the ideal environment in which they can thrive. If you're up to the challenge of caring for your fish, then a fish pond should be at the top of your backyard pond ideas list.
HANDPICKED RELATED CONTENT: Instant access to 7000+ landscaping ideas and designs
Fountain Pond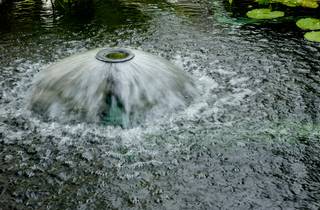 Fountain ponds are another popular idea for those who love the sights and sounds that come from moving water. These ponds can come in nearly any general form, but their defining feature is a fountain that sits in the middle and shoots water into the air.
A pond fountain is sure to become one of the most important focal points in your garden. These fountains can also come in a variety of styles, and each throws water differently, producing different visual effects.
Like several of the other pond ideas on our list, fountain ponds require proper pond knowledge to create. As such, these ponds may look best if you hire a professional to create them. But regardless of how you make your fountain pond, it will likely become one of the most eye-catching aspects of your entire property.
Recommended Pond Fountains
Image
Title
Prime
Buy
HQUA-FS02 110V, 1/4HP, OD(φ) 32" Large Pond Floating Fountain with 9000 GPH Fountain Pump, 100' Power Cord, Classic Crown Spray Pattern 6'x25'

Prime

Eligible

Check Price on Amazon
Ocean Mist Magic Pond Floating Fountain PJ2000-6C Includes 1580 GPH Pump, 360 RBG LEDs in Light Ring, Auto Color Change, Nozzles, 33 Foot Power Cords

Prime

Check Price on Amazon

Top

VIVOHOME 660 GPH Submersible Pond Filter Pump Fountain Kits with UV Sterilizer Suitable for Ponds of 1180 Gallons, Water Pump Built In

Prime

Eligible

Check Price on Amazon
Pond Boss DFTN12003L Floating Fountain With Lights, 50 Foot Power Cord, 1/4 hp

Prime

Eligible

Check Price on Amazon
Custom Pro FT 14000 Floating Pond Fountain and Aerator Complete Kit with 14,000 GPH Pump, 100 Foot Power Cord, 2 Spray Styles and More - Easy to Assemble

Prime

Check Price on Amazon
Ocean Mist Small Floating Fountain with 48 RGB LED Lights and 600GPH Submersible Pump for Ponds, WaterGardens and Swimming Pools

Prime

Check Price on Amazon
Fawn Lake Fountains SF75 Floating Fountain - 7 Fountain Patterns, Powerful Flow with 3/4 hp Oil-Free Pump, Energy Efficient, Perfect for your Pond or Lake, 110v Power Plug, 100 ft of Underwater Cable.

Prime

Check Price on Amazon
Final Thoughts on Backyard Pond Ideas
The long list of garden pond ideas above may make you realize that choosing a pond style is more complicated than you first thought. But rather than being overwhelmed by these different styles, you should celebrate the fact that there are so many lovely pond types for you to choose from. Take your time to find the one that suits you and your yard the best, and soon you'll have a pond that you'll love for years to come.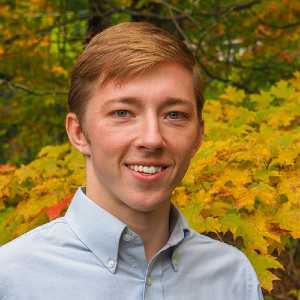 John Haryasz is a freelance writer and landscape designer. In the field of landscape architecture, he has contributed to many successful design projects throughout the country. As a writer, John specializes in creating captivating and informative web content. Through that work, he aims to share his design knowledge and promote engagement with the outdoor world.