Tomato plants are one of the tastiest and healthiest vegetables we often include in our daily meals. From nutritious meals to rich food, most people prefer tomatoes to make the dishes more delicious. From a gardener's point of view, it's also one of the ideal vegetables that can be easily grown even in small gardens. So if you're planning to add tomatoes to your gardening list, trust me, you're making a great decision.
You can grow tomatoes in containers, pots, or in your garden. But if you garden exclusively using containers, you may have asked yourself, "Can you plant two tomato plants together in the same pot?" Before we get to this question, let's review some things that will help with growing tomatoes in your garden. This article will help you have a great tomato harvest, no matter where you grow your tomatoes.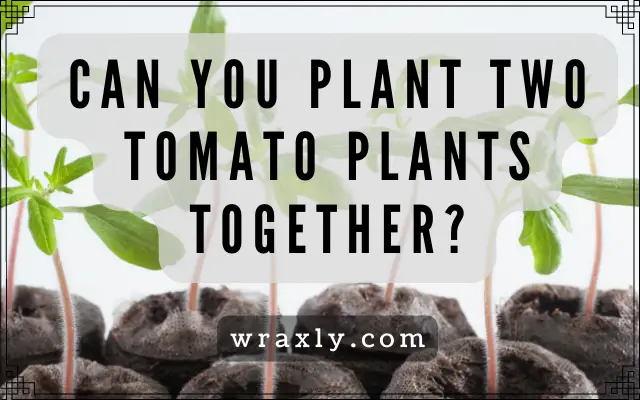 Growing Two Tomato Plants in One Pot
Technically, you can grow multiple tomato plants in one pot, but the tomato experts here at Wraxly do not recommend it. Although growing various plants in one pot might better utilize your garden space, it also has disadvantages. Tomato plants need a certain amount of breathing space, and overcrowding these plants can damage their growth rate. Besides, lack of space can also tangle their roots, and they might not get the proper nutrients to have a bountiful harvest.
Problems of Growing Multiple Tomato Plants in One Container
Before you grow two tomato plants in one pot or container, you should be aware of the problems it may create. You'll be taking a significant risk by growing multiple tomato plants in a Espaço pequeno. Here are some potential disadvantages you might be facing after planting multiple tomatoes in a single pot:
Small Containers
It's proven that most tomatoes have a decent growth rate if planted in a single pot or container. For an ideal situation, it's recommended to have containers with at least a 12-inch diameter for a single tomato plant. A bigger pot can hold more soil, allowing the tomato to grow freely and have stronger roots. But when more plants are added to a single container, space becomes insufficient, and your tomato plants will struggle. Each plant gets fewer resources with less soil, and its roots often get tangled.

Too Little or Too Much Water
Like other plants, tomato plants need a sufficient amount of water regularly. These plants might need more water than usual in a comparatively warm climate. But too much water can lead to many complications, and sometimes overwatering can severely damage the plants. (See: Os maiores erros que você pode cometer ao cultivar tomates) When multiple tomato plants are kept nearby, it becomes tough to identify the right amount of water needed for each pot. Overwatering can cause the tomato plants to have root rot or cracked fruit, whereas underwatering can lead to discoloration and limp stems.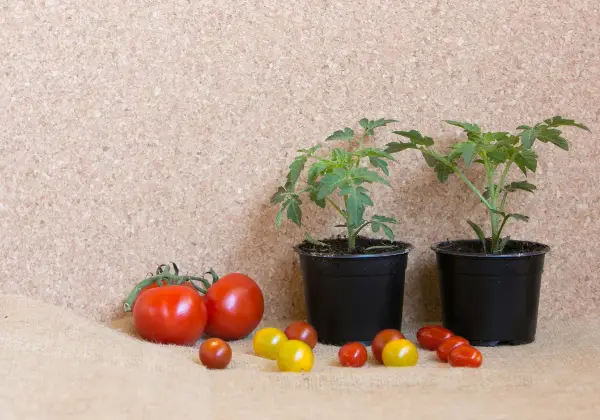 Superlotação
Planting too many tomato plants in a small space can also lead to overcrowding. Tomato plants need a good amount of airflow to grow, but overcrowding can often hamper natural air circulation. Besides, various tomato plants need external support, like a cage or trellis, to grow vertically. But with overcrowding, there is no room for a proper support system, and as a result, their growth could be better.
Insufficient Sunlight
Sunlight is another crucial factor in the plants' growth cycle, as they regularly require at least six hours of sunlight. But too many tomato plants in one space means that they could partially block exposure to direct sunlight from each other. Lack of sun can also lead to spindly branches, which won't be able to support the plant as it grows.
Under-Fertilizing
During the growth period of tomato plants, sometimes you have to apply additional fertilizers to increase their development. In most cases, tomato plants need more fertilization than other vegetables because of their rapid growth rate. Fertilizers have to reach at least 12 inches deep into the soil to be effective. But if multiple plants are planted in a small area, these fertilizers will be used quickly before reaching the roots. Besides, all the nutrients in the soil will be divided, and most plants will remain under-fertilized.
Fertilizantes recomendados para tomates
Imagem
Título
Melhor
Comprar

Principal

Fertilizante orgânico de tom de tomate - PARA TODOS OS SEUS TOMATES, saco de 4 lb

Melhor

Elegível

Verifique o preço na Amazon

Principal

Principal

Dr. Earth Organic 5 Saco Poli de Fertilizante de Tomate, Legumes e Ervas

Melhor

Elegível

Verifique o preço na Amazon

Principal

Neptune's Harvest Tomato & Veg Fertilizer 2-4-2, 36 onças

Melhor

Elegível

Verifique o preço na Amazon

Principal

Ludicrous Nutrients Big Ass Tomatoes Premium Gardening Fertilizer Nutrients Indoor ou Outdoor Works com todos os vegetais, plantas (1,5 lbs)

Melhor

Elegível

Verifique o preço na Amazon

Principal

Tomate Espoma! Alimentos líquidos para plantas, alimentos naturais e orgânicos para tomates e vegetais, 18 fl oz, embalagem com 2

Melhor

Elegível

Verifique o preço na Amazon

Principal

O fertilizante de tomate da EZ-gro é um fertilizante com alto teor de potássio para suas plantas de tomate | Alimentos de plantas de tomate testados em campo para vegetais | Um fertilizante líquido concentrado para plantas de tomate | 1 quarto

Melhor

Elegível

Verifique o preço na Amazon
Doenças fúngicas
A significant problem of overcrowding tomato plants is that it will make the garden vulnerable to various doenças fúngicas. Planting too many tomatoes in one pot can prevent the plant's evaporation process of the additional moisture. As a result, your plants might be affected by fungal infections like blight and buckeye rot which can destroy the whole harvest.
Although it's not recommended to grow multiple tomato plants in one pot, you can still utilize your garden space the most. Following specific techniques, you can grow numerous tomato plants in a small area without damaging the plants.
Recommended Containers for Growing Tomatoes
Imagem
Título
Melhor
Comprar

Principal

Plantador de tomate grande Outland Living com treliça de metal 68 polegadas, pote de tecido de 20 galões com drenagem - preto (pacote com 1)

Melhor

Verifique o preço na Amazon

Principal

Sacos de cultivo de tecido Wraxly - cores sortidas de 7 galões + saco de bônus!

Melhor

Elegível

Verifique meu preço na Amazon

Principal

Barril de tomate Hydrofarm GCTB com torre de 4 pés

Melhor

Verifique o preço na Amazon

Principal

Plantador de tomate de cabeça para baixo Pri Gardens, pacote com 2

Melhor

Elegível

Verifique o preço na Amazon

Principal

Pacote com 3 saquinhos para cultivo de tomate de cabeça para baixo com 13 bolsas para cultivo

Melhor

Elegível

Verifique o preço na Amazon
Choosing the Right Varieties of Tomatoes
If you want to make the most of your garden space, you must know what kind of tomato plant is suitable. You must understand that different varieties of tomato plants have different spacing requirements. Here are the two major tomato plant types:
Indeterminate tomato
Indeterminate tomato plants can grow vertically, and they can get considerably tall. Some indeterminate varieties can reach up to 8 to 10 feet in length and are capable of producing tomatoes throughout all harvesting seasons. They require an extra support system for their height, and because of that, there has to be sufficient space for each plant. Bonnie Original,  Mr. Stripey, and Chocolate Sprinkles are famous indeterminate tomato plants.
Determinate tomato
Also known as dwarf plants, this tomato variety is significantly shorter than indeterminate tomatoes. Tomato varieties such as Roma, Better Bush, and Celebrity are considered determinate tomato plants. These tomato plants grow to a certain height level and then stop growing. Since they're smaller, they can be planted within a small space and don't require much spacing.
How Far Should Tomatoes Be Planted Apart?
O distance between each tomato plant depends upon factors such as where it is planted and what variety of tomato plant it is. Since indeterminate varieties grow vertically, they need about 18 inches of space when planted on the ground. On the other hand, determinate varieties or bush-type plants need about 24 inches of space. But when grown in containers, they should be planted about 18 to 24 inches apart, but it's better to plant them separately.
Cherry Tomato Plant Spacing
Cherry tomato plants can be excellent if you utilize most of your garden space. It's a tasty and healthy breed of tomato that can be easily grown in small areas like containers and pots. While planting these particular types of tomatoes, you must plant them 2-3 feet apart depending on determinate and indeterminate varieties. In this way, you can also provide an extra support system like a cage or stake for these plants.
Recommended Cherry Tomato Varieties
Imagem
Título
Melhor
Comprar
30+ Sweetie Cherry, também conhecidas como Sugar Sweetie Tomato Seeds, Heirloom Non-GMO, Extra Sweet, Heavy Yielding, Indeterminate, Open-Polinated, Delicious, from USA

Melhor

Elegível

Verifique o preço na Amazon

Principal

Híbrido Sunsugar - Sementes de Tomate

Melhor

Elegível

Verifique o preço na Amazon
Semeie as sementes certas - Coleção de sementes de tomate cereja para plantio - Cereja vermelha grande, pêra amarela, branca e tomate cereja Rio Grande - Variedades de herança não transgênicas para plantar e cultivar horta em casa

Melhor

Elegível

Verifique o preço na Amazon
Sementes de tomate cereja vermelhas pequenas, 500 sementes de herança por pacote, (sementes de jardim de Isla), sementes não transgênicas, nome botânico: Solanum lycopersicum

Melhor

Elegível

Verifique o preço na Amazon
Burpee Sun Gold Hybrid Non-GMO Home Garden | Tomate Cereja Laranja Doce | Melhor Plantio de Hortaliças, 30 Sementes

Melhor

Elegível

Verifique o preço na Amazon
Burpee Super Sweet 100' Tomate Cereja Híbrido, 50 Sementes

Melhor

Elegível

Verifique o preço na Amazon
Mais de 500 sementes de tomate cereja preto para plantar

Melhor

Elegível

Verifique o preço na Amazon
50 Tiny Tim Tomato Seeds - Patio Tomato, Dwarf Heirloom, Cherry Tomato - por RDR Seeds

Melhor

Elegível

Verifique o preço na Amazon
What Should Be the Size of the Pot?
For planting multiple tomato plants, it's recommended to have a comparatively large container or pot. You also have to ensure that the container is big enough to hold a sufficient amount of soil for the plants. Usually, determinate plants need a minimum of 2.5 gallons of soil, whereas indeterminate varieties need about 5 gallons of soil. Besides, most tomato plants need about 12 inches of deep soil with 12 inches of space around them.
Planting Multiple Tomato Plants in a 5-Gallon Bucket
A 5-gallon bucket is not ideal for growing multiple tomato plants. 5-gallon containers are perfect for growing a single tomato plant but it isn't advisable to grow multiple plants in the same 5-gallon container. If you try to grow two tomato plants on a single 5-gallon bucket, your plants will suffer from malnutrition. See: What Can You Grow in a 5-gallon Grow Bag?

Keep On Pruning
Pruning is essential in taking care of your tomato plants as they play a crucial part in their growth and development. Pruning and pinching every seven days can eradicate suckers which helps the plants to stay productive and healthy. Determinate plants usually don't require pruning, whereas indeterminate tomato plants need regular pruning as they grow taller than other varieties.
Final Thoughts on Can You Plant Two Tomato Plants Together
As we can see, there are a few reasons why you shouldn't plant two tomato plants together.
Tomatoes need room to grow and they also need different nutrients at different stages of their growth.
By following the tips above, you can make sure your tomato plants have the best chance of giving you a great harvest.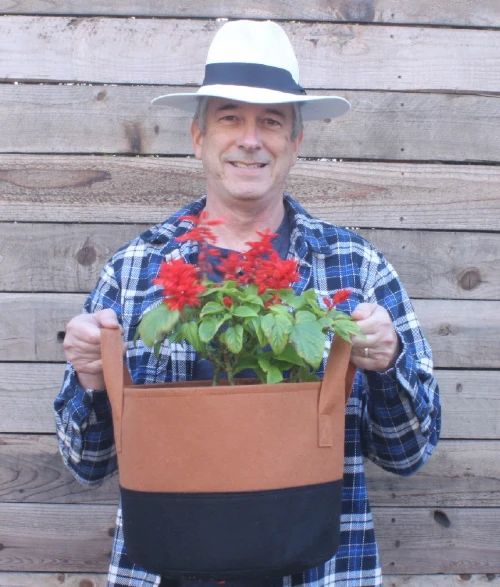 Darrell tem uma paixão pela jardinagem que herdou de seu pai. Ir aqui para ler mais sobre a influência que seu pai teve em seu amor pela jardinagem. Se você quiser enviar uma mensagem rápida para Darrell, visite a página de contato dele aqui.