Spending time in the garden is most enjoyable when the weather is warm. However, the work you do to prepare your garden for winter will go a long way towards ensuring that your plants will look healthy all year long. This article will give you the knowledge and guidance you need whenever you are preparing a garden for winter.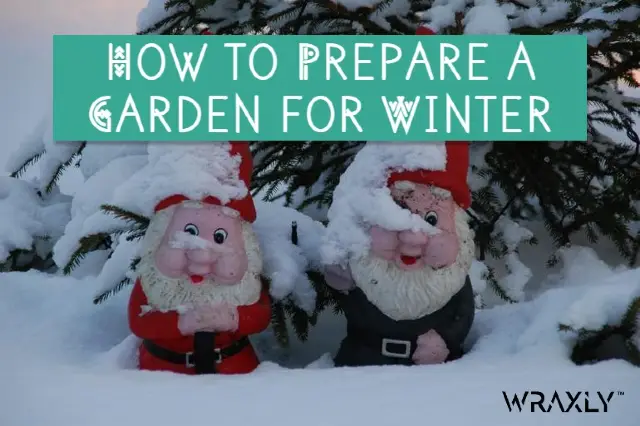 Basics of Winter Garden Preparation
There are a few essential tasks that you should attend to every year just before the weather turns cold. While many of these actions will do little to make your garden look impressive at the moment, they will impact the appearance of your garden in the following growing season. The following tips will also encourage your plants to put forth their most vigorous growth once the spring arrives.
Remove Spent Plants and Weeds
The first step when preparing a garden for winter is to do one final clean-up. During this clean-up, you should focus on removing the following from your garden beds:
Spent or dried out plants
Weeds
Dead leaves
If you leave any of those types of plant material in your garden beds, there are a few issues that can arise. Most notably, plantes mortes, including dead leaves, can promote the growth of fungus, mold, and bacteria that will later harm your plants.
It's true that you can use dead leaves as a form of matière organique that will enrich your soil as it breaks down. However, excessive amounts of leaves will harbor moisture that can lead to mold and other problems. You should also focus on removing weeds from your garden. While these plants will die in winter, they can leave behind seeds that may sprout up and overtake your garden in spring.
How to Improve Garden Soil Over the Winter
Late fall is an excellent time to add soil amendments to your garden beds. This practice is more common during other parts of the year, but there is no reason why you can't perform it in preparation for winter. Here are a few materials that you should consider using for soil enrichment:
Manure
Compost
Mousse de tourbe
Adding those amendments in the fall allows them time to break down into available nutrients for your plants. What that means is that once the spring arrives, your plants will have a readily available supply of nutrient-rich fuel that will help them get a great start to the growing season.
One of the easiest ways to add these amendments is by using a pitchfork to loosen the first few inches of your garden bed soil. Once that soil is loose, you can add the soil amendment of your choice and mix it into those first few layers. As you might expect, this task is incredibly difficult to do if the ground is already frozen. So, pay attention to the temperature to ensure that you'll be amending your soil while it is still workable.
Recommended Soil Amendments to Support Your Garden Over Winter
Image
Titre
Prime
Acheter
Turbo Soil Bio-Blend - Superior Organic Soil Amendment by GS Plant Foods (3 lbs) - Soil Booster for Raised Beds, Gardens & Potted Plants

Prime

Admissible

Vérifier le prix sur Amazon

Haut

Engrais organique Worm Castings, Wiggle Worm Soil Builder, 30 livres

Prime

Vérifier le prix sur Amazon
The Andersons BioChar DG Organic Soil Amendment - Covers up to 5,000 sq ft (10 lb)

Prime

Admissible

Vérifier le prix sur Amazon
Cinderite 100% Organic Soil Conditioner Amendment for Indoor, Outdoor Plants & Gardens - Volcanic Soil Additive stimulates Soil Micro-Organism Activity. Safe Around Children and Pets – 12 lb. Bag

Prime

Admissible

Vérifier le prix sur Amazon
Aries Green Biochar Soil Amendment 5-Gallon Plastic Bucket – USDA, IBI Certified – 100% Biochar

Prime

Vérifier le prix sur Amazon
FoxFarm Qt Ocean Forest Organic Garden Potting Soil Mix, 12 Quarts, 11.9 lbs. Soil and Soil Amendments

Prime

Admissible

Vérifier le prix sur Amazon
What to Plant in a Winter Garden
Although it may seem somewhat counterintuitive, there are a few plants that you can and should plant just before winter takes place. Typically, those plant species will fall into one of these two categories:
Those two types of plants will play very different roles in your garden. In the next two sections, we'll cover some examples of how to use those plants and how they will benefit your landscape.
Planting Cover Crops Before Winter
This first set of plants to plant before winter will be most relevant to farmers and garden hobbyists who grow food at home. If you fall into either of those groups, then you know that not all your crop plants will be present in their fields all year. Instead, you'll harvest each crop at a specific time of year, often leaving behind an empty plot.
Ideally, you should not allow such a plot to remain empty as it can cause erosion and other issues for your soil. To avoid such problems, you should plant one of these cover crops in the fall in any empty areas of your garden:
You should plant each of those cover crops in the early fall. Once you do, those plants will help to moderate soil temperatures while helping to ensure an ideal nutrient balance in the soil and minimizing any erosion you might otherwise experience.
Recommended Cover Crop Seeds
Image
Titre
Prime
Acheter
Graines de seigle d'hiver sans labour - 25 lb en vrac - Graines de culture de couverture de grain de seigle sans OGM

Prime

Vérifier le prix sur Amazon

Haut

No-Till Cover Crop 13-Seed Mix (1 lb. Bag): [50% Clovers Plus Fenugrec, Vesce, Lin, Niébé, Sarrasin, Pois fourragers, Millet, Lentilles, Trèfle cramoisi, Jaune doux, Trèfle blanc, Trèfle rouge moyen]

Prime

Admissible

Vérifier le prix sur Amazon
Culture de couverture de semences de seigle d'hiver 5LBS

Prime

Vérifier le prix sur Amazon
0,96 oz 10 x 50 pi Couverture flottante pour plantes Frost

Prime

Admissible

Vérifier le prix sur Amazon
No-Till Garden Farm and Garden Cover Crop Mix Seeds - 5 Lbs - Mélange de graines de culture de couverture de jardinage : vesce poilue, radis Daikon, chou fourrager, triticale, plus

Prime

Vérifier le prix sur Amazon
Planting Bulbs Before Winter
This second set of plants to plant before winter are a bit more exciting. Fall is a perfect time to plant many different varieties of flowering bulb plants that will look astounding in just a few months. Here are a few of the most popular bulbs that you can plant in the fall:
Tulips
Daffodils
Crocus
Jacinthe
Scilla
Planting bulbs is an act of patience as you can't expect to see any results until the weather is warm enough for these plants to emerge from the ground. But as you can see, some of the most popular flowers in the landscape can be yours if you are willing to plant bulbs in the fall.
Generally, you should wait for the ground to be cool but not entirely frozen when planting bulbs. You should also take time to review any planting instructions that are relevant to the type of bulb plant you wish to grow.
A Few Other Winter Garden Prep Tips
The previous section will help just about any gardener develop a beneficial winter preparation garden care routine. That said, there are always more ideas for you to consider when it comes to garden care. Let's explore a few of these special considerations so that you can be more ready than ever to prepare your garden for winter.
Knowing When to Cut Back a Garden for Winter
By now, you know that cutting back dead plants is one of the most critical parts of preparing a garden for winter. But what most people struggle to understand is when this should take place. In many cases, it is best to cut back your garden plants at the sign of the first light frost of the season. This often occurs in mid to late fall, depending on your region.
Preparing a Vegetable Garden for Winter
Preparing a vegetable garden for winter involves many of the same tasks you would perform for any other garden. However, there are a few additional chores you can undertake at this time if you're working with a vegetable garden. For instance, you can think about expanding your vegetable garden or performing pH tests to make sure the vegetables you wish to grow will have the right conditions. There are also some vegetables, such as ail, that you can plant at this time.
Winter Garden Prep FAQs
Before we wrap up this winter garden care guide, let's look at a few of the most common questions people have on the topic. Below are some brief answers to those inquiries.
Should I Cover My Garden in the Winter?
In many cases, it is a good idea to cover your garden in winter. You can choose to cover specific plants to protect them from winter winds. But you can also cover the soil to help with weed suppression and erosion control. However, you should remember that too much coverage can lead to excessive moisture build-up that will later harm your plants.
How Often Should I Water a Winter Garden?
It can be helpful to water your garden in winter, especially in periods of drought. However, you won't need to do it too often. Often, watering a garden once a month in winter will be enough. The best time to water a winter garden is mid-day during a period of slightly warmer weather. When temperatures are above freezing, it will be much easier for the water to seep into the ground.
Should You Disconnect a Garden Hose in Winter?
It is always a wise idea to disconnect your garden hose before the freezing temperatures arrive. If you don't, the water that remains in your garden hose can expand into your piping. In worst-case scenarios, this will cause your pipes to burst. So, if you want to prevent that costly damage, always disconnect your garden hose before winter.
Should You Till Your Garden Before Winter?
Tilling is an essential part of winter garden preparation. Tilling gives you the opportunity to loosen your garden soil and add soil amendments that will create a nutrient-rich growing medium. For those reasons and more, you should till your garden beds in the fall every year.
What Should I Do with Raised Garden Beds in Winter?
In many ways, preparing a raised garden bed for winter is like preparing any other kind of garden bed. Start by removing dead plant materials and any weeds that may be present. The difference with raised garden beds is that you should always apply a topdressing before winter. The most common materials to use for this are mulch, compost, or chopped leaves, each of which will protect the soil and help discourage weeds from growing.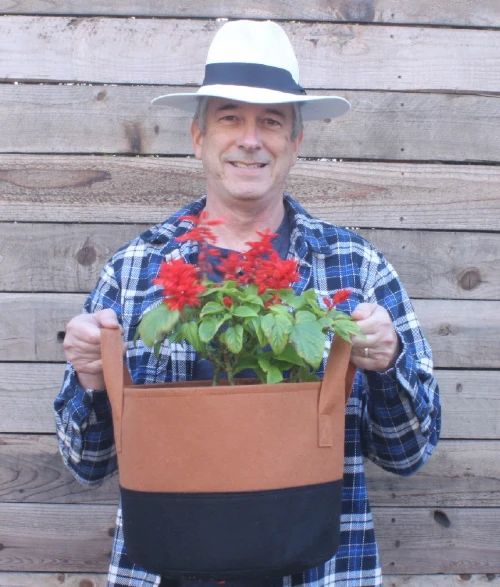 Darrell a une passion pour le jardinage qu'il a héritée de son père. Aller ici pour en savoir plus sur l'influence que son père a joué dans son amour pour le jardinage. Si vous souhaitez envoyer un message rapide à Darrell, rendez-vous sur sa page de contact ici.