Location determines how you will create and care for your garden as much as any other factor. This article will show you how to grow a container garden in full sun areas. We'll also reveal answers to a few of people's most common questions about gardening in full sun exposure.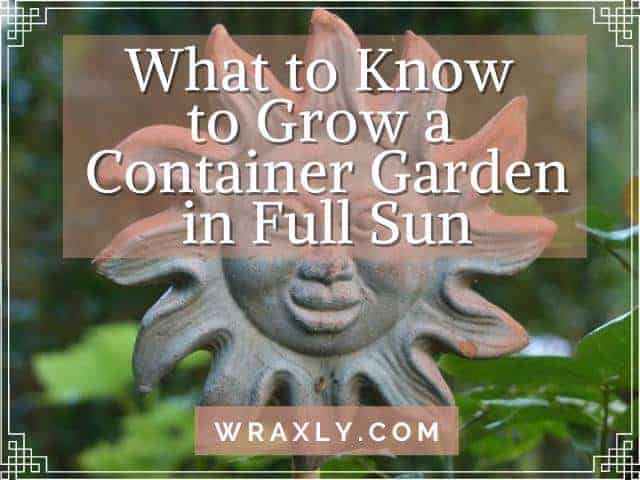 Find Sun-Loving Container Plants
If you wish to grow a garden in full sunlight, you'll need to select plant species that thrive in those light conditions. Choosing a plant that prefers sombra parcial will likely cause your garden to fail. Failure is a certainty if you make the mistake of planting a shade-loving plant in full sun. If you want to avoid that outcome, the first step is to know which container plants are suitable for a full sun location.
A Few Full Sun Container Plants
Many popular container garden plants grow best when they receive full sunlight. Here are some of the most popular examples of those plants:
Aster
Blanket flower
Canna lilies
Geranium
caléndulas
petunias
Verbena
Zinnias
Before deciding on which full sun plants to include in your container garden, you'll need to understand that sun exposure is far from the only factor influencing a plant's growth. You'll also need to know which plants survive in your hardiness zone and evaluate several other growth requirements for each plant you own.
Grow Your Plants in High-Quality Containers
If you want to give your container garden plants the best-growing environment, you need to find a garden container that can provide that setting. Being selective in choosing a container is especially important when growing in full sunlight.
Generally, the soil inside a garden container is more prone to extreme temperature shifts than soil in the ground. This is because a garden container has significantly less volume than a garden bed. With less soil volume, it takes much less time for hot or cold weather to raise or lower your container soil's temperature.
Despite that consistent phenomenon, some container materials can quicken those temperature shifts more than others. For example, clay and plastic pots give heat little opportunity to escape. By contrast, fabric grow bags are more breathable, allowing the soil a better opportunity to cool off.
The temperature moderating ability of fabric grow bags makes these containers one of the best options for full sunlight settings. However, grow bags come with a slight downside as well. Since grow bags are highly efficient at draining water, you'll likely need to water your full sun plants more often than would with a container that has non-permeable sides. 
Recommended High Quality Grow Bags
Bolsas de cultivo de tela Wraxly: macetas coloridas de dos tonos de 7 galones. ¡El mejor regalo de jardinería para los amantes de las plantas! [Paquete de 5 colores surtidos, ¡más una bolsa adicional negra!]
REGALO PERFECTO PARA JARDINEROS: nuestro paquete de 5 está muy bien empaquetado en una bolsa de cultivo negra de 2 galones. La selección de colores y el esquema de dos tonos hacen que estas bolsas sean un placer para dar y recibir como regalo de jardinería para hombres y mujeres. ¿Conoces a alguien a quien le guste organizar? Estas bolsas también son los mejores regalos como bolsas, contenedores y bolsas de almacenamiento.

LAS BOLSAS DE CULTIVO ORIGINALES DE DOS TONOS: el diseño único de Wraxly eleva las bolsas de cultivo de plantas a un nivel completamente nuevo. Las bolsas de cultivo premium de dos colores originales de Wraxly no son solo para plantas. Organizan y embellecen tanto su hogar como su jardín. El material de fieltro suave hace que estas bolsas multiusos plegables sean ideales para guardar juguetes, ropa, ropa sucia, toallas, libros, mantas y más.

CULTIVE PLANTAS MÁS SALUDABLES: las macetas de tela evitan que las raíces se muevan y, en cambio, promueven la poda de aire para plantas más grandes, saludables y felices. Nuestra tela no tejida proporciona un excelente drenaje y permite que tus raíces respiren. Promueve los microbios saludables del suelo.

BOLSAS FÁCILES DE LLENAR: nuestras bolsas están hechas con tela no tejida de 2 mm de alta densidad que hace que nuestras macetas sean lo suficientemente resistentes como para mantenerse erguidas cuando están vacías. Permite plantar fácilmente sus flores y vegetales. Hace una bolsa de tomate ideal, o como una maceta de jardinería. Lavable y reutilizable.

COMPRA SIN RIESGO: sabemos que tiene opciones, por lo que queremos que comprarnos sea la opción más fácil, y es por eso que le ofrecemos nuestra Garantía Wraxly. Si por alguna razón nuestro producto no cumple con sus estándares, ¡simplemente devuélvalo para un reemplazo o un reembolso completo! la eleccion eres tu
Monitor Soil Moisture More Closely During Warm Weather
Monitoring soil moisture is perhaps the most critical maintenance task when growing a container garden in full sun. During warm weather, prolonged sun exposure makes it much easier for the soil in your garden containers to dry out. Once that occurs, your plants will soon fail to find the moisture their roots need and begin to wilt and die themselves.
Any gardener who chooses a full sun location should anticipate high seasonal weather and sudden heat waves. During those times, you should check your plants and the soil in which they grow more often than you normally would. You'll also need to know what to look for during those inspections.
Medidores de humedad del suelo recomendados
Imagen
Título
Principal
Comprar

Arriba

2 paquetes de medidor de humedad del suelo, no requiere batería (negro y verde)

Principal

Elegible

Consultar precio en Amazon

Arriba

Arriba

Medidor de pH del suelo 3 en 1 probador de suelo humedad, luz, pH, herramienta de medición para jardín

Principal

Elegible

Consultar precio en Amazon

Arriba

Medidor de humedad del suelo Luxekem. Kit de prueba de suelo 4 en 1 para plantas de interior, con 20 etiquetas

Principal

Elegible

Consultar precio en Amazon

Arriba

HOTWAV Medidor de humedad del suelo, kit de prueba de suelo 3 en 1 con medidor de humedad/luz/pH (2 paquetes)

Principal

Elegible

Consultar precio en Amazon

Arriba

Medidor de humedad del suelo, 2 paquetes, kit de prueba de suelo para jardín, no necesita batería

Principal

Elegible

Consultar precio en Amazon

Arriba

Medidor de pH del suelo 5 en 1, con funciones de prueba de humedad ambiental y del suelo, temperatura, luz y pH

Principal

Elegible

Consultar precio en Amazon

Arriba

Medidor de humedad del suelo XLUX, no requiere pilas, paquete de 2

Principal

Elegible

Consultar precio en Amazon
Learn more about moisture meters! Using a Soil Moisture Meter – A Beginner's Guide
Signs Your Full Sun Container Plants Need Water
Plants that grow in full sun during hot weather typically need more water than usual. Here are a few signs that your plants are in desperate need of more soil moisture:
Leaves are wrinkling, curling, or turning brown
New growth is absent
Your container feels unusually light
The soil is dry to the touch
There's a gap between the soil and the container's edge
The main plant's main stems are drooping
While those signs can indicate other issues, they are more likely to be a sign of insufficient water when your garden grows in full sun. If you deem that to be the case, be sure to provide water as needed until your plant returns to full health.
Provide Plenty of Mulch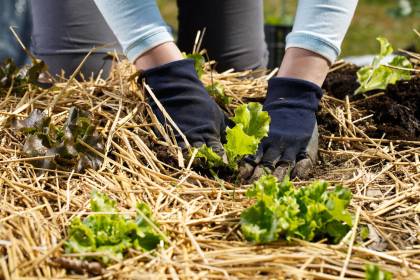 As we have mentioned so far, one of the main challenges of growing a full sun container garden is maintaining consistent soil moisture and temperature. Fortunately, there is a common garden material that you can use to resolve that issue.
After you finish planting your container garden plants, be sure to include a healthy layer of mulch on top of the soil. Mulch acts as a buffer between your garden soil and the air above. That protective layer helps retain moisture and avoid sudden changes in soil temperatures.
Organic mulches are often the most sensible option as they provide benefits in addition to moisture and temperature moderation. Mulches that consist of organic materials will break down over time and add more nutrients to your container garden soils. And while they don't need replacement as often, inorganic mulches such as pea stone don't offer the same soil-enriching advantage.
Move Your Plants Out of the Sun when Necessary
When increasing your water supply is not enough to help your plants, your next best option is to move them out of the sunlight. Thankfully, container gardens allow you to move your plants as much as you need, and that luxury can make the difference in whether your plants will survive the summer.
Moving your plants out of the sun is most needed during the peak of summer. It is possible for excessively high temperatures to be too much during that season, even if your plants are suited to your region and a full sun setting.
Sunlight is typically strongest between 10 AM and 4 PM. As such, you should consider relocating some of your container plants to a shady location during those hours. Once the sun's strength has lessened for the day, you can return your plants to their original location.
Moving your container plants may seem too laborious at first. However, moving your plants may be the only way to keep them alive when the weather is incredibly hot.
FAQ's About Container Gardening in Full Sun
Now that you know a few fundamental insights about how to grow a container garden in full sun, let's delve into a few additional thoughts on the topic. Below you can find responses to a few of the most popular questions gardeners have about growing plants in full sunlight.
How many hours of sunlight is considered full sun?
A full sun location receives a minimum of six hours of direct sun exposure each day. The typical range overall for a full sun location is generally considered to be six to eight hours. By contrast, terms like partial sun and partial shade often refer to areas that receive less than six hours of light per day but more than three. Any location with less than three hours of light is often called full shade.
Can full sun plants get too much sun?
It is entirely possible for a full sun plant to get too much sunlight. This is most often the case during heat waves when the full sun exposure leads to high soil temperatures and dry soils. Full sun plants can also experience leaf scorch in some cases. Full sun plants that grow indoors in a south-facing window are most susceptible to this issue.
Is it okay to water plants when the sun is shining?
It is not best to water plants when the sun is shining, but not for the reason many people assume. The gardening community has a widespread notion that watering in direct sun will cause the leaves to burn. However, there is little evidence supporting this claim. The real issue with watering in full sun is that you are likely to waste water as it evaporates more quickly than the soil, and your plants, can absorb it.
When should you water plants on a hot day?
When you know a hot day is ahead of you, it is ideal to water your plants in the morning. Aim to supply water before 10 AM when the hottest part of the day arrives. Watering earlier will also work and give your plants even more time to take in the water they need before the hot temperatures arrive.
What temperature is too hot for plants?
The temperature at which a plant begins to wild depends on several factors, including its preferred growing location and how much water it has recently received. However, you can generally expect any prolonged weather higher than 90 degrees Fahrenheit to be too much for most plants. When those temperatures arrive, you should be ready to provide extra water and shield your plants from the sun.
Final Thoughts on What to Know to Grow a Container Garden in Full Sun
While growing a container garden in full sunlight is not relatively difficult, there are a few factors you should keep in mind if you want your plants to be as healthy as possible. Next time you are starting a garden in a full sun area, use the advice in the article above, and you'll be sure to meet success.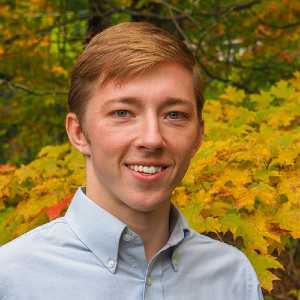 John Haryasz es un escritor independiente y paisajista. En el campo de la arquitectura del paisaje, ha contribuido a muchos proyectos de diseño exitosos en todo el país. Como escritor, John se especializa en crear contenido web cautivador e informativo. A través de ese trabajo, pretende compartir su conocimiento de diseño y promover el compromiso con el mundo al aire libre.