If you're a passionate gardener, chances are you might already know what container gardening is. But if you're new to gardening, you may be asking yourself, what is container gardening? Well, you've come to the right place. In this article you will learn everything you need to know to get started with your own container garden.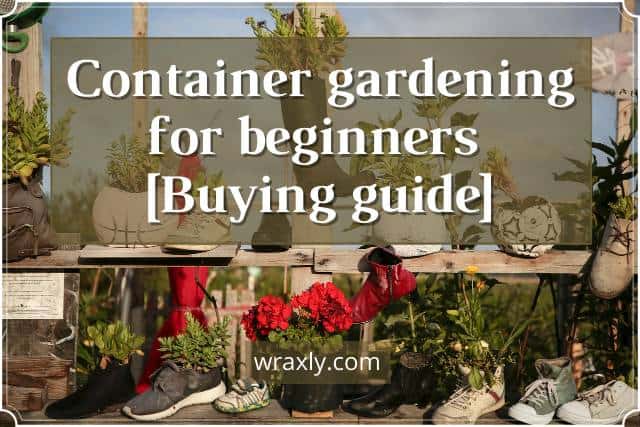 What is container gardening?
Simply put, container gardening is the practice of growing plants in containers rather than in the ground. Pretty much anything that can hold potting soil can be used as a container.
What are the benefits to container gardening?
We could easily dedicate several articles to the many benefits and advantages that container gardening provides over regular in-ground gardening. For example:
Container gardening is good for people who don't have a lot of space
A container garden provides the same benefits (mentally and physically, plus the benefits of growing your own food), but achieved on a much smaller scale, which means a lot less work
Your container garden can add interest to your home, patio, or balcony (or even add curb appeal)
Fewer problems with pests and diseases
Less watering needs
Portability. Your plants not getting enough sun? It's easy to move them to another spot with more sun exposure
What do we think is the best benefit to container gardening? It's an easy way for beginners to get started in gardening, which is why we bring you this getting started guide with do's and don'ts, product recommendations, and frequently asked questions that will help you start your first container garden!
Getting started with container gardening – Do's and Don'ts
The first thing to do is determine some parameters for your garden: what kind of plants do you want to grow? Do you want a low-maintenance or a high-maintenance garden? How much space do you have to work with? What amount of sun will your growing space have?
Starting the garden itself might seem like a daunting task at first, but once you gather all the essential tools and supplies and take note of some important points, you will be good to go!
This article will recommend some great products that will help you get started in container gardening, but before that here are some do's and don'ts to take note of:
Do select the right size container for your chosen plants.
Do use pots that have drainage holes. If you reuse another type of container for your plants, make sure to drill some holes. The drain holes are best located along the sides of the container, about 1/4 inch from the bottom.
Do not use soil from your outdoor garden, rather use a potting mix that is formulated specifically to the needs of the plants you want to grow.
Do stick to the concept of thrillers, fillers, and spillers to amp up the visual appeal of your garden.
Do not combine two plants with different sunlight needs in one container.
Do not forget to water and fertilize.
Below are some recommended essentials that will help you get started.
#1. Containers for your container garden
The first and most important thing is obviously the containers which you are going to use to grow your plants. There are many different types of containers available on the market but one we highly recommend are Pflanzbeutel aus Stoff.
Grow bags are easy to use, breathable, produce plants with healthier roots, and can be used anywhere, even in areas with bad soil.
There are some cons too when you compare grow bags with plastic or ceramic pots; cheaply made grow bags will be less durable and won't last as long; higher price point; grow bags require more attention to keep your plants properly watered. Fortunately, there is a brand out there that designed their fabric grow bags to address some of these issues.
Wraxly premium two-tone fabric grow bags
Wraxly's unique design elevates fabric containers to a whole new level. These grow bags come in a variety of colors and sizes. The water-proof lining reduces the chance of staining and water loss, the double-stitched seams provide more strength and the hemmed top provides a more finished look.
The handles are made with a non-woven material with extra stitching and reinforced backing, all of which provide strength, comfort, and durability.
The bag is made with eco-friendly material and can be used to store many other things around the house, apart from plants, as well. Their unbeatable Wraxly Guarantee offers a truly no-risk purchase.
Specifications
Manufacturer: Wahnsinn
Dimensions of 7-gallon bag: 13.5" diameter x 11" height and holds 0.93 dry cubic feet of soil.
Dimensions of 5-gallon bag: 12" diameter x 10" height and holds 0.65 dry cubic feet of soil.
Colors in one set: Burgundy, Tan, Gray, Sand, and Green
Vorteile
Aeration zone at the bottom
Non-woven and thick fabric
Water-proof lining
Stands up straight even when empty
Great as a gift
Environmentally friendly
This is an excellent choice for anyone who would like a more attractive and unique look to their container garden.
#2. Give your containers a lift with plant elevators
These are essential if you're worried about overwatering (or live in a rainy area). Plant elevators provide the proper height to your containers so that they can drain properly and will keep the potting soil from becoming oversaturated with water, which can suffocate your plant roots.
Square Farmer 10-inch Plant Saucer and Riser
This 2-in-1 product helps you avoid a lot of plant problems by providing proper drainage of wastewater away from the plant. It also provides greater breathability to the roots. The shape of the product makes it easy to remove the excess liquid from it.
Specifications
Manufacturer: Square Farmer
Product Dimensions: 10.25 x 10.25 x 1.65 inches
Gewicht: 4.6 ounces
Vorteile
Heavy Duty
Handy Design
Well built
Nachteile
#3. Hand trowel
This 3 piece kit comes with everything you might need for your container garden. The hand trowels are great when planting or transplanting from one container to another, and the hand rake will help with weeding and keeping the potting soil loose and aerated. It is important to get a trowel set that is well built, sturdy, and strong. This set from ESOW fits the bill.
ESOW Garden Tool Set, 3 Piece Cast-Aluminum Heavy Duty Gardening Kit – Hand Trowel, Transplant Trowel, and Cultivator Hand Rake
This 3 piece gardening kit comes with quality cast-aluminum heads, comfortable handles, and a 1-year warranty. It is lightweight, rustproof, and easy to use.
Specifications
Manufacturer: ESOW
Package Content:

1 x Hand Trowel
1 x Transplant Trowel
1 x Cultivator Hand Rake

Gewicht: 1.04 Pounds
Vorteile
Comfortable
Sturdy
Solid and rustproof
Thick handles
Soft-touch handles
Transplant trowel has markings to help you measure
Nachteile
Some quality issues
Not heavy duty
#4. Hand cultivator
If you want to forego the ESOW set and just go with one essential hand tool, then go for this Nisaku hand cultivator, which can be used for raking the soil, mixing fertilizer, and removing weeds.
Nisaku Handheld Cultivator & Tiller
This product can be used for multiple purposes while gardening and is built in a way that ensures that it is durable and bend-resistant. The stainless steel rake is rust-resistant and the hardwood handle is easy to grip.
Specifications
Manufacturer: Nisaku
Product dimensions: 10 x 4.5 x 4.5 inches
Gewicht: 13.1 ounces
Vorteile
Well-built and easy to clean
Sturdy
Lightweight
Handle has a good feel
Paint on tines is durable
Nachteile
#5. Gardening scissors
Small scissors with pointed blades allow for detailed pruning on small plants. Gardening scissors provide more precision than pruning shears.
VIVOSUN Gardening Pruning Shear with Stainless Steel Blades
These micro-tip scissors are ergonomically built with springs, which reduces strain on your hands. Great for people with conditions like arthritis. The blades are ultra-sharp and make precise cuts. The scissors come with a safe locking mechanism too. They are a fantastic pruner for smaller bushes and limbs no greater then 1/8".
Specifications
Manufacturer: VIVOSUN
Product dimensions: 9.02 x 3.54 x 0.59 inches
Gewicht: 2.89 ounces
Vorteile
Lightweight
Small, compact, and sharp
Ergonomic
Lock easily with one hand
Blade tension is adjustable
Nachteile
Not durable
Not stainless steel
Takes effort to get the shear to lock/unlock
#6. Pruning shears
If you plan to grow something larger in your containers (like a dwarf citrus tree) then a nice pair of pruning shears will be more effective for cutting thicker branches than the gardening scissors, above.
Gonicc Premium, Professional, Titanium, Bypass Pruning Shears
The blade on this product is made of titanium and the handles are ergonomically built, comfortable to hold, and anti-slip.
Specifications
Manufacturer: Gonicc
Product dimensions: 11.57 x 5.75 x 1.89 inches
Gewicht: 6.4 ounces
Vorteile
Sharp
Strong
Good value for money
Ergonomic
Nachteile
Not durable
Some safety concerns
#7. Watering can
Watering is an essential part of making your garden thrive. The extra-long watering spout from these Calypso watering cans will make watering your containers a breeze.
Bloem, Calypso Aqua Rite Watering Can
This watering can holds up to 56 ounces of water and is built in one piece that avoids leakage issues. It has a long spout and material that will last in extreme weather conditions.
Specifications
Manufacturer: Bloem
Product Dimensions: 4.25 x 12 x 7.5 inches
Gewicht: 3.2 ounces
Vorteile
Smooth water flow
Sturdy
Well balanced
Nachteile
Bad customer service
Cheap Plastic
#8. Plant supports
If you plan on wachsende Tomaten in your containers, you will need some plant supports. We recommend these GROW!T bamboo stakes because they are environmentally friendly and are made from a renewable resource.
GROW!T – 2 Foot Long Bamboo Stakes (Pack of 25)
These stakes can be used both indoors and outdoors and are made from a renewable natural material which makes them cost less than wood or metal stakes.
Specifications
Manufacturer: Hydrofarm, Inc.
Product Dimensions: 23.5 x 0.25 x 0.25 inches
Gewicht: 0.64 ounces
Vorteile
Sturdy
Strong
Inexpensive
Biodegradable 
Nachteile
Crooked
Slippery
Inconsistent diameter
Easy to break
#9. Container gardening gloves
A good pair of gloves are great for keeping your hands clean when working with your container garden. (Read our in-depth rundown of gardening gloves here: Arten von Gartenhandschuhen und worauf Sie bei Ihrem nächsten Paar achten sollten)
Pine Tree Tools Bamboo Working Gloves, Ultimate Barehand Sensitivity Work Glove for Gardening
The bamboo material of these gloves absorbs perspiration and keeps your hands cool. They are touch-sensitive, which means they are compatible with touchscreens, unlike other gloves. That means you don't have to take them off to use your phone.
Specifications
Manufacturer: Pine Tree Tools
Product Dimensions: 7.87 x 4.72 x 0.39 inches
Gewicht: 1.13 ounces
Vorteile
Comfortable
Fit well
Good grip
Nachteile
Not Durable
Not waterproof
Not for heavy duty work
No protection against thorns
Sie können auch mögen ... US-Gartenstatistiken und -Trends
Häufig gestellte Fragen (FAQs)
What is the proper soil to use in a container garden?
Use potting mix only. Buy the proper potting mix (or reuse your own) that is especially formulated to the type of plants you would like to grow.
What size container should I use to grow vegetables?
The size of the container will vary depending upon the vegetables you wish to grow and the space available. Pots from 6 to 10 inches in size are great for green onions, parsley and herbs. For most vegetable crops such as tomatoes, peppers and eggplant, a 5-gallon container is a perfect size. Remember to never crowd your vegetables in a container.
How often should I water a container garden?
One watering each day is usually adequate. However, too much water, caused by either overwatering or poor drainage, will slowly kill your plants. Follow the watering needs of the particular plant you are growing. Add Laubdecke on top of the soil mix to reduce water loss.
Common problems in container gardening
Final Wrap-up
Container gardening can be an excellent hobby to try out, especially for those who don't have a lot of time or who only have a kleiner Raum to work with. We hope this article gave you all the tips to get your started with your first container garden. If you have any questions, feel free to reach out to us!
Viel Spaß beim Gärtnern!
Ressourcen
Cotner, Sam. "Vegetable Gardening in Containers." Texas FARMER Collection (1981).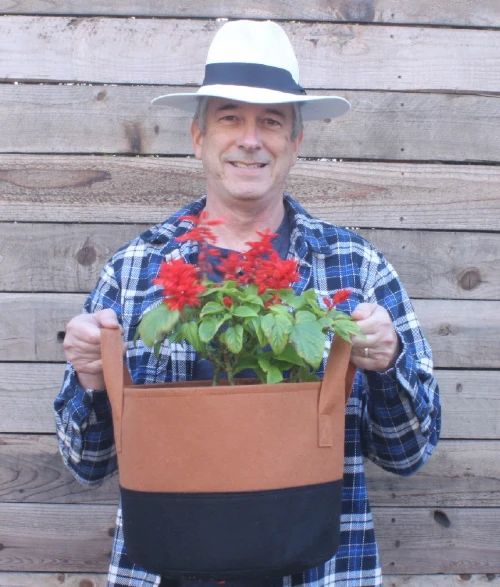 Darrell hat eine Leidenschaft für die Gartenarbeit, die er von seinem Vater geerbt hat. Gehen Hier um mehr über den Einfluss seines Vaters auf seine Liebe zur Gartenarbeit zu lesen. Wenn Sie Darrell eine kurze Nachricht senden möchten, besuchen Sie uns seine Kontaktseite hier.